Tags
---
Everything tagged
---
Sort by:
---
Stories tagged: college volleyball
---
Sun., Sept. 25, 2011
The Washington State women's cross country team ran away from the field Saturday to win the Runners Soul/Erik Anderson Cross Country Invitational at Plantes Ferry Park in Spokane. The race …
---
Sat., Sept. 24, 2011
After dropping the first two sets, a team seeking its first conference win might just fold over. Not so for the Washington State volleyball team. The Cougars regrouped and edged …
---
Fri., Sept. 23, 2011
Alyse Hensley led five players in double-figure kills with 15, and Loyola Marymount scored the final eight points of the fourth game to defeat host Gonzaga 3-1 in a West …
---
Thu., Sept. 22, 2011
North Central (4-0) bunched up its runners in the top eight Wednesday afternoon to defeat Mead (2-1) and Ferris (0-4) in Greater Spokane League boys cross country at Audubon Park. …
---
Wed., Sept. 21, 2011
Idaho's Kayla Mortellaro tied for second place and led the Vandals to third place Tuesday as the 13-team Washington State Cougar Cup wrapped up at Palouse Ridge Golf Course. Mortellaro …
---
Sun., Sept. 18, 2011
The Whitworth volleyball team remained undefeated in the Northwest Conference with a win over visiting Pacific (7-4, 1-1) Saturday night, sweeping the match 25-17, 25-23, 25-19. Kaimi Rocha had 15 …
---
Wed., Sept. 14, 2011
Scanning the Washington State University volleyball roster, 'FR' and 'SO' appear repeatedly under year in school and 'HS' and 'TR' dominate in the experience column. Those stand for freshman, sophomore, …
---
Wed., Sept. 14, 2011
Kaimi Rocha finished with 13 kills, three aces and four blocks Tuesday as Whitworth defeated visiting La Verne (Calif.) 3-1 in nonconference volleyball. Bree Riddle added 37 assists and four …
---
Sun., Sept. 4, 2011
The Washington State women's volleyball team took second place after being swept by Texas A&M (7-0) in the championship of the Portland Nike Invitational Saturday at the Chiles Center in …
---
Fri., Sept. 2, 2011
Whitworth's season-opening trip to Wisconsin began in fine style on Thursday afternoon. Sophomore Sam Selisch and senior Dion Coxe scored to give the Pirates a 2-0 win over the Ripon …
---
Thu., Sept. 1, 2011
Junior Shelby Puckett had a career-high 22 kills Wednesday as Eastern Washington outlasted Boise State 3-2 in nonconference women's volleyball at Reese Court. Junior Cora Kellerman added 21 kills as …
---
Sun., Aug. 28, 2011
It was quite a day for Laura Day and the Gonzaga Bulldogs. Day tied a career high in the morning and surpassed the mark in the evening as the Bulldogs …
---
Fri., Aug. 5, 2011
Tournament hosts University and Gonzaga Prep survived loser-out games against fellow Spokane teams during Thursday's third day of the Legion Junior State tournament. Derek Walker went 4 for 6 with …
---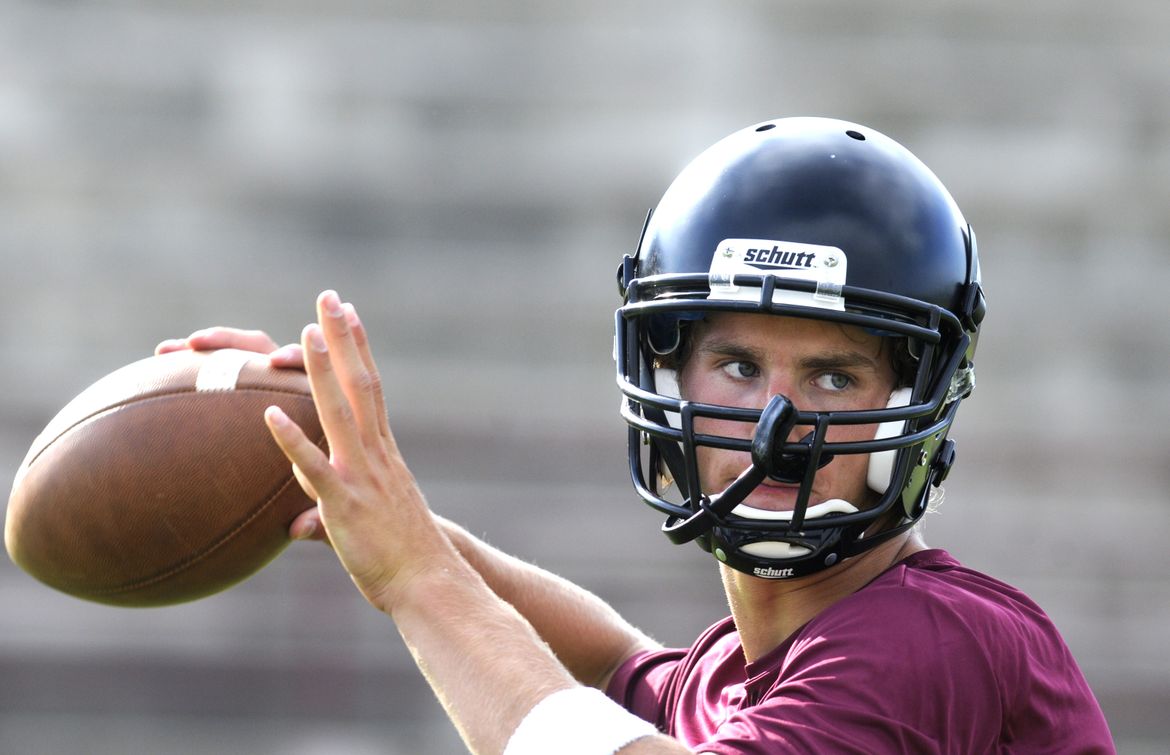 Sun., April 24, 2011
It's not everyone who can say the most exciting time they spent on trip to Hawaii was in an alley and not on the beach. Sean Heath can.
---
Sun., Dec. 19, 2010
KANSAS CITY, Mo. – The Penn State volleyball team might not have been as dominant from start to finish as the previous three editions, but that didn't matter in the …
---
Sun., Nov. 28, 2010
The Washington women's soccer team's NCAA tournament run came to an end Saturday, as Cerrone Hannah scored in the 6th minute of overtime to lift Boston College (17-6-1) to a …
---
Tue., Nov. 23, 2010
Idaho overcame Boise State in five tough sets Monday night to advance to the semifinals of the Western Athletic Conference volleyball tournament in Las Vegas. Fifth-seeded UI (14-14) will face …
---
Sun., Nov. 21, 2010
Joy Shufeldt finished in 21 minutes, 56.7 seconds to take 44th place, leading the Whitworth women's cross country team to a 17th-place finish at the NCAA Division III Championships Saturday …
---
Sat., Nov. 20, 2010
Devan Belseh and Kyra Speer combined for 38 kills as Mt. Hood CC (36-7) dampened Community Colleges of Spokane's (32-10) NWAACC volleyball title aspirations, beating the Sasquatch 3-1 in the …
---
Fri., Nov. 19, 2010
North Idaho College's shot at a national title ended Thursday night with a 17-25, 27-25, 25-23, 25-20 loss to San Jacinto (Texas) at the NJCAA National Volleyball Championships in West …
---
Wed., Nov. 10, 2010
Coaches are always trying to prod their teams to play their best as the season progresses. That wasn't an easy task for Whitworth volleyball coach Steve Rupe because his team …
---
Sun., Nov. 7, 2010
After winning the first two sets in the Region 18 tournament championship match, North Idaho College volleyball coach Colleen Frohlich warned her team that Salt Lake wouldn't go down without …
---
Sun., Oct. 24, 2010
Cursty Jackson and Tiffany Owens combined for 21 kills and No. 25 Arizona (15-7, 4-5) swept Pac-10 foe Washington State (6-13, 0-9) in Pullman. Meagan Ganzer led the Cougars with …
---
Tue., Oct. 12, 2010
Northwest Conference volleyball has been dominated by four-time defending champion Pacific Lutheran and 2007-09 runner-up Puget Sound, but Whitworth has made it a three-team race this season.
---
Tue., Sept. 28, 2010
Former Mead High School volleyball star Alexis Olgard returns to Washington with USC to play the Cougars and Huskies.
---
Tue., Sept. 14, 2010
Ready or not, conference play is here for a couple of area college volleyball teams and fast approaching for several others.
---
Sat., Sept. 4, 2010
Fiona Jones led host Boise State with 12 kills and Saddie Maughan added 11 as the Broncos' volleyball team (3-1) swept Gonzaga 3-0 on the opening night of the Northwest …
---
Thu., Sept. 2, 2010
Sisters Ka'ipo and Kaimi Rocha combined for 19 kills and the Whitworth Pirates opened their season with a 25-20, 25-11, 25-11 sweep over the visiting Walla Walla Wolves in non-conference …
---
Thu., Aug. 26, 2010
It's a question Washington State volleyball coach Andrew Palileo has heard often since the conclusion of last year's breakthrough season. Can you keep it going?
---
Fri., Nov. 20, 2009
Sarah Conwell had 16 kills and Anna McKinney set an Idaho single-season record for block assists Thursday as the Vandals closed out their volleyball regular season with a 3-0 Western …
---