Sports > Seattle Mariners
Out of Right Field: In honor of Jackie Robinson Day, here is our list of the Mariners all-time best Black players
Sun., Aug. 30, 2020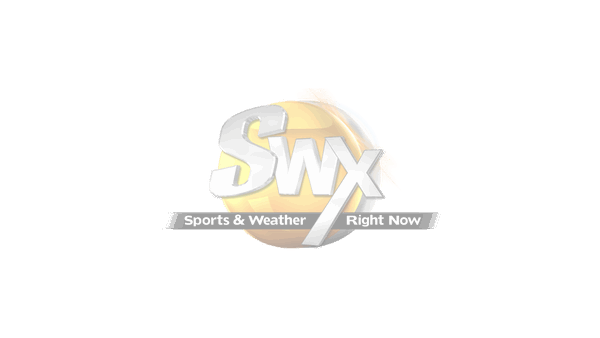 It was some 70 years or so before Black Americans were allowed to play in what is now known as Major League Baseball. And it's been another 73 years since Jackie Robinson broke through that color barrier with the Brooklyn Dodgers.
In the past seven decades, Black players have risen to the top of the game, just as they probably would have if allowed to play the seven decades previous.
Friday, baseball once again honored Robinson's legacy, with every player wearing his number, 42. The tribute is the brainchild of Mariner legend Ken Griffey Jr. So it's probably fitting the M's have more Black players on their 40-man roster than any other team and more than some whole divisions.
But who are the best Black players in Mariner history? The list, of course, starts with Griffey, not just one of the best Black players of all-time, but players, period. He leads or is near the top in just about every one of the club's offensive lists, even though – sadly – he did not play his entire career in Seattle.
From there, however, Black players are not as common on those lists – and are almost non-existent in the pitching categories.
In honor of Jackie Robinson Day, here is our list of the M's all-time best Black players:
5. Arthur Rhodes: Among the club's all-time pitching records, about the only category the left-handed reliever appears in is appearances. He's sixth all-time with 312 in his four years. But most of those came in high-leverage situations, when the most-successful Mariner team needed Rhodes to get out a left-handed hitter and/or finish a key inning. He did it well enough to be an integral part of the 2001 bullpen, winning eight games that remarkable season and 10 more in 2002.
4. Harold Reynolds: The Eugene-born Reynolds played a decade in Seattle when the Mariners were the epitome of mediocrity. Still, he appeared in two All-Star games and won three Gold Gloves for his work at second base. He still ranks in the Mariners' top-10 in stolen bases (third), walks (eighth), doubles (ninth), hits (ninth) and runs scored (eighth). He is also sixth in defensive WAR.
3. Mike Cameron: Speaking of defense, Cameron was a marvel. When Griffey moved on to Cincinnati, Mariner fans were sure they had seen the last of their great centerfielders. Cameron proved that wrong. He won Gold Gloves in 2001 (the year he was an All-Star and finished 16th in MVP voting) and 2003. Though not an exceptional hitter, he did average more than 20 home runs in his four Seattle seasons, including hitting four in one game in May of 2002. It's been done only 18 times in MLB history.
2. Alvin Davis: Mr. Mariner is all over the team's career offensive lists, even almost 30 years since he last wore the teal. From 1984 to 1991 he was the face of the franchise, the Rookie of the Year and a consistent offensive threat on a team with few. Though he never hit 30 home runs, only drove in more than 100 twice and hit better than .300 once, he was still the best the M's had. His 672 walks trail only Edgar Martinez, Griffey and Jay Buhner among Mariners.
1. Ken Griffey, Jr.: There is no other choice. And only a few Black players since Robinson played who have had a better career for any team. A first-ballot Hall of Famer (the M's first), Griffey sits in the top five in every power category for Seattle. His 417 Mariner home runs are more than 100 ahead of Martinez. Griffey won the American League Most Valuable Player Award in 1997, was in the top five four other times, led the league in home runs four times, in RBIs once, won 10 Gold Gloves and was an All-Star 11 of his first dozen years in Seattle. He was, and is, the best player to ever wear the M's uniform.
• One question on everyone's mind this week concerns the looming trade deadline. Who will the M's move before Monday night? Other than Taijuan Walker, of course.
Jerry Dipoto dealt Walker to Toronto last week, receiving a player to be named later in return. That player will be one of the Jays' top 30 prospects, according to The Athletic's Jim Bowden.
Bowden, a former general manager, wrote recently he thought the M's should deal Marco Gonzales, the team's best pitcher and, with four more years left on his current contract, the one with the highest value.
• If the M's do deal Gonzales, the Gonzaga product, it would also tell their fans to forget about this season – if they haven't already. Then why the heck are they continuing to win games? Wouldn't tanking, bringing them the prospect of drafting the consensus No. 1 prospect, Vanderbilt pitcher Kumar Rocker (or his teammate, Jack Leiter), be a better strategy?
It might be, but tanking in baseball is harder than it looks. Going into Saturday's games, Seattle has the fifth-worst record in baseball, though its schedule is tougher in September.
But the M's have already promoted most of their young players. Dipoto has already dealt one of the more-seasoned starting pitchers. The bullpen features some low-paid place-holders. Short of shutting down players with real or imagined injuries, there is little more they can do.
Subscribe to the sports newsletter
Get the day's top sports headlines and breaking news delivered to your inbox by subscribing here.
---