Sports > Area sports
Locally: Former soccer coach Sean Bushey among inductees into Whitworth Heritage Gallery hall of fame
UPDATED: Sat., Sept. 14, 2019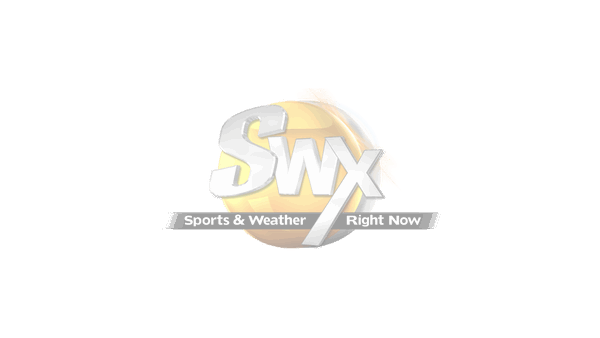 The winningest soccer coach in school history, two NCAA Division III individual champions and the best women's soccer player of her generation comprise the 30th class of the Whitworth Heritage Gallery hall of fame.
Sean Bushey (soccer coach), Rory Buck (men's swimming), Carter Comito (men's track and field) and Jael Hagerott (women's soccer) will be inducted Oct. 5 during ceremonies in the Hixon Union Building at 9 a.m.
It is open to the public. Reservations for the breakfast event can be made by calling (509) 777-3224. Cost is $15 per person.
Bushey coached men's soccer 17 seasons (1996-2013) and women's soccer for 12 (1997-2008). The Pirates men compiled a 209-86-35 record, reaching the NCAA Division III tournament semifinals in 2005 and the quarterfinals in 2009. They won eight Northwest Conference championships and Bushey was named Coach of the Year five times.
The women had a 123-90-16 record, including 80-30-7 his final six seasons. They made the school's only NCAA Division III tournament appearance in 2007. Bushey also coached the men's tennis team from 1997-99.
Buck was the NCAA Division III Men's Swimmer of the Year as a junior in 2011 when he broke records in the 100- and 200-yard breaststroke. He defended both national titles in 2012, ending his career with the four titles and six All-America finishes. His six NWC titles include records in both breaststroke races that still stand.
Buck was also a two-time Academic All-American (second team as a junior, first team as a senior). He represented South Africa at the 2011 World University Games and, following graduation in 2012, finished third at the South African national championships.
Comito, a state-level wrestler and track and field star in high school, focused on the discus at Whitworth and became one of the best at the NCAA Division III level. He won Division III championships as a sophomore (2011), junior (2012) and senior (2013). His school record of 203 feet, 5 inches is the second longest in Division III history.
He was also a national-level shot putter, earning All-America honors in 2012 (indoor and outdoor) and 2013 (indoor) and his school records in the indoor (59-3 1/2) and outdoor (59-2) still stand. A five-time NWC champion, he was NWC Men's Field Athlete of the Year in 2012 and 2013.
Hagerott (2003-07) established the women's soccer career record for assists (30) and also finished with 30 career goals, ending third all time in scoring. She was the NWC Offensive Player of the Year as a freshman when she had 12 goals and 10 assists as a forward.
After scoring eight goals with nine assists as a sophomore, she suffered a season-ending knee injury 17 minutes into her junior season in 2005. She returned as a midfielder in 2006 and 2007, becoming the only four-time first-team All-NWC honoree in school history, leading Whitworth to its first NCAA Division III Tournament appearance in 2007.
A two-time third-team Academic All-American (2006 and '07), she succeeded her father Damon as Whitworth's women's soccer coach in 2011 and led the Bucs for five seasons.
The Heritage Gallery Class of 2019, which will join a group of 99 individuals and eight teams already enshrined, will be recognized at halftime of the Whitworth-Willamette football game that afternoon in the Pine Bowl.
College scene
Whitworth swept the Northwest Conference player of the week awards in football following its 50-24 season-opening victory at La Verne, California, last Saturday.
Noah Alejado, a wide receiver who has taken on the kicking duties this season, was named Special Teams Player of the Week after he averaged 39.2 yards on five punts, including a 55-yarder, with three downed inside the 20-yard line. He also made all six of his extra points and averaged 58 yards on kickoffs.
Zach Hillman (Post Falls), who had nine of his team-high 10 tackles by halftime, was the Defensive Player of the Week. The Pirates held La Verne to 109 yards the first two quarters as they took a 43-7 lead at halftime. Eight of his tackles were solo, including one for a 7-yard loss.
Offensive Player of the Week went to quarterback Leif Ericksen, who played only the first two quarters, throwing for five touchdown and 288 yards. He completed 21 of 29 passes with one interception. His longest was a 53-yard touchdown connection to Andrew Meredith.
• Gonzaga junior goalkeeper Isabel Jones, who shared one shutout and allowed just one goal against eight saves in two matches last week, was named the West Coast Conference Women's Soccer Player of the Week.
Against No. 17 Washington State, which entered the match No. 1 in the country averaging just over five goals a game, she held the Cougars to a scoreless draw and forced overtime, making seven saves before WSU pulled out a 1-0 victory. The saves were one shy of her career high. In a 4-0 GU win over Seattle, she shared the shutout while making another save.
• For the first time at Washington State and the second time in her career, grad-transfer Averie Collins was named the Pac-12 Offensive Player of the Week in women's soccer.
The transfer from Stanford, for which she collected her first honor in 2016, scored her team-leading fourth goal for the Cougars just nine seconds into overtime as WSU overcame the stellar goalkeeping of Gonzaga's Jones for a 1-0 victory. It was Collins' second consecutive winner.
• Community Colleges of Spokane swept the NWAC's first weekly cross country honors on Sept. 5.
Jolene Whiteley, a sophomore from Cheney, claimed women's honors for winning the 6K Puget Sound Invitational "by almost 90 seconds," said Sasquatch coach Sean McLachlan, covering the distance in 23 minutes, 2.79 seconds. "She took control of the race early … and looked comfortable the whole way," he added.
Giovanni Raskel, a freshman from West Valley, was the male recipient after finishing second by 5 seconds to Puget Sound's top runner, timing 25:32 for Puget Sound Invitational 8K.
• The Whitworth women were selected to finish first and the men tied for second in the Northwest Conference cross country coaches' preseason polls.
With senior Kristal Roberts, who was fourth in the conference championships last year for the runner-up Pirates, and Freshman of the Year Ellie Shoop returning, the Whitworth women edged 2018 champion Willamette and Whitman in a tight vote.
The Pirates men, third a year ago, tied with 2018 co-champion Pacific Lutheran behind the other co-champion, George Fox, in coaches' voting that was tighter than the women's. The Pirates have back two top-15 placers – junior Joel Mott and sophomore Aidan Smith.
• The Whitworth men, who won the spring and fall classic titles in 2018-19 but wound up second in the conference championship tournament, are predicted to finish first in the Northwest Conference golf coaches' preseason poll and the Pirates women are tabbed third.
Five seniors, including second-team All-NWC Reilly Hegarty, return for the Whitworth men and are joined by a couple of solid junior transfers. Defending NWC champion Willamette is picked second.
Seven-time NWC women's champion George Fox is predicted to finish first with Whitman, which lost in a playoff with George Fox for the national tournament berth, second. Whitworth returns second-team All-NWC junior Allie Slingsby.
• Hanna Goff from soccer and football's Dallas Hobbs have been named the Washington State Academic Services Student-Athletes of the Month for September.
A starting center back, Goff scored two goals in the first four games, three of them shutouts. The junior from Glendora, California, has a 3.77 GPA as a member of the honors college pursuing a degree in innovation and change in the department of Management, Information Systems and Entrepreneurship.
A junior defensive lineman from Cedar Rapids, Iowa, Hobbs has a 3.81 GPA while studying digital technology and culture in the College of Arts and Sciences. Recognized on the President's Honor Roll, he is creative director for the Black Student Athlete Association and works on the athletic department's strategic planning committee.
Golf
Matt Jones of Spokane has been selected through his participation in First Tee of the Inland Northwest to compete in the PGA TOUR Champions PURE Insurance Championship at Pebble Beach, California, Sept. 24-29.
Jones, 17, a senior at Mead, is one of 78 teens from First Tee chapters across the country who will be paired with a PGA TOUR Champions player and two amateurs during the 54-hole senior tour tournament. Jones began playing golf at age 5 and plans to attend Grand Canyon University.
Play will be conducted on Pebble Beach Golf Links and Poppy Hills Golf Course on Sept. 27 and 28, with the final round at Pebble Beach Golf Links on Sept. 29, where the top 23 First Tee juniors will compete based on their 36-hole performance.
The 16th annual tournament, which will be televised on the Golf Channel, will crown one male and one female First Tee Junior Champion.
• Two area players had top-10 age-group finishes in the Drive, Chip & Putt regional competition last weekend at Chambers Bay in University Place, Washington.
Cole Paquin of Hayden, Idaho, was seventh in the boys 7-9 age group, and Eve Parker of Spokane was 10th in girls 12-13.
Age-group winners qualified for the national finals.
• It's 15 and counting for Beth Wrigley.
The 4-handicap golfer, who plays out of Indian Canyon, moved within a victory of matching the most wins in the history of the Spokane Area Women's Golf Association Championship Tournament by capturing the 2019 title last week.
Wrigley shot a 230 for 54 holes in play at Indian Canyon, Hangman Valley and Wandermere for an 11-stroke margin over runner-up Karen Madison of The Creek at Qualchan. Connie Guthrie, for whom the tournament's championship trophy is named, won 16 times in the 1950s, '60s and '70s. Wrigley's streak is the longest in the tournament that began in 1923.
Janet Skaife (Hangman) was third overall with a 246.
Low net in the field of 106 was Debbie Burks (Qualchan) with a 216. Low net in the championship flight was Julie Gish (Chewelah) at 220.
Flight leaders:
First, low gross – Calla Rodell (Kalispel), 273; low net – Kathie Durgan (Fairways), 220. Second, low gross – Valarie Hartfield (Esmeralds), 288; low net – Lea Morse (Manito), 229. Third, low gross – Chrissie Tamura (Liberty Lake), 299; low net – Mary Hunt (Manito), 223. Fourth, low gross – Jenny Ko (Hangman), 304; low net – Nancy Figy (Qualchan), 218.
Hockey
Nick Farmer of Spokane is taking his career to the next level.
Farmer, 24, who completed a four-year career at Niagara University last season, signed a professional contract with the Wichita Thunder of the East Coast Hockey League.
"Nick has plenty of speed and brings grit and determination to our lineup," Wichita coach Bruce Ramsay said in a team press release announcing the signing. The coach noted the Purple Eagles' captain his senior year "came highly recommended."
The 6-foot, 181-pound forward registered 45 points (19 goals, 26 assists) in 139 career games at Niagara and led the school to its first Atlantic Hockey playoffs championship game.
Prior to college, he played three seasons for the North American Hockey League's Wichita Falls Wildcats. His best year was 2014-15 when he had 53 points (23 goals, 30 assists) in 60 games.
• Dustin Donaghy, who played for Spokane from 2007-09, including winning a Western Hockey League Championship and Memorial Cup with the 2007-08 team, is returning to the Chiefs as a part-time assistant coach.
He had 11 goals and 15 assists in 138 games as a Chief before being traded to Lethbridge during the 2009-10 season. Following his junior career, he played four seasons in the Central Hockey League, mostly for the Wichita Thunder, and was an assistant coach with the Nanaimo Clippers of the British Columbia Hockey League from 2016-18.
The 30-year-old lives in Spokane and is pursuing a career in firefighting.
Subscribe to the sports newsletter
Get the day's top sports headlines and breaking news delivered to your inbox by subscribing here.
---