Sports > Area sports
Community Colleges of Spokane volleyball wins big on, off court during Arizona road trip
UPDATED: Tue., Sept. 10, 2019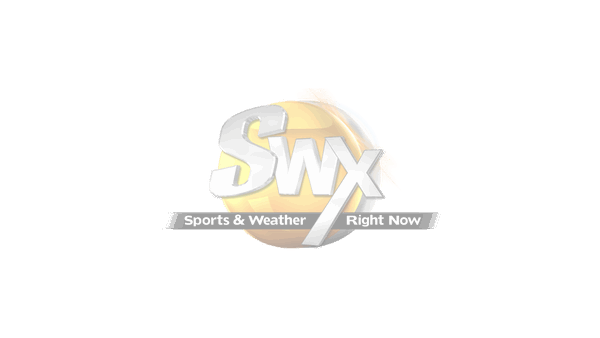 As its past 52 opponents have found out, it's tough to beat the Community Colleges of Spokane volleyball team.
Some of the reasons why were evident on CCS' recent trip to Arizona, where the Sasquatch also made quite an impression during a special visit to an area school.
Coming off a 40-0 season, coach Jenni Hull planned the trip to test her team against tough competition in a different setting.
The airline made a late flight change that condensed their schedule to six matches in three days instead of five. CCS still won all six matches and was pushed to the limit by Mesa before winning in five sets.
"It was fabulous," Hull said. "We had some of the longest single sets I've seen, one that was 34-32 on the first day, a lot of 25-23, 25-22 games. Those teams had unbelievable ball control. We tried to get a lot in in a short amount of time. I ran them ragged, to be honest."
Hull's players responded to every challenge. The Sasquatch beat five junior college teams and Ottawa (Kansas), a fairly new NAIA program. The opponents would probably "rank in the top 10, if not higher," in the NWAC, Hull said.
Hull told her players that the team's long winning streak might be in jeopardy "because I knew it would be a tough road trip. You can't worry about a 40-0 season, because that isn't your goal. The goal isn't to be unbeaten. It's to improve and get better through the season."
CCS, which entertains Skagit Valley on Thursday and hosts an eight-team NWAC crossover tournament Friday, pushed its record to 12-0. The program hasn't lost since Nov. 18, 2017, to Lower Columbia at the NWAC Tournament.
Hull points to team captains – Alleana Gallagher (Lakeside High) and Russell sisters Allison and Lindsey, from Mead – nine returning players and the entire roster.
"Very good leaders, on and off the court," Hull said of her three captains. "We do personality assessments with each player. Eight of the nine returning players are oranges, which means they're very competitive. They're all humble, loyal and super competitive. It's so fun to coach a team that's so focused."
But the six wins weren't the best part of the trip, according to Hull. The players and coaches spent hours at Victory Collegiate Academy in Phoenix, visiting with numerous students who are dealing with tough personal and/or family circumstances.
CCS assistant coach Kaela Straw, a former Idaho Vandals standout, and her family are friends with Victory founder/principal Nick Schuerman.
"It was probably the highlight of my coaching career so far," said Hull, who is in her 15th season at CCS. "We hung out and we talked to them. They're going through some really tough stuff. It was one of the coolest things I've ever seen.
"Some of our players were crying when we had to leave. For sure, we are going to get into some of the schools in Spokane."
Subscribe to the sports newsletter
Get the day's top sports headlines and breaking news delivered to your inbox by subscribing here.
---