Sports > Area sports
Locally: South Kitsap names football field after longtime coach, Shadle Park grad Ed Fisher
UPDATED: Sat., Sept. 7, 2019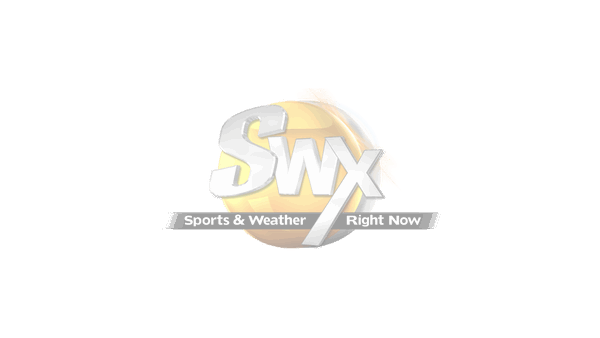 In 23 years as head coach at South Kitsap High School, Ed Fisher turned the Port Orchard, Washington, school into a state football powerhouse – 197 wins, 17 straight playoff appearances, one state championship, two runners-up finishes.
Following ceremonies Friday before the school's 2019 home opener, future teams of Wolves will pursue success on the field renamed for the Spokane native: Ed Fisher Field at Kitsap Bank Stadium.
"I'm very humbled," Fisher said from his home in Marana, Arizona, outside of Tucson. "I'm honored, to say the least. When I first heard about it, I sat down, and it brought tears to my eyes.
"For a football coach to have something like this happen, it is very special."
"We have a unique opportunity to pay tribute to an absolute living legend," said DJ Sigurdson, a former Fisher assistant, his successor and the school athletic director, who notified him of the honor.
In a school district release, Sigurdson added, "Coach Fisher is a name that every person related to SK athletics knows well. He is a tremendous leader who taught countless young athletes the value of hard work and dedication."
The field carries the name of Joe Knowles, in honor of the school district's first superintendent. Administrators reached out to the Knowles family and a daughter gave her blessing to the change.
"That's very generous of the family to do that," said Fisher, noting Knowles' daughter lives in Spokane "in the same neighborhood where my parents lived."
A 1967 graduate of Shadle Park High School, Fisher went on to have a hall-of-fame career in football and track and field at Eastern Washington University before graduating in 1971.
He got his coaching start as a graduate assistant in charge of running backs at the University of Hawaii on the staff of his former Eastern coach, Dave Holmes.
In 1974, Fisher arrived on the doorstep at South Kitsap HS, finding a struggling program that hadn't had a winning record in 11 years. He struggled at first, too, although he started with two 5-4 seasons before going 4-5 and 1-7.
The turnaround came in 1978. A couple of 7-2 seasons led to a 7-3 mark in 1980 and the start of a 17-year run in the state playoffs.
"We were really fortunate that we had some young teachers, some young coaches" when he arrived at South Kitsap, he said. "I had two assistants who stayed with me all 23 years – Steve Reischman and Lyle Ballew – and we were able to build some consistency.
"We refined what we did and figured out what we had to do to win."
He is credited with being one of the first coaches in the state to emphasize weight training, which he acknowledges was a key to the school's success.
Using his classic I-formation running game, the Wolves won the State AAA championship in 1994, going 13-0, capping his only unbeaten season with a 15-10 win over Walla Walla. They were runners-up in 1982, losing the title game to Gonzaga Prep, and in '84, losing to Juanita.
He retired after the 1996 season with a 197-48 record and .804 winning percentage and returned to Spokane to become a vice principal and activities coordinator at North Central High School. He later helped his son, Adam, who was the football coach at East Valley.
Adam and younger brother Casey played for their dad at South Kitsap. Casey was a member of the '94 championship team.
Ed, who has lived in Arizona for three years, was inducted into the Washington State Football Coaches Association Hall of Fame in 1996 and the Kitsap Sports Hall of Fame in 2005. In 1999, the Seattle Times selected him one of the top five coaches in the history of high school football in the state.
After he left South Kitsap, a group of his former players started the Ed Fisher Scholarship, a yearly $1,000 award given to a graduating senior who best exemplifies the characteristics of Fisher.
College scene
Whitworth women collected Northwest Conference defensive player of the week honors in soccer and volleyball.
Isabelle Arends, a sophomore goalkeeper on the soccer team, played the first half in two matches, made four total saves and did not allow a goal as Whitworth gained a split last weekend. She also played 4:51 of a 1-0 overtime victory over Hamline (Minnesota) to earn the win. The Pirates lost 2-1 to North Central, Illinois.
Kiana Vandaele, a sophomore defensive specialist on the volleyball team, made a strong debut as Whitworth's starting libero. She averaged 4.60 digs per set and added six service aces as the Pirates went 3-1 during the weekend.
• The Gonzaga men, ranked as the seventh-best team in the West Region by the U.S. Track & Field and Cross Country Coaches Association, has been selected to finish third in the West Coast Conference cross country coaches' preseason poll. BYU and Portland are picked 1-2.
GU has two preseason All-WCC selections in junior Peter Hogan and sophomore James Mwaura, the first time in program history it has two runners named Preseason All-WCC.
Hogan had a second-team All-WCC finish in 13th place at the conference championships last year and Mwaura was the first Zag to be named WCC Freshman of the Year after setting a school record for a 10,000-meter course and placing 10th at regionals.
Golf
The 2019 edition of the Spokane Area Women's Golf Association Championship Tournament, which has been contested for all but two years since 1923, tees off for a 54-hole run over three courses in three days at 9 a.m. Tuesday at Indian Canyon.
Round two will be at Hangman Valley on Wednesday with the final round at Wandermere on Thursday, both also at 9. Awards will be distributed at a banquet Oct. 4 at 11 a.m. at Kalispel Golf & Country Club.
One-hundred-six women from 12 area courses will compete for the Connie Guthrie Perpetual Trophy, honoring perhaps the most decorated area women's amateur golfer and a 16-time winner of the tournament in the 1950s, '60s and '70s.
They'll be chasing 14-time reigning champion Beth Wrigley from Indian Canyon, who carries a 4 handicap, and is the second-biggest winner.
She'll likely get her biggest challenge from six others in the field who have single-digit handicaps – Karen Madison and Marcy Holt, both from Qualchan; Janet Skaife and Michelle Knowles, both Hangman Valley; and Karen Gilmore and Cindy Vig, both Chewelah.
• Craig Schuh of Deer Park Golf Club tied for 15th at 15-over 159 for 36 holes to lead the showing by area entries in the 2019 Pacific Northwest Senior PGA Championship that wound up Friday at Bear Creek Country Club in Woodinville, Washington.
A stroke back at 160 was Steve Prugh of Manito Golf & Country Club. Billy Bomar of Prairie Falls Golf Club shot 167.
Jeff Coston of Blaine, Washington, shot 1-under 143 for a one-shot victory.
Hockey
Logan Cunningham, the Spokane Chiefs' third-round selection in the 2019 bantam draft, has been signed to a Western Hockey League standard player agreement.
The 2004-born defenseman from Yellowknife, Northwest Territories, is the second member of the Chiefs' 2019 draft class to sign, following first-round pick Ben Thornton. Cunningham, who had a goal and two assists in six games in the 2019 Canada Winter Games, is expected to play in the Canadian Sports School League in 2019-20.
• Two Chiefs were invited by NHL teams to participate in their prospects tournaments this weekend.
Forward Eli Zummack was invited by the Tampa Bay Lightning to play in the 2019 NHL Prospects Showcase in Antioch, Tennessee, against Washington and Nashville.
Zummack, one of 15 drafted and undrafted forwards invited by the Lightning, set career highs in assists (15), points (68) and plus/minus (+15) during the 2018-19 season. He went unselected in the 2019 NHL Entry Draft but was invited to Tampa Bay's development camp this summer.
Defenseman Noah King was invited by the New Jersey Devils to compete in the 2019 Prospects Challenge in Buffalo, New York, against Buffalo, Pittsburgh and Boston.
King, entering his overage WHL season, is one of nine defensemen invited by the Devils, the group including Chiefs teammate Ty Smith. King set career highs last year in goals (five) and points (14) in 65 regular-season games split between the Chiefs and Swift Current Broncos and joined Smith as an anchor of the Chiefs' defense down the stretch and in the playoffs.
• It didn't take the Chiefs long to take a look at 15-year-old goaltending prospect Mason Beaupit. After signing the 2003-born netminder from Surrey, British Columbia, to a standard WHL player contract on Saturday, the Chiefs put him on the ice midway through the second period of a preseason game against Vancouver in Everett last Sunday.
The fourth-round selection by Spokane in the 2019 WHL Bantam Draft stopped 22 of 23 shots in 31 minutes, 53 seconds in a game the Chiefs lost 2-1 in a shootout. Beaupit appeared in 26 games in midget hockey in B.C., last season, leading the league in appearances.
Subscribe to the sports newsletter
Get the day's top sports headlines and breaking news delivered to your inbox by subscribing here.
---