Sports > EWU football
Eastern Washington notebook: Defensive back Joe Lang the latest small-town walk-on to start for the Eagles
UPDATED: Tue., Sept. 3, 2019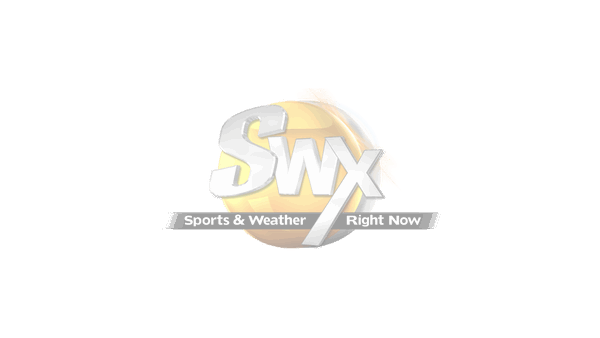 The previous time Joe Lang saw his name in the starting lineup, he was helping Washington small-school power Royal cruise to a 1A state title at the Tacoma Dome.
Lang, now an Eastern Washington rover, was back in the Puget Sound in a first-team role on Saturday at Husky Stadium, the site of the Eagles' 47-14 loss to 13th-ranked Washington.
The crowd of 65,709 – the largest crowd EWU has ever played in front of, according to the school – was roughly 30 times the population of Lang's hometown of Royal City, Washington.
"A cool experience. What a great place to start," Lang, a fourth-year junior, said about his first college start. "A lot of people in that stadium. It was loud."
Lang, a 6-foot-2, 215-pound defensive back/linebacker hybrid, became the latest walk-on to earn a start for the tradition-rich Eagles, the 2018 FCS national runner-up favored to win another Big Sky Conference title this season.
He wasn't the only small-town product on the field Saturday.
EWU started five players who starred in the 1A ranks or lower, including Lang, running back Dennis Merritt (Cascade High in Leavenworth, Washington), center Spencer Blackburn (Meridian High in Bellingham), defensive end Jim Townsend (Okanogan, Washington) and left guard Will Gram, who played 8-man football in Troy, Idaho.
Lang won a 1A state title in 2015 and Townsend won a 2B state title in 2014. All five were all-state selections in their respective classes.
Blackburn, Lang and Merritt also earned medals at the state 1A-2B-1B track meet at Roos Field, where Lang won state in the long (21 feet, 9 inches) and triple jump (42 feet). Merritt took fourth in the 100-meter dash (11.08) and fifth in the 200 (23.09), while Blackburn was seventh in javelin (165-8).
"It says something," Lang said of the multiple small-school players earning starting roles at EWU. "It doesn't matter where you're from, if you come here and put the work in, things can happen for you."
Redshirt sophomore Kedrick Johnson appeared to have locked down the starting spot at rover after starting in the FCS playoffs last season, where he had a game-changing defensive touchdown against Nicholls State in the first round.
But Lang began to supplant Johnson midway through spring drills, Lang said, and he's been in the No. 1 spot since. They rotated on Saturday.
Lang had five career tackles going into this season. He totaled five tackles on Saturday, including a 3-yard tackle for a loss. Johnson added nine tackles.
While the majority of EWU's two-deep hails from the Seattle-Tacoma area and Southern California, EWU hasn't strayed from recruiting and developing under-the-radar small-school gems.
Third-year EWU head coach Aaron Best often dubs those players EKGs – Eastern Kinda Guys.
"In my 20 years here, I've seen a lot of talented players who didn't succeed here because they didn't do what they were asked," Best said. "But many walk-on or partial scholarship guys come to become team captains, starters and All-Americans. Those are EKGs."
Eastern Washington (0-1) begins its home schedule on Saturday against Lindenwood University, an NCAA Division II program in St. Charles, Missouri.
EWU impressed by UW defensive line
Sixth-year EWU seniors Blackburn and Kaleb Levao (right guard) have squared off against their share of great defensive lines, both FBS and FCS.
None were as good as Washington's, they said.
The defending Pac-12 champions limited EWU to 64 yards on the ground and sacked shifty EWU quarterback Eric Barriere four times, despite the Eagles boasting one of the most experienced and decorated offensive lines at the FCS level.
"Levi (Onwuzurike) is supposed to be a first-round draft pick, and the guys around him weren't far behind him," said Blackburn, an FCS All-American. "They were really talented. Central Arkansas in 2016 had some SEC transfers and Youngstown State had both of their defensive ends get drafted, but I'd say this UW (defensive line) was the best I've faced."
Levao agreed.
"They were a really good outfit," Levao said. "Their interior defensive linemen were in really good shape. They're big-bodied, are really athletic, and they knew their scheme and were well-coached. It was good to compete with someone of that caliber to start off our season."
EWU Nos. 4 and 5 in polls
EWU stayed at No. 4 n this week's STATS FCS media poll, but dropped two spots to No. 5 in the AFCA coaches poll.
The Eagles were jumped by Big Sky Conference foe UC Davis, now No. 4 in the coaches poll after falling 27-13 at California.
UC Davis took a 13-0 lead in the first quarter before Cal, which boasts one of the Pac-12's best defenses, flipped the switch.
North Dakota State remained No. 1 in both polls, followed by James Madison and South Dakota State.
Subscribe to the sports newsletter
Get the day's top sports headlines and breaking news delivered to your inbox by subscribing here.
---