Sports > High school sports
Week 5 prep football preview: Mead faces Gonzaga Prep in early battle for top of 4A league race
UPDATED: Thu., Oct. 3, 2019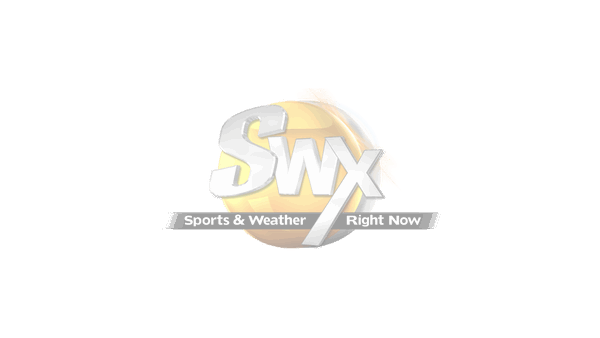 With all due respect to the three other teams in the Greater Spokane League 4A ranks, the league title could very well be determined by the three games between Mead, Gonzaga Prep and Central Valley this season – and the first one is this week.
District 8 4A only gets two allocations to state this year, so early league losses will seriously impact the rest of the season.
Game of the Week
Mead (3-1, 1-0) at Gonzaga Prep (3-1, 1-0), Friday at 7 p.m.: As far as playoff implications go, it doesn't get any bigger than this.
Mead's Panthers come off a dramatic and exhausting victory over Mt. Spokane in the Battle of the Bell last week and face a daunting challenge again.
Mead got a gutsy performance from tailback Caleb Shawen, who carried 20 times for 181 yards – but he spent several series in the fourth quarter on the sidelines with an injured shoulder. His health will be a key for the Panthers and could put more emphasis on Ryan Blair's passing attack.
Blair finished 16 of 24 for 167 yards with four TD passes against Mt. Spokane.
G-Prep bounced back from a nonleague loss in California to beat Shadle Park last week. Sophomore quarterback Ryan McKenna, who is still splitting time with senior Jake Keyes, rushed for 102 yards and a touchdown to guide the Bullpups.
Regardless who is taking snaps for the Bullpups, expect heavy doses of junior RB Jaden Ortega and sophomore RB Robert Collier Jr.
DN: Mead 35-28; SA: GP 35-31.
Best of the rest
Shadle Park (2-2) vs Ferris (3-1), Friday at 5 (Albi): The Shadle Park Highlanders hung tough with G-Prep last week after getting down 21-0 as Ryan Schmidt scored touchdowns on runs of 9 and 13 yards. The Saxons are averaging over 40 points in their three wins. Nate Schlosser ran for 170 yards and three touchdowns against U-Hi.
DN: Fer 31-21; SA: Fer 35-13.
Coeur d'Alene (3-2) at Central Valley (4-0), Friday at 7: CV's Bears outlasted a resurgent Lewis and Clark team last week, getting a Landon Rehkow last-second 21-yard field goal to remain undefeated. They face an up-and-down Vikings squad that traveled to Pocatello last week and was beaten 28-21 by Highland in a battle of two top-five Idaho 5A programs.
DN: CdA 31-30; SA: CV 34-31.
Post Falls (4-1) vs Lewis and Clark (1-3), Friday at 7:30 (Albi): LC's Tigers were led last week by Keani Guthmueller, who rushed for 62 yards and two TDs, and caught eight passes for 107 yards and two more scores, in his second game back this season. Trojans QB Derek Pearse is quietly building a strong resume – he has completed 118 or 184 attempts (64 percent) for 1,459 yards with 20 touchdown passes through five games.
DN: PF 35-31; SA: LC 42-35.
Clarkston (3-1, 0-0) at West Valley (3-1, 0-0), Friday at 7: Great Northern League action begins. WV's Eagles were given a reality check last week, falling to Big 9 4A Eastmont (4-0) 58-0 on the road. Eastmont has outscored its opponents 192-39. The Bantams bounced back from a loss to Lewiston by pounding smaller Idaho school Orofino 55-0.
DN: WV 24-17; SA: WV 21-17.
Deer Park (4-0, 2-0) at Colville (3-1, 1-0), Friday at 7: DP's Stags survived a scare from previously unbeaten Riverside and get a chance to upstage the defending State 1A champ behind outstanding runner Matthew Jorgensen in this key Northeast A clash. The Indians won't go quietly, and expect Grant Micheliszyn to shoulder the load. He carried 31 times for 226 yards and two touchdowns – and also caught a TD pass – in a win over Lakeside.
DN: DP 24-21. SA: DP 17-14.
Others
Mt. Spokane (3-1) at University (0-4), Friday at 7: Mt. Spokane's Wildcats and dynamic tailback Kannon Katzer hope to bounce back after the dramatic loss to Mead in the Battle of the Bell. U-Hi is still looking for its first win of the season.
Sequoia (2-2) vs. North Central (0-4), Saturday at 6 (Roos Field): NC's Indians try to recover after their injury-shortened loss against Rogers last week against the visiting Ravens from Redwood City, California.
Subscribe to the sports newsletter
Get the day's top sports headlines and breaking news delivered to your inbox by subscribing here.
---