Sports > Area sports
Locally: Former Lewis and Clark guard Justin Martin off to quick start for Multnomah University
Sat., Nov. 9, 2019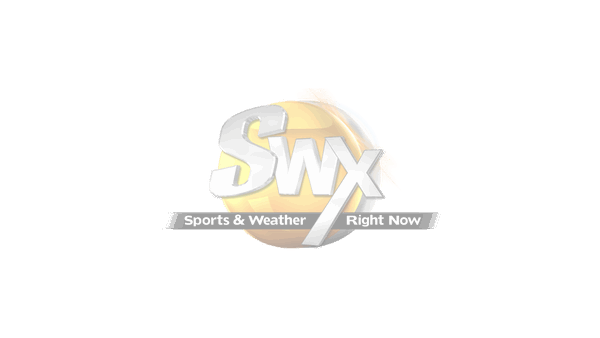 Justin Martin has started the 2019-20 basketball season the way to finished 2018-19.
The Multnomah University senior guard from Lewis and Clark, the NAIA Division II scoring champion last season with a 31.9 average, averaged 39.7 points and 10.0 assists in three victories to be named Cascade Collegiate Conference Men's Basketball Player of the Week.
Martin had a double-double against Northwest Indian – 41 points, 13 assists – while shooting 16 of 30 from the field, and finished the week with a .512 shooting percentage, including .475 from 3-point range. In the Lions' first five games (4-1), he averaged 30.2 points.
• Boislava Hristova's game-high 23 points in Washington State's season-opening 85-48 women's basketball win over Pepperdine on Tuesday moved the senior from Bulgaria into second place on the Cougars' all-time scoring list.
Her career total of 1,722 is 245 behind the 1,967 scored by Jeanne Eggart from 1977-82. Hristova moved past Lia Galdeira, who 1,710 from 2012-15.
• The Whitworth men, runners-up last season, have been selected to finish third and the Pirates' women eighth in the Northwest Conference coaches' preseason basketball polls. Whitman was selected first in both polls.
Whitworth's men return senior Ben College, a first-team All-NWC selection after leading the Pirates in scoring (19.7) last season. The women return senior Jordan Smith (Mead), their No. 2 scorer a year ago (8.2) and Megan Dorney, who started all 25 games as a freshman.
• A seven-point week – three goals and one assist – helped Western Washington junior midfielder Darby Doyle from Gonzaga Prep earn Great Northwest Athletic Conference Women's Soccer Offensive Player of the Week honors.
She scored an equalizer goal on a penalty kick in a 2-1 win at Concordia and recorded her first career two-goal game in a 4-0 win over Northwest Nazarene that clinched the title. She also assisted on a goal in the NNU game, and has four goals in her last four games.
• Jake Levine, a Northwest Nazarene junior forward from Central Valley, was named GNAC Men's Soccer Offensive Player of the Week after scoring three goals and adding an assist as the Nighthawks won twice for their first GNAC wins of the season.
Levine scored a goal in the 59th minute and assisted on the overtime winner in a 4-3 victory over Saint Martin's, then added two goals in the Nighthawks' 3-1 win over Concordia.
• Four area athletes, three of them from North Idaho, were named to 2019 College Sports Information Directors of America (CoSIDA) Academic All-District soccer teams.
The Division I District 8 women's second team includes Santa Clara senior Kelcie Hedge from Post Falls with a 3.48 GPA.
Eastern Oregon teammates Josee Bassett from Coeur d'Alene HS (3.90) and Nan Kiebert from Sandpoint (3.92), both nursing majors, made the NAIA District 4 women's team.
Whitworth junior Scott Penner from Olympia, who has a 4.0 GPA, was named to the Division III District 8 men's team.
• Idaho senior Heather Carbon from Moses Lake was the Western Athletic Conference Diver of the Week after she won both diving events with the highest scores in the WAC this season to help the Vandals to a 152-148 conference win over visiting Northern Colorado.
Carbon scored 281.25 points on the 1-meter and 275.52 on the 3-meter.
• Magda Jehlářová of Washington State was the Pac-12 Volleyball Freshman of the Week for the week of Oct. 28-Nov. 3 after playing a pivotal role as the Cougars split matches in Bohler Gym against No. 25 UCLA and USC.
The middle hitter, who earlier this season was the Pac-12 Defensive Player of the Week, had 20 kills, a .429 hitting percentage and 10 total blocks against the L.A.-area schools. She leads the Pac-12 in total blocks (132) and blocks per set (1.53).
• Missy Huddleston, a Montana senior from Coeur d'Alene HS, was the Big Sky Conference Volleyball Defensive Player of the Week after she averaged 1.50 blocks, 1.75 digs and 3.75 kills per set as the Grizzlies split four-set matches with Montana State and Northern Colorado.
Just two weeks into playing a new position, middle blocker, Huddleston had a team-high three blocks, eight digs and 14 kills as Montana beat the rival Bobcats in Bozeman for the first time since 2015. She had a career-high nine blocks and season-high 16 kills against UNC.
• Senior outside hitter Emiko Kahler collected her fourth Northwest Conference Volleyball Offensive Player of the Week award this season, and second in three weeks, after leading Whitworth to a pair of wins that clinched the regular-season championship for the Pirates.
She averaged 5.29 kills per set, hit .367 and added 20 digs, six block assists and two service aces.
• Morgan Ness, Lewis-Clark State's junior outside hitter from Central Valley, was named the Frontier Conference Volleyball Attacker of the Week after she averaged 3.71 kills per set with a .292 attack percentage as the Warriors won two matches, including upsetting No. 16 Rocky Mountain in four sets.
• North Idaho College sophomore libero Kynzey Mitzel, who played a key role in the Cardinals' East Region championship-clinching four-set win over rival Community Colleges of Spokane, was named the NWAC Volleyball East Region Defensive Player of the Week.
• Kristen Wanke, a North Central graduate who is a senior at Whitman, and four Whitworth Pirates earned All-Northwest Conference honors in cross country based on their finishes in the conference championship meet.
Wanke placed sixth in helping lead the Blues to the women's title and earned a first-team spot. She was joined by Whitworth freshman Becky George from Deer Park, who finished second. The Pirates' Krystal Roberts was ninth and on the second team. Whitworth finished fourth.
Whitworth junior Joel Mott was seventh and on the men's first team while sophomore teammate Aidan Smith, who placed eighth, made the second team. The Bucs men finished fifth.
• Three area athletes capped their cross country seasons by making both all-conference and all-academic teams in the Great Northwest Athletic Conference.
Two area women at Western Washington made both. Rebecca Lehman, a sophomore from University, was all-conference with a ninth-place finish in the conference meet and all-academic with a 3.33 GPA. Tracy Melville, a senior from Lind-Ritzville/Sprague, was 10th in the meet and earned a third straight all-academic honor with a 3.72 GPA.
Rachel Bayly, a Western Oregon senior from Moscow, was all-academic for a third time with a 3.98 GPA.
On the men's side, Liam Cossette, a Western Washington senior from Ferris, made the all-conference team with a seventh-place finish and his 3.36 GPA earned him all-academic honors for a third time. Northwest Nazarene sophomore Tyler Shea from Northwest Christian was on the all-academic team with a 3.94 GPA.
• Eastern Washington women's soccer player Kelsee Winston and sixth-year senior football player Spencer Blackburn have been selected the athletic department's Scholar-Athletes of the Month for October.
Winston, a junior from Hanford, is a criminal justice major with a 3.75 GPA. The Eagles' goalkeeper had four straight shutouts to set a program record for consecutive shutouts and run her career total to a program-record 13. She allowed only four goals in 720 minutes between the pipes in a 6-2 month.
Blackburn, a Meridian HS graduate from Bellingham, has a 3.69 GPA as a double major in professional accounting and economics. He's completed his economics degree and will finish an accounting degree this fall. One of 12 finalists for the national William V. Campbell scholar-athlete award ended October with a streak of 45 consecutive starts.
Hockey
The Spokane Chiefs reassigned goaltender Brett Balas last week to reduce their goaltending roster to two. He joined the Drumheller Dragons of the Alberta Junior Hockey League
The 2001-born goalie was acquired by the Chiefs from Prince Albert on Oct. 15 as insurance with Los Angeles Kings prospect Lukáš Pařík sidelined with a lower-body injury. With Pařík back, Balas was no longer needed. He will remain on the Chiefs' protected list. He played in one game, stopping all seven shots he faced in 13 minutes.
Subscribe to the sports newsletter
Get the day's top sports headlines and breaking news delivered to your inbox by subscribing here.
---