Sports > High school sports
State 1A, 2B, 1B boys track and field: Noah Cherrington helps Lakeside run away with 1A title
UPDATED: Sat., May 25, 2019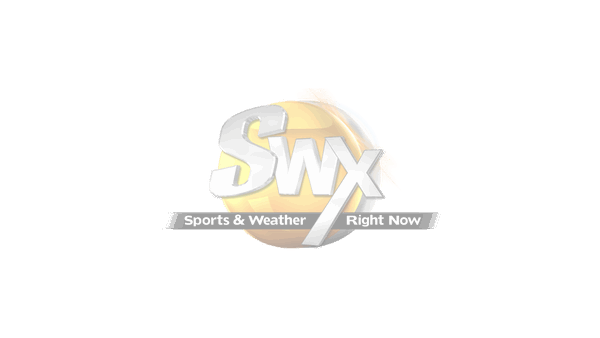 With one potential nightmare behind him, Noah Cherrington spent the rest of the State 1A track and field meet living a dream.
Cherrington won two individual state titles, shared a relay win with his teammates and celebrated the team title that eluded Lakeside (Nine Mile Falls) last year. He even added a medal for sportsmanship as part of an impressive haul of hardware from the meet held at Eastern Washington University on Saturday.
"We all did our best, and I'm so happy we did," said Cherrington, a junior.
Lakeside dominated the 1A boys meet, finishing with 77 points. South Whidbey was a distant second with 51.
Cherrington accounted for 20 points with respective victories in the 110-meter hurdles and the 300-meter hurdles. He also ran the third leg on a 400m relay team that cruised to a win and set the stage for Lakeside's rout in the team standings.
That success helped him put behind an unfortunate stretch on Friday when he was disqualified erroneously in his preliminary heat in the 300m hurdles. Race officials eventually recognized their error – a different runner ultimately was penalized for interfering with an adjacent lane – but not before Cherrington spent a nervous few hours awaiting their decision.
"I sat there for an hour and a half thinking, 'It wasn't me,' " Cherrington said. "It was two or three hours later that they reversed it."
Cherrington came from behind to beat Meridian's Harlon Stuit by three-hundredths of a second in the 110m hurdles Saturday. Cherrington, who trailed Stuit until the last couple of hurdles, finished in 14.7 seconds.
"I leaned in and beat him out," Cherrington said.
He enjoyed an easier win in the 300m hurdles, posting a time of 38.92. Pierce Papke of King's was second in 39.77.
Cherrington teamed with Dawson Dunlop, Logan Allen and Micah Holmes to win the 400m relay (43.35).
Holmes, a senior, successfully defended his state title in the 100 in 11.13, an improvement of 26-hundredths from the year before.
"It's not as exciting (as the first time), but it's more fulfilling," Holmes said.
In the 2B meet, Will Lane of Northwest Christian (Colbert) staked his claim to the title in the 110m hurdles, posting a time of 15.79 to turn back Reardan's Tyler Sprecher (16.15). Lane tacked on a second-place finish in the 300 hurdles, helping his team finish fourth in the team standings.
Dan Rigsby of St. George's won the 400 in 51.08, and he anchored his school's 1,600 relay team that placed third (3:29.47).
Gavin Merritt of Tekoa-Rosalia placed second in the 3,200 (9:58.08).
Colfax freshman Jon Kinley placed first in the ambulatory division unopposed in the 200 (51.2) and the discus (30-6). He also placed second in the 100 (22.89).
"I'm really happy, and I'd like to thank my coaches for helping me get to state," Kinley said.
Adna won the 2B team championship with 54 points, followed by Northwest Christian (Lacey) with 35, Ilwaco with 34 and Northwest Christian (Colbert) with 32.
In the 1B meet, Oakesdale's Matt Hockett secured second place in the 200 (23.36).
Mount Vernon Christian walked away with the 1B team title with 82 points. Pope John Paul II was the runner-up with 70.
Subscribe to the sports newsletter
Get the day's top sports headlines and breaking news delivered to your inbox by subscribing here.
---