Sports > High school sports
State 1A, 2B, 1B track and field: Tekoa-Rosalia's Garrett Naught holds off league rival to claim 2B high jump title
UPDATED: Fri., May 24, 2019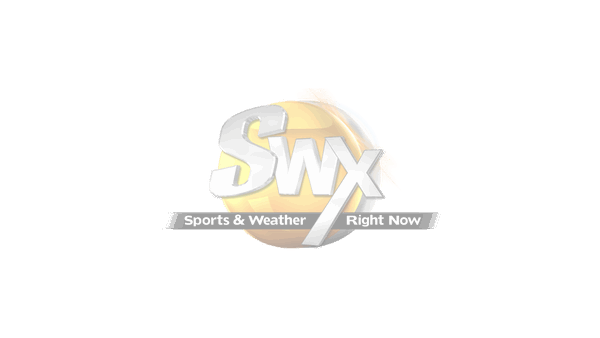 Kettle Falls' Charlie Andrews needed his rival to miss just one more attempt to stake his claim to a State 2B championship in the high jump on Friday.
Rather than root for misfortune to beset Garrett Naught of Tekoa-Rosalia, however, Andrews instead met his opponent with a fist bump and a pat on the back when Naught cleared the bar on his third attempt to keep pace on the leaderboard.
Naught went on to win the title at Roos Field at Eastern Washington University, outlasting Andrews with a first-place effort of 6 feet, 6 inches, 4 inches ahead of the runner-up. Andrews was first in line to congratulate Naught as the Tekoa-Rosalia junior celebrated his state title.
"We've (competed) together since my freshman year when it was my first time at state," Naught said. "We've talked to each other ever since."
"We're not so competitive that we want the other guy to fail," Andrews said.
A camaraderie exists in the field and throwing events that doesn't occur as often in the running events. The downtime between throws and jumps affords the athletes a chance to speak and get to know each other a bit. State meets also give rival competitors a chance to encourage and share in each others' successes after battling during the regular season and district meets.
Naught twice overcame the pressure that coincided with missing two jumps and his potential elimination with a third failed attempt. Naught had his left quad wrapped with tape, a result of an injury he suffered a week earlier, but he came through when it mattered most to take the top spot on the podium.
"Last year, I missed state with a medical injury," Naught said, noting it was a hernia that derailed his sophomore campaign. "Now here we are."
In the boys' 1A pole vault, Colville's Jakob Larson and Lakeside (Nine Mile Falls') Nate Pergl each cleared 13 feet to tie for second place behind state champion Adam Graves of Bellevue Christian (13-6). Larson and Pergl spent much of their time seated next to each other sharing laughs and joking around.
"We've gotten closer and closer," Larson said. "I don't know how to explain the camaraderie. In the pole vault at least, everyone goes through struggles and things they have to face. You're fighting against yourselves more than each other."
Pergl echoed that sentiment.
"He's a great guy, and every time we root each other on," Pergl said. "We like to make jokes, throw water at each other, that sort of thing."
Kameron Greenhalgh of St. John-Endicott/LaCrosse captured first place in the 1B discus at 135-9, good enough for a 4-inch margin over runner-up Sam Bessler of Evergreen Lutheran.
Thomas Martin of Asotin placed second in the 2B long jump at 22-1 3/4. Colfax's Cameron Hiatt was fourth (20-8).
Chewelah's Wade Baker placed third in the 2B shot put at 47-8, a personal best by 7 inches.
"I'm pretty satisfied," Baker said. "It was nice to (set a personal record)."
Matt Hockett of Oakesdale finished third in the 1B javelin (156-7).
Cashmere leads the 1A boys with 20 team points. Lakeside is lurking in a tie for third with 12. Tekoa-Rosalia, bolstered by Naught's 10 points for finishing first, is tied with Napavine atop the 2B standings with 14 points. Pope John Paul II leads the 1B boys with 24 points.
Girls
Lakeside's Olivia Mikkelsen, a senior, placed second in the 1A shot put (38-10 3/4).
Freshman Sidney King of Lind-Ritzville placed second in the 2B pole vault (9-6). Davenport's Hailey Arland and Asotin's Adrienne Washington tied for fourth (9-0).
"It was really cool because all four people from our district made it to the podium," said Arland, making note of seventh-place finisher Johanna Keller-Tersch of Colfax (8-0).
Oakesdale freshman Bree Rawls, who won her preliminary heats in the 300 hurdles and 100 hurdles on Thursday and Friday, respectively, placed third in the 1B high jump (5-2).
"It was nerve-racking, but it was exciting, too," Rawls said of her first state meet.
Lainy Jacobson, a junior at Davenport, finished second in the 2B javelin (118-10).
Chewelah sophomore Natalie Rose-Sheppard placed third in the 2B discus (109-1).
Seton Catholic leads the girls 1A team standings with 18 points. Asotin enjoyed a productive day in the field events to seize first place in the 2B standings with 28 1/2 points. Oakesdale (24) trails Trout Lake by two points for the top spot in the 1B standings.
Subscribe to the sports newsletter
Get the day's top sports headlines and breaking news delivered to your inbox by subscribing here.
---