Sports > EWU basketball
Before dominating in the NBA, 'unguardable' Damian Lillard was a nightmare matchup for Eastern Washington
UPDATED: Wed., May 15, 2019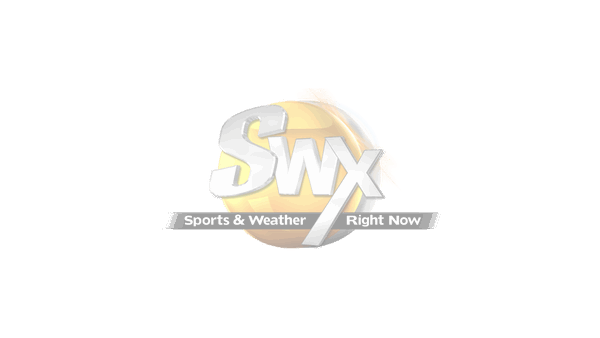 Glen Dean remembers the first time he took the court against Damian Lillard.
They were fifth-graders, matched up in the championship game of an AAU tournament between Dean's Seattle Rotary and Lillard's Oakland Rebels. The Rebels won.
A few years later, at a Washington State basketball camp for high school players, Lillard swooped over another player for a thundering dunk, after which the gym erupted, Dean said.
And then, when Lillard was the reigning Big Sky Conference Freshman of the Year at Weber State, Dean, a freshman at Eastern Washington, was assigned the task of guarding him.
It did not go well for the Eagles' 5-foot-10 guard. Lillard finished 10 of 11 from the field and 10 of 11 from the free-throw line on his way to 36 points and an 89-67 victory for the Wildcats.
Dean matched up against Jimmer Fredette (of BYU) and Klay Thompson, both NBA draft picks that season.
But neither impressed Dean like Lillard did.
"He was the best player I matched up against that whole season, by far," said Dean, now a real estate agent, trainer and coach in Seattle. "I called my younger brother after that game, and I said, 'Remember this name: Damian Lillard. He's gonna be an NBA draft pick and an NBA All-Star.' "
Dean proved to be correct: The Portland Trail Blazers took Lillard sixth overall in the 2012 draft and are now in the Western Conference finals – Game 2 is tonight – in large part due to the play of their four-time All-Star guard, the rare Big Sky talent who went on to such levels of success in the NBA.
"I knew in preparing to play them, that last year at Eastern, I knew he was awfully good," said Kirk Earlywine, then Eagles head coach and now an assistant at Idaho. "I had two really good defenders, (Jeffrey) Forbes Jr. and Dean, but they were 5-10, 5-11 guys, and (Lillard) just shot over the top of them like they weren't there."
After that 36-point game on January 23, 2010, when Lillard was a sophomore, Earlywine said he thought Lillard was a first-round talent.
This year, he watched Lillard shoot over 6-9 Paul George of the Oklahoma City Thunder.
"He was the most unguardable guy," Earlywine said. "He had the ability to make shots that you couldn't guard."
Forbes, also a freshman on that team, was immediately impressed with the future pro.
"What he's doing in the NBA is the same thing he was doing in college," said Forbes, now a business teacher and basketball and track coach at Decatur High School in Federal Way, Washington. "When he's making those 3s and coming off a screen and making plays happen, that's the Damian I knew in the Big Sky. He's just elevated his game to the next level."
Lillard played six games against EWU in his four-year career at Weber State, with his junior season shortened to 10 games due to injury. Weber State won all six matchups.
Forbes, who also leads the DECA program at Decatur, took the group to Portland two months ago for a Blazers game against the Thunder. Forbes said he wore his Eastern Washington jacket and had a brief opportunity to talk to Lillard, who immediately recognized his former opponent.
Lillard was never a trash talker, Forbes said, and he remembers that Lillard simply showed up to games and did what he had to do.
"He let his game speak for him," Forbes said. "We tried to get him out of his character, but that's just not Damian."
Shantay Legans, now Eastern Washington's head coach, was an assistant with the Eagles during those games against Weber State. It was clear to Legans then what a talent Lillard was, and thus it was no surprise the Wildcats were so successful then: The best players usually win.
A few years later, for example, when the Eagles had Tyler Harvey as a junior in 2014-15, Eastern went 14-4 in the Big Sky and reached the NCAA Tournament. Harvey was the 51st overall pick in the subsequent NBA draft.
"We had Tyler Harvey here. He was an unbelievable scorer. We've had some guys here who could do that," Legans said. "But Damian Lillard was something special."
Lillard has become the face of a franchise that is beloved by its city, one that since the Seattle SuperSonics' departure to Oklahoma City and the Vancouver Grizzlies' relocation to Memphis is the only NBA team in the Pacific Northwest.
Although he grew up in Seattle, Forbes said he finds himself rooting for Lillard and the team from Portland.
"It makes it so much easier to root of the Blazers. I'm gonna root for (Lillard) no matter what," Forbes said. "He's been respectful to me. I just loved competing against him. To see him grow, I just love everything about it."
Earlywine has been around Lillard some, and knows many others who know the guard well. To Earlywine – who coached for 11 seasons in Utah – it's obvious that Lillard is beloved by his teammates.
"Talking to the people who have coached him, he's an unbelievably good human being," Earlywine said.
"He's not one of those guys who every time he makes a shot he's drawing attention to himself. … It's a lot more fun to coach when your best players are Damian Lillard or (Karl) Malone or (John) Stockton or (Tim) Duncan, the guys who are team guys.
"There's a reason that city reveres him. He's a terrific example of what you'd like a player to be."
Subscribe to the sports newsletter
Get the day's top sports headlines and breaking news delivered to your inbox by subscribing here.
---