Sports > Seattle Mariners
Mariners' Marco Gonzales carries Gonzaga memory to mound for Opening Day start
Wed., March 20, 2019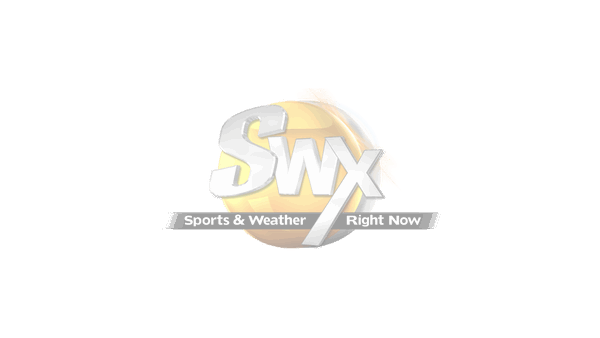 TOKYO – Whether they stayed up into the early-morning hours to watch or decided to catch the highlights, Marco Gonzales' former coaches at Gonzaga saw a familiar scene when the southpaw took the mound Wednesday at Japan's Tokyo Dome.
The newly appointed Seattle Mariners ace donned the No. 7 on the back of his jersey for the first time since his storied Zags career, a number he chose when arriving at Gonzaga to honor a childhood friend who died from cancer when he was a teenager.
"Ever since then, it's become a part of my identity and who I was. It's kind of the characteristic of how I pitch and how I play," Gonzales said after the game. "So when the opportunity came, when Jay (Bruce) took my number and I had the opportunity to switch, it was an easy decision."
The 27-year old left-hander went six innings and struck out four in the first Opening Day outing of his career, earning the win in Seattle's 9-7 win over the Oakland Athletics.
Struggling in the first three innings by spotting Oakland a 2-0 lead, also not helped by a Ryon Healy error to concede an unearned run, Gonzales settled down to only allow one base runner in the final three innings and leave with a 9-4 lead.
Gonzales admitted nerves got to him a bit, especially given the stage of the facility and the emotions surrounding the ceremonious celebrations of his teammate Ichiro Suzuki.
"I was jittery, to say the least, but I was just trying to embrace all the emotions that I could and look around and just kind of see what everything was like," he said. "Once I got my feet under me, it was good to settle in there."
Five years removed from his tenure in Spokane, Gonzales is rarely disconnected from the Gonzaga part of his life. His college coaches were among those he was excited to call and share the news of his promotion to the top of the rotation.
"I have constant communication with those guys, constantly updating them," he said. "I think they're following me pretty closely and I'm following them, too, and that relationship had just gotten better and better. I was very happy to make that call and let them know. It's been such a great dynamic. I made an amazing choice to go to college there and it's something I'll never forget."
Selected in the first round of the 2014 draft by the St. Louis Cardinals, Gonzales' career was disrupted in 2016 when he suffered a left elbow injury and underwent Tommy John surgery. He was traded to Seattle the next season.
Fully healthy in 2018, Gonzales put up the most productive season of his career with a 4.00 ERA over 166 2/3 innings while striking out 145. An advanced analytic that accounts for fielding factors would adjust his ERA down to 3.43, according to Fangraphs.com.
Mariners manager Scott Servais made the perhaps-unpopular decision to give Gonzales the ball in game one, breaking a decade-long streak by franchise stalwart Felix Hernandez, citing the 2018 performances of both pitchers. Gonzales inspired confidence in the decision with his first outing of 2019.
"It was nice to see Marco calm down a little bit after a couple shaky innings to start the game," Servais said. "I thought he threw the ball really well the last three innings, which was really the key of the game for us, to get him deep into the ball game."
Gonzales is taking his role seriously as a leader of the rotation. New Mariners pitcher Yusei Kikuchi is taking notes ahead of getting the call in the second game of the series.
"Every day, Marco keeps his routine and I watch him do that," Kikuchi said through an interpreter. "I respect him a lot and I study lots of routines with him."
Sometimes, they even talk Zags, thanks to another Japanese star athlete: Rui Hachimura.
"I keep up with the guys and tune in when I can," Gonzales said. "Yusei knows who (Hachimura) is. … He's an exciting player to watch and he's the pride of this thing, for sure."
Subscribe to the sports newsletter
Get the day's top sports headlines and breaking news delivered to your inbox by subscribing here.
---