Sports > Spokane Indians
Former MLB pitcher Jen-Ho Tseng has short debut outing for Spokane Indians in loss to Tri-City
UPDATED: Thu., June 27, 2019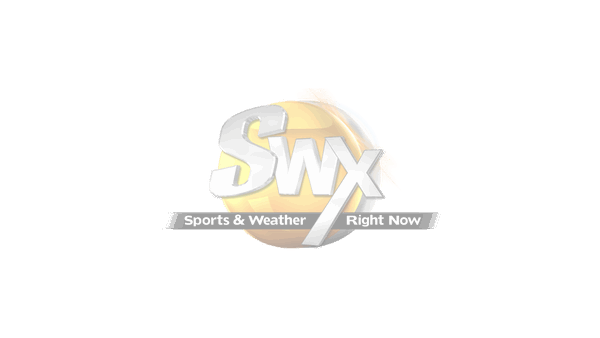 Due to a dearth of major-league-ready starting pitching depth in their system, the Texas Rangers signed Jen-Ho Tseng as a free agent this spring after the Chicago Cubs released their two-time minor league pitcher of the year.
The Rangers assigned the right-handed starter to extended spring training, then added him to the Spokane Indians roster this week.
His first start as a member of the Texas organization did not go as anyone would have planned.
Tseng lasted three batters before leaving with "discomfort" and the Tri-City Dust Devils beat the Indians 6-3 on Thursday to sweep a three-game Northwest League series at Avista Stadium.
It seemed like a good gamble for the Rangers. The 24-year-old Taiwan native went 13-4 with a 2.54 ERA across 24 starts in Double-A and Triple-A in 2017. But he was rocked in a spot start for the Cubs in September of that season and hasn't been the same since.
Tseng was ranked by MLB as the Cubs' No. 12 prospect entering 2018, but went 2-15 with a 6.27 ERA for the Cubs Triple-A affiliate in Iowa that season. He continued to struggle in spring training this year, leading to his release on April 11.
Still, the Rangers thought enough of him from his previous experience to give him a shot to reclaim his lofty status.
It's a work in progress.
Tseng's first pitch hit the backstop on the fly. After a pop out, he walked Reinaldo Ilarraza and allowed him to steal without a look. Tseng hit left-handed batter Matthew Acosta in the back, stepped off the mound and waived to the bench. After a short meeting with manager Kenny Hook and the training staff, Tseng left the game.
Tseng faced three batters and threw 11 pitches – three for strikes. The location of his discomfort was undisclosed, but Tseng battled shoulder soreness during spring training.
"It was a odd situation there, I think," Hook said. "I mean, we don't really know. I haven't had a chance to talk to him yet."
Hook said it would be tough to evaluate Tseng's performance at all.
"You know, without knowing when it happened, on what pitch it happened, you can't really tell," he said. "It might have happened on the very first pitch he threw, right? So what happened after that? We don't know."
Nick Gatewood greeted reliever Theo McDowell with an RBI single. A wild pitch allowed Acosta to score to make it 2-0.
With two on and two down in the second, Ilarraza lofted one into short center for an RBI single. Obie Ricumstrict mishandled the pickup, allowing another run.
In the bottom half, the Indians (9-5) had the bases loaded with one down. A fielder's choice grounder by Kellen Strahm plated a run, but a big inning escaped the Indians.
Stanley Martinez was hit with a pitch in the fourth and scored on an RBI triple by Jake Hoover, who then scored on an RBI single by Strahm, cutting the lead to one.
Tri-City (7-7) picked up a run in the sixth off three consecutive singles off reliever Nic Laio.
The Indians had runners on second and third with one out in the bottom half, but Hoover and Strahm struck out, quashing the budding rally.
"You get yourself into scoring situations but not able to come through, those are more pressure situations when you're behind," Hook said. "Those are tougher at bats."
TC added a run in the seventh on Tyler Benson's two-out single.
In relief: McDowell allowed two runs, one earned, on five hits and two walks with five strikeouts over 3 1/3 innings. Laio struck out four over 2 1/3 innings and allowed one earned run on five hits.
Ben Anderson worked two innings and allowed a run on two hits and a walk with three Ks and Warner Leal pitched a perfect ninth with two strikeouts.
Highlights: Strahm went 2 for 5 with two RBIs. He's hitting .318 with a .712 OPS with eight RBIs in 26 at-bats. Francisco Ventura went 2 for 3, upping his average to .364.
Subscribe to the sports newsletter
Get the day's top sports headlines and breaking news delivered to your inbox by subscribing here.
---