Sports > Spokane Indians
Defense lets down Spokane Indians in loss to Tri-City
UPDATED: Wed., June 26, 2019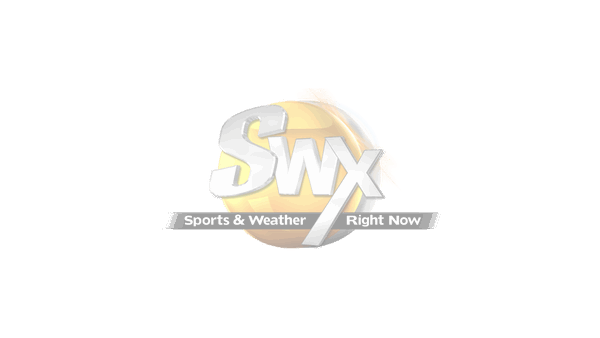 A couple of defensive miscues in the middle innings proved huge Wednesday night and the Spokane Indians fell to the Tri-City Dust Devils 5-2 in the second of a three-game Northwest League series on Wednesday.
The game was delayed 40 minutes due to rain.
A fluky play in the fifth inning on a foul pop-up to third allowed one run to score. In the sixth, a stolen base, throwing error and wild pitch led to another.
"There were some outs there they were giving us there," manager Kenny Hook said. "We were just indecisive with the ball. They like to run and we have to be able to defend it."
Unlike earlier in the homestand when the Indians swept Boise and outscored the Hawks 26-4 over four games, the offense wasn't capable of making up the difference.
"We were in position to score some runs, we just couldn't get that big hit," Hook said.
The Indians sent another starting pitcher out for his professional debut. Justin Slaten, the Texas Rangers third-round pick in the 2019 MLB draft out of New Mexico, had a bit of a rough go.
Slaten retired the first batter of the game, shortstop Jordy Barley, on one pitch – a popup to first. He lost Reinaldo Ilarraza on full count. With two down, Jason Pineda rapped a single to right to put runners on the corners.
The Dust Devils attempted a double steal and Pineda got into a rundown. Ilarraza broke for home and second baseman Kenen Irizarry didn't throw home. The run scored, then the exchange at second was fumbled and all hands were safe.
Nick Gatewood singled home another run, Jonny Homza followed with a single through the hole and Jack Stronach walked to load the bases – ending Slaten's night.
Luis Rosario took over and got Luke Becker to ground to first to escape further damage.
Slaten, a 6-foot-4, 200-pound 21-year-old native of Texas and an All-Mountain West second-team selection, made 13 starts for the Lobos this season and went 5-5 with a 2.51 ERA and 98 Ks in 82 1/3 innings over 13 starts.
"The ball comes out easy. He's got some stuff there." Hook said of his starter. "He had a couple of walks there, but if we make that (first-and-third) play, we'd have gotten out of it."
In the home half of the first, Kellen Strahm led off with an infield single and went to third on an errant pickoff attempt. Tanner Gardner walked, then Ryan Anderson banged one off the left-center fence for an RBI double.
With one down, Jonah McReynolds bounced to short but Garnder scampered home to tie it at 2.
T-C leadoff hitter Barley tripled to lead off the fifth and Ilarraza walked, bringing out Hook to relieve Rosario. Juan Castillo entered and was greeted by an RBI single from Matthew Acosta to make it 3-2 and put runners on the corners.
Gatewood fouled out to deep third, but McReynolds froze after the catch and Ilarraza hustled home from third after tagging up.
Rosario's final line included two earned runs on two hits and two walks with three strikeouts over 3 1/3 innings.
In the bottom half, Irizarry led off with a single and Strahm doubled to the right-center gap, but Irizarry was thrown out by a couple of feet trying to score on the play. Strahm was stranded after Gardner looked at strike three and Anderson flied to center.
Luke Becker singled with one down in the top of the sixth, stole second and went to third on catcher David Garcia's throwing error, then scored on a wild pitch by Castillo to make it 5-2.
The Indians got something going in the bottom half, but their minislump continued. Blaine Crim reached on a fielding error by the shortstop and McReynolds' broken-bat single put two on. Garcia bounced to second to move the runners up a base, but Joseph flied out to medium center and Cristian Inoa popped out to short to end the potential rally.
A double play erased a leadoff single by Irizarry in the seventh and Crim's base hit in the eighth went for naught with a strikeout and popup to end the inning.
Castillo allowed an unearned run on two hits and a walk with three strikeouts over two innings. Nick Starr struck out three in two innings of hitless relief and Joe Corbett made his pro debut in the ninth and struck out three and walked one.
Subscribe to the sports newsletter
Get the day's top sports headlines and breaking news delivered to your inbox by subscribing here.
---