Sports > Spokane Indians
Colorado Rockies top pick Michael Toglia returns to Pacific Northwest for pro debut with Boise Hawks
UPDATED: Mon., June 24, 2019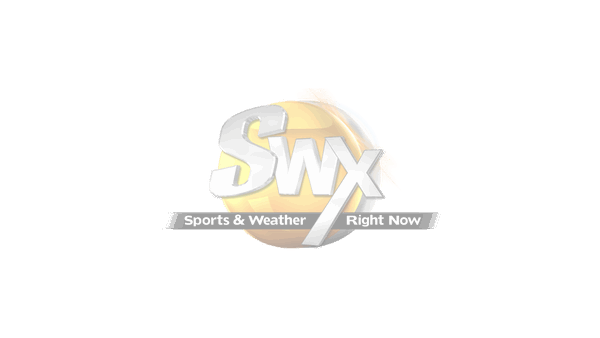 Three weeks ago, Gig Harbor native Michael Toglia was drafted in the first round out of UCLA – No. 23 overall – by the Colorado Rockies. As if that's not enough to turn a kid's life upside down, then came finals, the NCAA Tournament and signing his contract – which happened on Tuesday.
So what happened when he finally made his professional debut on Friday for the Northwest League's Boise Hawks? How about ripping a no-doubt homer in his second at-bat.
"It's been a hectic past couple weeks," Toglia said outside the visitor's clubhouse at Avista Stadium, where the Hawks were getting ready to take on the Spokane Indians in the second of a four-game series.
"On top of everything else, we had to take care of housing and getting situated with the host family (in Boise). So there's been a lot going on."
The 20-year-old thinks it's pretty cool to spend his first pro season in the Pacific Northwest where he grew up.
"Yeah, it's kind of ironic that anywhere in the country I could have gone I'm kind of near my home state," he said.
"It's poetic."
Toglia hit .314/.392/.624 with 17 homers and 65 RBIs in his junior season for the Bruins, which reached the NCAA Super Regionals before bowing to Michigan – now in the finals against Vanderbilt.
It's not the first time the Rockies showed interest in Toglia. The big league club drafted him out of Gig Harbor High School in the 35th round of the 2016 MLB draft.
"I think that's really cool," Toglia said. "I think that that shows a lot of character out of the Rockies organization, shows their resilience, and their belief in certain players."
Might it just show a little bit about his character as well?
"Yeah, I guess a little bit," he admitted.
In his first at-bat in Friday's game, Toglia hit a hard ground ball that Indians second base Stanley Martinez couldn't come up with, and it went as an error. In his second at-bat, he turned on an inside fastball from starter Ricky Vanasco and clubbed it into the picnic area past the low fence in straight-away right field.
"That felt good," he said. "I was a little bummed that first one didn't go through. You only get one first professional at-bat. So I was hoping it would get through. But I was glad the second one I was able to poke."
And the perfect ending to a pretty good story? Some folks from Gig Harbor caught it.
"Yeah, we actually got (the ball) back," Toglia said. "Believe it or not, they caught the ball and then they met me outside of the clubhouse (after the game)."
Toglia hasn't set any specific goals for the rest of the NWL season.
"I just want to keep winning," he said. "I want to develop as a player, I want to help my teammates develop, and I want to speak better Spanish. That's the real goal."
Toglia said he had five years of Spanish in high school and college – where he was a physics major – but it's nothing like being immediately immersed in the language.
"Half the team's going to be speaking Spanish. I know a little bit and I can get by but I enjoy speaking Spanish with everyone."
Toglia is proud of being a first-round pick but doesn't internalize any pressure that might come with it – despite the increase in media attention.
"I mean, after a couple weeks, no one cares where you get drafted," he said. "We're all in this together. We're all trying to get to the next level. We're all trying to get to Denver."
He said more people are reaching out to him on social media and other outlets, but he tries not to get distracted.
"To me, that's just all white noise."
Subscribe to the sports newsletter
Get the day's top sports headlines and breaking news delivered to your inbox by subscribing here.
---