Sports > Area sports
Youth notebook: Spokane Junior Rifle Club wins title at Civilian Marksmanship Program National Championships
UPDATED: Fri., July 19, 2019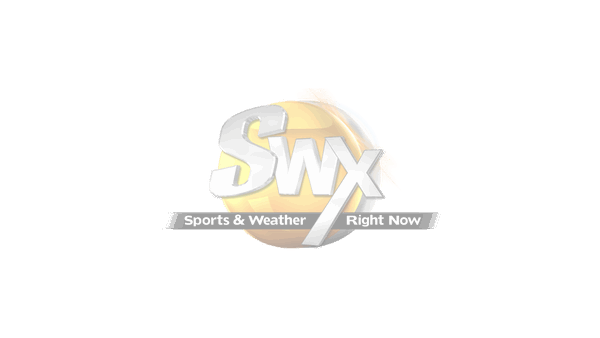 Zach Pearsall was a Good Samaritan, which enhanced his coolness under pressure that helped deliver a national championship to the Spokane Junior Rifle Club.
Shooting in the 2019 Civilian Marksmanship Program National Championships on Monday at Camp Perry, Ohio, a day after he had turned in a personal record, Pearsall encountered some "rifle failure" during the prone stage of the three-position event.
Earlier Monday, a member of the Walla Walla team had a rifle malfunction. His team asked if anyone could loan the Walla Walla shooter a rifle so he could compete. Pearsall stepped up and offered his.
When he got it back, Pearsall didn't realize the rifle had apparently been adjusted to fit the borrower and wasn't "working" for him anymore. So SJRC coach Ray Wilson went to work to get the rifle readjusted.
In an email to SJRC members, Wilson wrote that the 17-year-old Mt. Spokane student made "an epic recovery," but it "left him with only 10 minutes (in the timed competition) to shoot his sighting shots and 20 record shots.
"Zach showed remarkable composure and completed these tasks with two minutes to spare," scoring 198 out of 200, Wilson wrote.
"Based on this fantastic showing … the other members of the team voted Zach the MVP of the team."
Only seven points separated the scores of the four SJRC Gold team members, who shot 2,340 out of a possible 2,400 to win the CMP national championship in a field of 55 teams.
Taylor Christian, 17, Spokane Valley Tech, shot 588 out of a possible 600 and finished 15th in the individual competition; Cassidy Wilson, 18, headed to Alaska Fairbanks, shot 587 and was 21st; Ben Tafoya, 16, Gonzaga Prep, shot 584 for 55th; and Pearsall's 581 total placed him 88th in the field of 285.
Zach's younger brother, Garrett Pearsall, 14, the team alternate, shot 544 "in his first time on the national stage," Wilson wrote. "He turned in a great performance by not only shooting his average, but bettering his score from the qualifying match."
Soccer
Eastern Washington has a 2019 girls national soccer champion.
Jordie Breeden (Sandpoint) scored in the 28th minute and Eastern Washington Surf Soccer Club Girls 03 played solid defense in front of keeper Abbie Scott (Cheney) to make it stand up for a 1-0 victory over New England Futbol Club as the second-year team won the National Premier League 16U national championship Monday in Commerce City, Colorado.
The title game was a rematch of the first match of group play when NEFC prevailed 1-0. It was EW Surf's only stumble of the week as the Washington National Premier League division champion recovered to become the first member of the Puget Sound Premier League to win a national title.
EW Surf won its next two matches in group play. It was 4-0 over Dallas Sting on goals by Madison Whitney (Central Valley), Delani Walker (Loyola Sacred Heart-Missoula), Kylie Newman (Mead) and Ava Jakich-Kunze (Moscow) and 2-0 over HFC Storm from Hattiesburg, Mississippi, as Tessa Thornton (University), who assisted on Breeden's title winner, scored twice.
That earned it the No. 2 seed from its group in the semifinals, where it met United Soccer Academy from Mt. Pleasant, South Carolina. With 15 minutes remaining, EW Surf led 2-1 on goals by Whitney and Walker, but Mt. Pleasant leveled the score with a late goal.
After two scoreless overtime periods, the teams went to penalty kicks to determine the finalist. Scott, who had blocked a penalty kick earlier in the tournament and wound up with three shutouts following the blanking of NEFC in the championship match, saved two penalty kicks as EW Surf prevailed.
EW Surf Girls 04 also qualified for the NPL nationals as a WNPL champion, but didn't advance out of group play in the 15U division.
The program is in its second year. In 2018, three local teams – Spokane Breakers, Spokane Foxes/Pumas FC and Valor Soccer Club – joined forces to create EW Surf.
Shea Swoboda, the EW Surf director of coaching who coaches both the 03 and 04 teams, said the most satisfying aspect of the championship is that it fulfilled "a vision we had years ago. We could see the potential in this group. We had club changes" but through it all "they bought into it."
This year "they believed they could win; they had the confidence and they fought for each other," she added. "It was just incredible to be a part of it."
The other players: Katelyn Asay (Mt. Spokane), Cassidy Brown (North Central), Holly Hudson (Coeur d'Alene HS), Abby Lewis (CV), Amaree Moore (CV), Murphy McKenna (CV), Emily Ray (Lake City), Karlie Reed (Lewis and Clark), Emma Spence (Lakeside-Nine Mile Falls), Karlee Sperry (Sentinel of Missoula), Ally Stickney (Colville) and Darah Swan (Mead). The coaches: Swoboda and Brian Scott.
Softball
Travis Smith is going out on top.
After leading USA Explosion of Coeur d'Alene to the USA Softball of Idaho State 18U girls championship Sunday at the Merkel Complex in Spokane, Smith said "this is my last game. I'm retiring. It's time for some family time."
It was certainly a dramatic finale. Explosion lost its first game of the tournament July 12, 12-7 to the Spokane Mudhens, then won six in a row, five of them Sunday in 80-plus-degree heat, to get a rematch.
Emma Gray, a North Idaho College-bound Lake City graduate, hit two home runs and drove in three runs, leading Explosion to a 9-5 victory in the championship game and force an if-necessary game for the title.
Explosion ended that one 9-1 in six innings on the eight-run mercy rule, capping an 8-1 tournament and presenting Smith with his 10th Idaho state championship.
"That's the third time losing the first one and coming all the way back," Smith noted.
Lacey Lemburg (Lake City) opened the decisive sixth inning with a single to center and was sacrificed to second by Lexi Johnson (Freeman grad). Coeur d'Alene High grad Halle Kane ended it with a single up the middle for her second RBI of the game.
Natalie Sell, a CdA grad headed to College of Idaho, shut out the Mudhens on one hit.
"I'm proud of them," Smith of his players, noting what had been an up-and-down season "finally all came together."
West Valley grad Lily Arch homered and had two RBIs for the Mudhens in Sunday's first game.
Spokane Stealth-Shores finished third and Spokane-based Washington Elite and Spokane Diamonds Elite tied for fifth in the 18U division.
• In the 12U Idaho State championship also in Merkel, Idaho, Crossfire from Meridian sent 11 batters to the plate in a six-run third inning en route to a 10-8 victory over Boise Blast-Brooks. Spokane Stealth-Coffield went 4-2 and finished fourth for the top local finish.
• Spokane Sliders lost their second game then came back to win seven in a row, knocking off unbeaten USA Explosion-Kloczko of Meridian 3-0 and 7-3 to win the 14U Idaho State championship in Caldwell, finishing with an 8-1 record. Post Falls Blast was fourth.
• LC Lightning from Lewiston finished third in the 16U and Coeur d'Alene Crush tied for fifth in the 10U for the top area finishers in the other Idaho State tournaments in Boise.
• The Merkel Complex will be the site of the USA Softball 14U and 16U Western National Championships next week, Tuesday through Saturday.
There are four area teams in 14U (Spokane Diamonds-Nine, Coeur d'Alene Crush, Spokane Sliders and Post Falls Blast) and three in 16U (Spokane Mudhens-Connor, LC Lightning and Spokane Stealth-Martinez.)
Golf
Recent Mead graduates Zane Mularski and Camryn Culp led a strong showing by area entries in the 27th annual Banner Bank Junior Invitational last weekend at Walla Walla Country Club.
Mularski, a first-team All-Greater Spokane League selection, won the boys 15-18-year-old division, shooting 68-77 for a 1-over-par 145 and seven-shot victory over Jacob Rawley of Ephrata, Washington. Ben Jones (Mead) tied for third at 153.
Caden Martinsen (Mead) shot 171 and Ben Schmidt (University) was at 172.
Culp, the GSL MVP, tied for second in girls 15-17 with All-GSL Darby Rickel (Lewis and Clark) at 151, two shots back of winner Angela Park of Pasco. Three Mead teammates, Taylor Mularski (163) and All-GSL twins Charlotte (166) and Libby Bloom (173) also were in the top 10.
Also in the field were Avery Arnold (Chewelah), 184; Caden Kight (Mead), 198; and Bromley Ross (Mead), 203.
Ben Jones (Mead) won the boys 12-14 division, shooting 153, with Dillon Schrock (All Saints) third at 168. Brooke Bloom (Northwood) tied for third at 184 in girls 12-14.
Basketball
Spokane Select Warriors 13U AAU team went 6-0 and won the Boys Seventh Grade Level 1 championship at the 2019 West Coast National Championships in Las Vegas last weekend.
After going 4-0 in pool play, the Warriors defeated Triumph Skills Academy from California 75-63 in the semifinals and took care of Flight Force Elite from New Mexico 65-36 in the championship game.
The Warriors had defeated Triumph 77-59 and Flight Force 79-66 during pool play.
The players: Ryan Jackson, Chase Marchand, Kainalu Vargas, Diezel Wilkinson, Ryan Lafferty, Talan Main, Boden Gardner, Liam Hendrickx, Hunter LeBret and Evan Stinson. The coaches: Louie Vargas, Mark Stinson and Aaron Wilkinson.
Subscribe to the sports newsletter
Get the day's top sports headlines and breaking news delivered to your inbox by subscribing here.
---