Sports > Spokane Indians
Blaine Crim homers twice; Spokane Indians top Vancouver for fourth straight win
UPDATED: Thu., July 18, 2019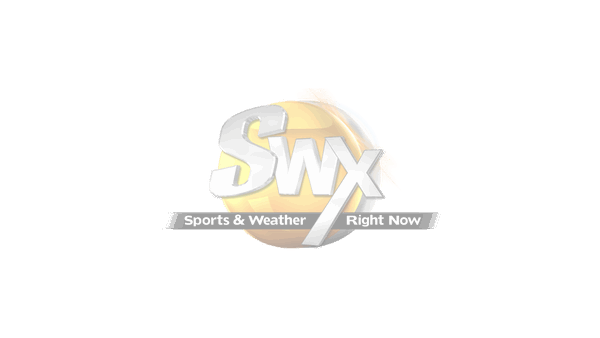 Blaine Crim doesn't look like the prototypical slugger at first base, at 5-foot-11 and 200 pounds. But the stocky infielder led Mississippi College in most offensive categories his sophomore and junior seasons before being selected in the 19th round by the Texas Rangers in June's amateur draft.
In his 22 games with the Spokane Indians, he's showing the parent club and the hometown fans that his college statistics can carry over to the pro game.
Crim blasted a pair of home runs and the Indians beat the Vancouver Canadians 5-1 in the second of a three-game Northwest League series at Avista Stadium on Thursday.
The Indians (20-14) won their fourth in a row and moved three games ahead of Everett in the North Division with four games left in the first half. Tri-City defeated the AquaSox 5-4 in 10 innings.
"We can kind of taste clinching and we really want to do that," Crim said. "And we've started playing good baseball, clean baseball, and everybody's starting to click."
"Tonight's game was awesome," Indians manager Kenny Hook said. "We had the one blemish there in the first inning where we had a little miscommunication on a play there … and then one walk, by the pitching staff. That's great to see.
"I think if we can do that, where you only give up one free base or two free bases, you're going to have a chance to win most nights."
Crim finished 3 for 4 with a two-run homer, a solo shot and an RBI single. He's hitting .308.
"He hits the ball extremely hard," Hook said. "He's a compact, strong-type body. But when he can stay with some leverage in the ground, he can really impact the ball."
"We've just kind of working on staying back, solid in my stance and we've kind of tweaked some stuff as of late," Crim said.
"It's been a kind of a long process coming from college and transitioning. But tonight, it just kind of finally clicked and I just trusted everything."
Indians starter Justin Slaten ran into some trouble in the first. Stanley Martinez ranged far to his right at second to field a grounder by Trevor Schwecke, then made an ill-advised throw to first that was way off the mark and went for a two-base error. Philip Clarke followed with a line-drive single to right to give the Canadians the early lead.
In the bottom half, Kellen Strahm extended his on-base streak to 12 games with a walk, went to second on a ground out and took third on a wild pitch. With two down, Crim ripped one into left field for a single and he took second on a fielding error.
The Indians took advantage of the mistake, as David Garcia lined the next pitch to left for an RBI single and a 2-1 lead.
Slaten, on an innings limit from the parent club, recorded a 1-2-3 inning in the second with two called strikeouts. He allowed a run on two hits with no walks and three strikeouts in his two innings.
It stayed a one-run game until the sixth.
Luis Asuncion reached via error, then Crim blasted a high fly to left-center that carried over the tall wall for a two-run homer, his second of the season, and a 4-1 lead.
Two innings later, Crim capped his big night with a solo shot to the same place as his earlier homer.
The bullpen was stellar. Luis Rosario (2-1) took over from Slaten and went four scoreless innings, allowing three hits with no walks. Nick Starr provided two innings and Daniel Robert struck out two in a scoreless ninth inning.
"When we're on those days where (the starter) is on two innings max, that bullpen has come up huge," Hook said. "Rosario is more like a starter, so that's kind of a piggyback situation.
"Him going his four innings and then being able to turn it over. … If you can just complete the innings that you're scheduled to go that day, whether you give up a couple (of runs) or not, the completion of the innings is probably the best thing to keep us on track and keep the bullpen healthy."
Subscribe to the sports newsletter
Get the day's top sports headlines and breaking news delivered to your inbox by subscribing here.
---