Sports > Spokane Indians
Spokane Indians doomed by big inning, overturned call in 9th inning in loss to Everett
UPDATED: Mon., July 15, 2019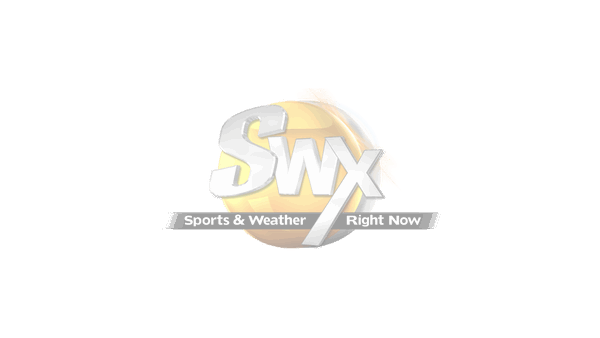 Pitcher Ryan Garcia is on a strict innings limit this season with the Spokane Indians.
The Texas Rangers' second-round draft pick in June's MLB Draft went 10-1 in 16 games over 94 innings for UCLA – which advanced to the Super Regional round of the NCAA baseball playoffs – so the parent club doesn't want to burn their young pitcher out in his first test of professional baseball.
The 21-year-old is trying to make the most of his opportunities. On Sunday, Garcia threw two scoreless innings and struck out three with no walks but was long out of the game when it was decided.
Cash Gladfelter crushed a two-run home run in a five-run seventh inning and the Everett AquaSox beat the Spokane Indians 6-3 in the first of a three-game Northwest League series at Avista Stadium.
The AquaSox (16-14) drew even with the Indians (16-14) in the North Division with eight games to play in the first half. The teams face each other five more times in those eight.
There was big drama in the ninth. Down by three, Indians designated hitter David Garcia appeared to hit a two-run home run, curling a line drive around the right-field fair pole. He circled the bases and the runs were put on the board.
Everett pitcher Logan Rinehart, catcher Juan Camacho and acting manager Carson Vitale started protesting even before Garcia reached first base. Home plate umpire Kyle Stutz and base ump Andrew Clark conferred for a few minutes, then waived to Indians manager Kenny Hook in the third base box.
Hook immediately got heated, and within seconds was ejected. After Hook gave Stutz an earful and walked off, the umpire signaled foul ball and instructed the press box to take the runs off the board.
Luis Asuncion was in the on-deck circle.
"I just think, like everyone saw here, it was a fair ball," he said.
"(The AquaSox) were arguing. And as much as they were they did it because they must have thought they had some reason to."
Garcia grounded out and after Asuncion walked, Francisco Ventura struck out on what he thought was a checked swing. Ventura said something to Stutz about the call and he was ejected.
With two on and two down, Obie Ricumstrict grounded to short to end the game amidst a chorus of boos from the crowd of 4,092.
"It's a tough call," Asuncion said. "But I think (the base umpire) had the fair side (of the pole) more than the home plate umpire had.
"I just think if they call it a fair ball from the beginning, I just think it should have to stay like that. I don't know why they were just arguing about the decision that they made at the beginning. It just made it a different game."
Garcia made his second start for the Indians since being assigned to the team. He threw 34 pitches, 24 for strikes in his two innings of work.
Teodoro Ortega took over from Garcia and threw 3 2/3 shutout innings of relief with three strikeouts.
The Indians led 2-1 entering the seventh when the AquaSox erupted for five runs against Indians reliever Nic Laio – and some spotty defense. The big blows were a two-run single through a drawn-in infield by Patrick Frick and Gladfelter's clout.
Asuncion went 2 for 4 with two RBIs and Jake Hoover added an RBI double.
In the sixth, Kenen Irizarry fell awkwardly chasing a foul ball. He stayed down for a bit and left gingerly with a trainer. He was replaced by Cristian Inoa in the field.
Subscribe to the sports newsletter
Get the day's top sports headlines and breaking news delivered to your inbox by subscribing here.
---