Sports > NBA
Zach Norvell Jr. leaving everything on the court in hopes of seeing his NBA dreams come true
UPDATED: Thu., July 11, 2019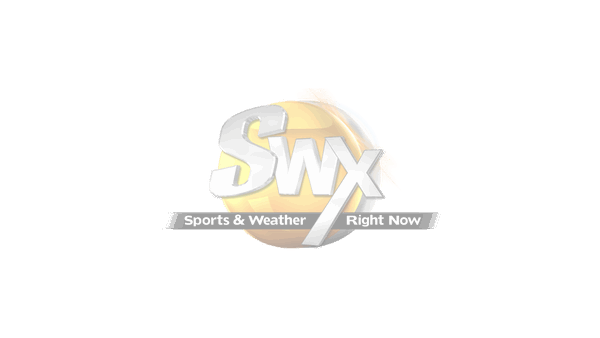 LAS VEGAS – While former Gonzaga teammate Rui Hachimura has been bombarded with hundreds of requests from Japanese media during the NBA Summer League the past week, Zach Norvell Jr. has dealt with his own pressure playing for the Los Angeles Lakers.
There's the thought of being the main focus of the summer league roster to make the team in the fall.
There's the thought of doing so and making an immediate impact on one of the most storied franchises in NBA history.
And there's the thought of playing alongside LeBron James and Anthony Davis, both of whom are expected to bring a title back to Los Angeles.
But for Norvell, who is on a two-way contract with the South Bay Lakers of the G League, his focus has been solely on his current teammates and growing as a professional, rather than his status next season.
"Basketball will take care of itself," said Norvell, who went undrafted in June. "Those guys in the front office making those decisions, they've been doing it a long time, so I respect their decisions and what they do. For the most part, I'm just taking it day by day, just trying to get better with my teammates, trying to grow and build relationships with these guys."
Norvell and the Lakers played seven games over 11 days, in two summer league events in Salt Lake City and Las Vegas, making it quite easy to bond with a dozen other hopefuls.
"The mental balance has probably been the biggest thing, and trying to focus in on the small things," he said. "Understanding we're a little bit more fatigued than other teams, but we probably know each other a little bit better so we've used that to our advantage. It's been a good experience."
Hailing from the Chatham area on the South Side of Chicago, it's the inner-city kid in Norvell that has provided the right toughness to withstand the rigors of a summer league schedule, one that is potentially prepping him for an 82-game slate next season.
Norvell said he's never been glad-handed anything, so he's always carried a chip on his shoulder.
"Being undrafted just adds to that for sure," he said. "I don't look at it in a negative light at all. Just understanding my path and my situation is a lot different than others, so I just stay true to myself and be positive."
Former teammate Johnathan Williams, who spent his rookie season with the Lakers and played with the Houston Rockets during this year's summer league, sees Norvell – who was a redshirt when Williams helped lead Gonzaga to the NCAA title game in 2017 – fitting right in with the Lakers because of his tenacity at both ends of the court.
"Playing with LeBron, he's able to space the court very well and knock down shots," Williams said. "He can defend on the ball pretty well. I feel like he's gonna have a long career, cause being able to shoot the ball can take you a long way in the NBA. When you're a 3-and-D guy, you can make a lot of money playing that role."
Summer league coach Miles Simon said he's been most impressed with Norvell's work ethic, and a basketball IQ he credited to playing for Gonzaga coach Mark Few, albeit only two years.
"He really understands the game," Simon said. "Defensively he's ahead of where maybe some rookies are. He understands rotations and coverages. There's things skill wise he's gonna need to work on. He's great catch-and-shoot, but as a two-guard they're gonna start making him put the ball on the floor, so I think he can improve in that area. But the way that he competes each and every night has been a total plus and that's gonna really help him hopefully get a permanent spot in the NBA one day."
One day, for sure. But not one Norvell is concerned about right now.
"This opportunity that I have, I'm just blessed to be here."
W.G. Ramirez is a freelance reporter in Las Vegas and the Southern Nevada correspondent for The Associated Press. Follow him on Twitter at @WillieGRamirez
Subscribe to the sports newsletter
Get the day's top sports headlines and breaking news delivered to your inbox by subscribing here.
---