Sports > Spokane Indians
Josh Javier strikes out six and Spokane Indians win fourth in a row
UPDATED: Sun., July 7, 2019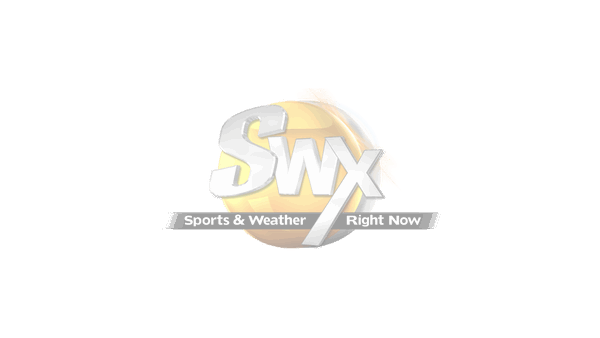 Josh Javier may be lost a little bit in the wave of college players assigned to the Spokane Indians this summer, but the former minor league free agent has been a stabilizing force in the pitching rotation.
Javier struck out six over four innings and the Indians beat the Tri-City Dust Devils 7-0 in the first of a three-game Northwest League series at Avista Stadium on Sunday.
The Indians (14-10) won their fourth in a row and maintained a two-game lead over Everett (12-12) and three over Tri-City (11-13) in the North Division.
"We've started out the game better as of late – that's huge," Indians manager Kenny Hook said. "You know, momentum swings when you can get it, you throw up a couple zeros early and get rolling offensively."
The Rangers acquired Javier last August as the player to named later in the trade that sent Jake Diekman to Arizona. He made two appearances for the Rangers' Arizona Rookie League team last summer and was assigned to Spokane this season.
Entering play, Javier had allowed two earned runs and struck out 12 in three starts over 11 2/3 innings. On Sunday he gave up just one hit and one walk.
The lanky left-hander employes a whip-like delivery from a three-quarter arm angle.
"I've been working on some stuff in my mechanics and that has helped so far," Javier said through a translator. "Mechanically I feel like I'm doing better.
"My delivery gives me a little bit of an edge on the mound."
"It's a different look with the arm angle," Hook said. "It's a tough angle for a hitter. He's obviously one of our top-of-the-rotation type guys. And if he commands it you don't typically see him give up hard contact, just because of the movement."
Javier retired the first two batters of the game easily, but hit No. 3 hitter Kelvin Melean. On the next pitch, Melean broke for second and Javier had him picked off, but no one covered second base and the runner was safe.
He then walked Jason Pineda, missing inside to the right-handed batter several times, but came back to strike out Carlos Luis looking to end the early threat.
"The first inning was a battle," Hook said. "I think we were struggling with finding what the (strike) zone was going to be a little bit. I thought some of those pitches were good. But once he got through that he was good.
"You know, it's just a matter of starting out the game and really just coming in ready to command fastballs and then kind of work from there."
With two down in the second, Obie Ricumstrict doubled into the left-field corner, then scored on a single by David Garcia to put the Indians up 1-0.
Javier put up 1-2-3 innings in the third and fourth, the latter punctuated by Ricumstrict's leaping catch crashing into the center-field wall to end the inning.
Javier said the called strike three to Luis in the first inning got him going.
"I felt good after that," he said. "The pitches were working and I attacked a little more with my fastball."
Garcia led off the bottom of the fourth with a double off the wall in left. With one down, Kellen Strahm struck out – but a wild pitch allowed him to reach and Garcia moved over to third.
Kenen Irizarry smacked one to left center to plate Garcia and advance Strahm to third. Cristian Inoa bounced to third and Sean Guilbe cut down Strahm at the plate for the second out.
But pitcher Angel Acevedo uncorked a wild pitch and Irizarry raced from second base to score, then Inoa came home on a fielding error by Guilbe to make it 4-0.
T-C reliever Dominic DiSabatino, returning to baseball after missing two seasons recovering from Tommy John surgery, took over in the sixth and loaded the bases on two walks and a hit batter. DiSabatino hit Jonah McReynolds to force in a run, ending his outing.
Strahm stepped in against Ramon Perez and his infield single to second plated Ricumstrict to put the Indians up 6-0. With one down, Inoa walked to bring in another run but Luis Asuncion struck out and Blaine Crim popped up to end the rally.
The rest was up to the bullpen. Warner Leal allowed two hits and no walks with three strikeouts over three shutout innings and Daniel Robert finished up with two clean innings with three Ks.
Subscribe to the sports newsletter
Get the day's top sports headlines and breaking news delivered to your inbox by subscribing here.
---