Sports > EWU football
Easton Stick firmly entrenched in North Dakota State, FCS lore after scoring 5 TDs in 38-24 national title win
UPDATED: Sun., Jan. 6, 2019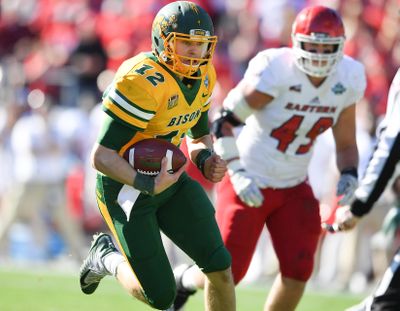 FRISCO, Texas – Easton Stick's final victory lap as a North Dakota State football player wasn't a short parade around the painted edges of the grass surface at Toyota Stadium.
There were more celebrations for one of the most celebrated players in school history afterward, but 76 seconds still remained on the clock when NDSU's quarterback took his first victory stroll.
Actually, it was more of a dead sprint-turned-light jog as Stick motioned a handoff to his running back, pulled the ball back into his own arms and exploded through a crease in Eastern Washington's defense, turning on the jets before slowly letting off as he crossed the goal line for a 46-yard scoring run.
That's the touchdown that effectively sealed NDSU's 38-24 FCS national championship win over EWU Saturday at Toyota Stadium, and it made Stick the winningest player in FCS history, giving the senior his 49th victory as a starter for the Bison.
Stick had a hand in all five touchdowns the reigning champs scored on a sunny afternoon in Frisco, Texas, running three into the end zone and throwing for two more. The Omaha, Nebraska, native finished with 121 yards on 18 carries and completed 13 of 19 passes for 198 yards.
Stick, who leaves college with more wins than any other player, also has pocketed two national championships as NDSU's starting quarterback. Few players outside of Fargo know that feeling these days, considering the Bison have won seven of the past eight titles.
There could have been one more championship for Stick, but a good friend got in the way.
Carson Wentz, who's now playing for the NFL's Philadelphia Eagles, is still in communication with the current NDSU quarterback. When Stick was a freshman, he started in place of an injured Wentz and led the Bison to the national championship, but because Wentz was fit to return for the last game of the season, the senior started over the rising rookie.
In Saturday's postgame interview, Stick was reminded he could have three national titles as NDSU's starter.
"Yeah, what the heck, coach?" Stick said, laughing, sitting next to Bison coach Chris Klieman. "You screwed that up, man."
"We'll get ahold of (Wentz) tomorrow," Klieman joked.
"Trust me, he knows," Stick said.
One night after the Walter Payton Award went to another quarterback, Samford's Devlin Hodges, Stick made one more case for those who didn't believe he was the best player in the FCS.
His stat line popped, especially the rushing column, and Stick's ability to overcome mistakes allowed the Bison to maintain momentum in a game in which it could have swung the other way at various points.
Stick dialed up NDSU's longest pass play of the season, going deep to his most reliable receiver, Darrius Shepherd, for a 78-yard catch-and-run that put the Bison up 31-17 in the third quarter.
He pulled one more trick out of his sleeve with 1:16 to play on the option keeper that sent Stick, and the Bison, stampeding to a record seventh national championship.
"(No.) 12 carried the ball a lot. We talked about that," EWU coach Aaron Best said of Stick. "When they needed a first down, guess who they're going to have? (No.) 12 is going to keep the ball. We just, unfortunately, he's experienced and talented. He's a big kid. He's athletic. I don't know if there's a bad thing about Mr. Stick. And we knew it. And great teams and great players are hard to stop, even when you know what's going to go on."
And that Walter Payton Award?
"Anybody that wins 49 times over a career is the best player in college football at the FCS level," Klieman said. "That's my opinion."
Subscribe to the sports newsletter
Get the day's top sports headlines and breaking news delivered to your inbox by subscribing here.
---