Sports > WSU football
Recap and highlights: Anthony Gordon shines as No. 23 Washington State rolls past New Mexico State in opener
UPDATED: Sun., Sept. 1, 2019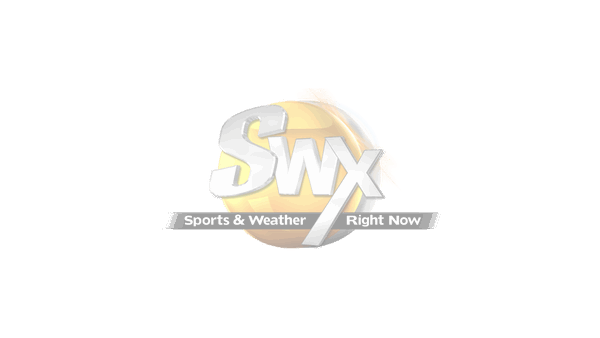 PULLMAN – There was plenty of hype and hoopla around Washington State's wide receiving corps this offseason. Sophomore running back Max Borghi garnered an expected amount of preseason praise. The offensive line, most theorized, could be superb once again even despite losing an All-American left tackle.
And Saturday night, Anthony Gordon provided an answer to the only question that remained about the Cougars' offense.
Can Mike Leach uncover another diamond at quarterback?
Gordon, making the first start of his career, completed his first 15 passes and finished 29-of-35 with 420 yards and five touchdowns against an underwhelming New Mexico State defense to lead the Cougars to a 58-7 blowout win in the season opener at Martin Stadium, played in front of 27,228 fans.
Fifteen of Gordon's relatives made the trek from Northern California and five of the quarterback's friends made an impromptu decision Friday night to drive 14 hours from Pacifica to the Palouse, where the redshirt senior put on an impressive aerial show for his family members, pals and thousands of Cougar fans that had never seen Gordon throw a pass.
Five plays into his first start, the strong-armed quarterback had his first career touchdown. Redshirt freshman wide receiver Rodrick Fisher won a footrace with his defender and reeled in a spiral from Gordon for a 41-yard touchdown – also the first of the career for the Spokane native and East Valley High graduate.
Gordon didn't even need that long on his second touchdown. On the third play of the drive, Gordon threw to Dezmon Patmon on a crossing route. The strong, tall wide receiver caught the ball in the middle of the field and strided to the end zone for a 48-yard score, capping an offensive drive that lasted just one minute, 13 seconds.
WSU's new starter also hit Travell Harris and Easop Winston Jr. for touchdowns. Eleven different players caught passes for the Cougars, but Patmon led the unit with seven catches for 103 yard, while Harris had four catches for 91 yards and two touchdowns.
Borghi rushed 10 times for 128 yards and a touchdowns – the first 100-yard game of the sophomore's career. – Theo Lawson, The Spokesman-Review
---
Highlights: Washington State 58, New Mexico State 7
Pac-12 Networks / YouTube
---
First quarter
9:21 – WSU 7, New Mexico St. 0: The Cougs strike first as Anthony Gordon floats a beautiful deep pass into the stride of Rodrick Fisher for a 41-yard touchdown.
Gordon went 4 for 4 on the drive, throwing for 62 yards. Running back Max Borghi got two touches, one reception and one rush, for 13 total yards.
WSU started the drive at their own 34 after New Mexico State missed a 51-yard field goal attempt on their first possession. The Aggies went 41 yards on 9 plays.
6:25 – WSU 7, New Mexico St. 7: The Aggies march right back down the field after the WSU touchdown, going 75 yards on 7 plays to tie the game.
Quarterback Josh Adkins was the right guy in the right spot to scoop up running back Jason Huntley's fumble and fall into the end zone. On 1st-and-goal from the 4, Huntley took a handoff and was about a yard from scoring when he put the ball on the turf. Adkins picked it up at the 3 and carried it in.
Adkins went 5 for 5 passing on the drive.
5:11 – WSU 14, New Mexico St. 7: Anthony Gordon continues his perfect start to the season, this time firing a dart right between Dezmon Patmon's numbers for a 48-yard, catch-and-run touchdown.
Gordon went 3 for 3 on the drive and is now 7 for 7 for 137 yards. The reception was Patmon's first.
Second quarter
11:07 – WSU 21, New Mexico St. 7: The Cougars extend the lead as Anthony Gordon finds a wide-open Easop Winston Jr. on a deep-in route for a 19-yard touchdown.
Winston caught the pass, put his foot in the turf and turned up field before diving into the end zone between three Aggies defenders. He now has five receptions for 51 yards.
Gordon is still perfect passing at 14 for 14. He is up to 212 yards.
9:55 – WSU 28, New Mexico St. 7: Washington State needs just one play to extend their lead to 21 over the Aggies.
On the first play of the drive, Anthony Gordon found Travell Harris all alone down field. The speedy receiver hauled in the pass, eluded the NMSU safety at the 20 and sprinted in for the 54-yard touchdown.
Gordon is now 15-for-15 passing for 266 yards. Harris is up to 72 yards on two receptions.
1:23 – WSU 35, New Mexico St. 7: Cougs running back Max Borghi finds the end zone from 12 yards out for WSU's third TD of the quarter.
Borghi, who is now up to 33 yards rushing, got the call on a draw on 3rd-and-1 and went in untouched.
Of note that drive, QB Anthony Gordon tossed his first incompletion of the game. On the first play of the drive, Gordon hit Brandon Arconado in the hands, but the receiver dropped it. That snapped Gordon's completion streak at 15 to start the game. He has completed 22 of 23 passes for 330 yards and four TDs.
Halftime
Third quarter
11:56 – WSU 42, New Mexico St. 7: Travell Harris continues to be a nightmare for the Aggies' defenses, this time taking a screen pass 20 yards for a touchdown.
Harris collected the pass from Anthony Gordon near the numbers on the left side of the field, let his blockers get in place, and then made a sharp cut towards the middle of the field before scoring near the right sideline. It is his second TD of the game, after his 54-yard score in the second quarter.
Gordon continues to shine, and is now 25-for-28 passing for 364 yards and five TDs. Harris is up to 92 yards on three receptions.
Fourth quarter
14:13 – WSU 55, New Mexico St. 7: Gage Gubrud tosses his first touchdown as a Cougar, finding Renard Bell in the back of the end zone for a 9-yard strike.
Gubrud, a graduate transfer from Eastern Washington, took over for Anthony Gordon in the middle of the drive and proceeded to go 4 for 5 for 52 yards.
Gordon looks like his night is finished, going 29-for-35 passing for 420 yards and 5 TDs.
Bell has just two catches for 18 yards.
Earlier, WSU kicker Blake Mazza made two field goals, the first from 45 yards and the second from 50 yards to match his career long.
Pregame
Subscribe to the Cougs newsletter
Get the latest Cougs headlines delivered to your inbox as they happen.
---