Sports > Area sports
Locally: ParaSport Spokane has impressive showing at 2019 Parapan American Games
UPDATED: Sat., Aug. 31, 2019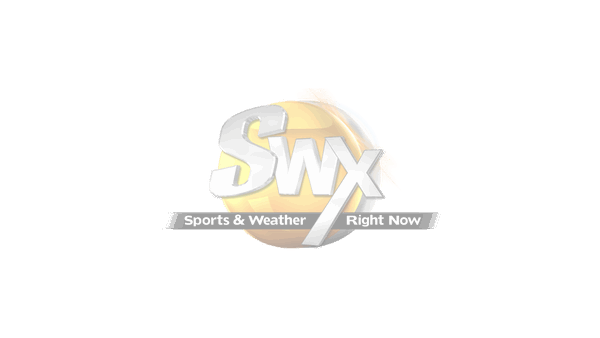 Eight gold, four silver and one bronze.
That's the medal haul for a half-dozen members of ParaSport Spokane at the 2019 Parapan American Games last week in Lima, Peru.
Three of the golds produced Para Pan Am records.
Five of the six Spokane athletes collected medals, led by Jaleen Roberts, an Eastern Washington University junior from Kent, Washington, who won gold medals in each of her four events, two in record times.
Hannah Dederick, a Central Valley junior, won two golds – one in record time – and a silver, and Isaiah Rigo, a sophomore at the University of Illinois from Cheney, also won two golds and a silver.
Phillip Croft, a Valley Christian senior, won two silvers and Elisabeth Floch, a Valley Christian freshman, collected a bronze.
Jackson Atwood, a CV junior, didn't medal, but Teresa Skinner, one of the ParaSport Spokane coaches along with her husband, David Greig, said the 16-year-old "may be the youngest T54 male to compete" in track in the disability classification for athletes with spinal cord injuries who compete using a wheelchair.
"It's probably the toughest classification," she said. "On the track, he was against guys a decade to two decades older. He did incredible. Two weeks before (Lima) he was in Nottwil, Switzerland, and medaled in his age classification at Junior Worlds."
Skinner called the Parapan experience "incredible. The people in Peru are so happy, so generous, so giving. They'd stop athletes (on the street) just to get a picture; to take a selfie.
"There (the para athletes) are rock stars. Here they are invisible. The people here don't know who they are or what they do."
Results for the Spokane athletes:
Roberts: T37 200m, gold (record), 28.30; T37 100m, gold (record), 13.78; T37 long jump, gold, 4.68m; Team USA 4x100m universal relay, gold, 47.94 (also won heat in 47.86).
Dederick: T54 400m, gold, 58.96; T54 800m, silver, 2:06.30; T54 100m, gold (record), 17.30; T54 5,000m, 3rd, 13:40.78 (nonmedal event); T54 1,500m, 2nd, 4:03.33 (nonmedal event).
Rigo: T52 400m, gold, 1:04.00; T52 100m, silver, 17.89; T52 1500m, gold, 4:24.65.
Croft: T54 5,000m, 4th, 12:34.75; T53 800m, silver, 1:53.64; T53 400m, silver, 55.52; T53 100m, 7th, 16.68; T54 1,500m, 6th, 3:27.894
Floch: T54 400m, bronze, 1:06.00; T54 100m, 5th, 19.26.
Atwood: T54 400m, 9th, 56.11; T54 100m, 6th, 16.33; T54 1,500m, 8th, 3:28.59.
Basketball
Idaho has two additions to its men's basketball roster, interim head coach Zac Claus announced.
Joining the Vandals for 2019-20 will be Isaac Berglund, a 6-foot-2 guard from Deer Park who was the Northeast A League MVP last season after averaging 16 points, 9 rebounds and 7 assists, and Michael Hanshaw, a 6-8 forward from Westlake Village, California, who averaged 11.8 points and 9.5 rebounds as a high school senior in 2018. He played AAU last season.
College scene
Lindsey Russell, a 6-1 sophomore setter at Community Colleges of Spokane from Mead, has caught the attention of the American Volleyball Coaches Association.
Russell, who coach Jenni Roselli-Hull calls the Sasquatch "quarterback," was named by the AVCA in its preseason Special Edition as a Player to Watch in the NWAC.
With Russell doing her thing, the Sasquatch opened the season last weekend with a 6-0 sweep at the NWAC Showcase in Springfield, Oregon, and Russell was selected the first recipient of the Sports Imports/AVCA Two-Year College Player of the Week.
She was also the first NWAC Player of the Week and East Region Setter of the Week, with teammate Brooklyn Rainer, a sophomore outside hitter, the East Offensive Player of the Week.
Russell had 130 assists in 13 sets, including 34 in the only three-set match CCS didn't sweep, 54 digs, nine blocks, eight kills and five aces.
"She is a valuable setter and attacker," Roselli-Hull told the AVCA for its Special Edition. "As a freshman, Lindsey helped propel our team to the NWAC championship and … a 40-0 record. Lindsey is our quarterback and runs a sneaky, fast paced offense that highlights her teammates and dupes her opponents."
• Rachael Schlect, Point Loma Nazarene's 2018 PacWest Conference Freshman of the Year from The Oaks Christian Academy, will miss the 2019 volleyball season with a leg injury, the school revealed.
• Whitworth, which fell out of contention in the final week for the Northwest Conference regular-season volleyball championship last season, has been picked to finish third in the coaches' 2019 preseason poll. Pacific Lutheran, which has represented the NWC in the NCAA Division III tournament the last two seasons, was selected to finish first.
• A couple of freshmen from Eastern Washington and Idaho had impressive collegiate debuts and received Big Sky Conference women's soccer player of the week awards.
Riley Walkington, an Eastern forward from Sandpoint who collected three points in her first two collegiate games, was named Offensive Player of the Week.
She had an assist off a corner kick that the Eagles turned into the winning goal in overtime in the 95th minute at Nevada and scored her first collegiate goal in a 2-1 loss at Boise State.
Avrie Fox, the Idaho goalkeeper who posted a shutout in her second collegiate start, was selected Defensive Player of the Week. She made five saves in blanking Cal State Bakersfield in a 1-0 victory after allowing one goal on a first-half penalty kick in a 1-0 loss to visiting Boise State two days earlier.
• Washington State junior left back Brianna Alger, who stood out on both ends of the field as a first-time defender in a 4-0 season-opening victory at Seattle U, was named the Pac-12 women's soccer Defensive Player of the Week.
Alger established herself as the Cougars' primary distributor on corner kicks, earning assists on the first two goals of the season two minutes apart, and on the other end helped the Cougars limit Seattle to three total shots, only one on goal.
• A couple of Eastern Oregon senior women's soccer players with area ties collected Cascade Collegiate Conference player of the week awards.
Jenna Jensen, a midfielder from North Central, scored the No. 14 Mountaineers' lone goal in a 1-1 tie at No. 9 Midland, Nebraska and was the Offensive Player of the Week.
Josee Bassett, the Defensive Player of the Week from Coeur d'Alene HS, was credited with being "a dominant force on both sides of the ball," scoring the Mountaineers' goal on a penalty kick in a 1-0 win at No. 12 Hastings, Nebraska, and helping limit the Broncos to eight shots, just three on net.
• Demitrius Kigeya, a WCC All-Freshman team selection last season after leading Gonzaga in scoring with four goals, was named to the preseason All-West Coast Conference men's soccer team by the league's head coaches and the Zags were picked to finish seventh in the preseason poll. Saint Mary's was a unanimous choice to win the conference.
• Whitworth, which returns a handful of all-conference players from the team that went 7-0 in winning the 2018 Northwest Conference football championship and qualifying for the NCAA Division III tournament, has been predicted to finish first in the NWC coaches' 2019 preseason poll. Linfield, which lost its nine-year streak as NWC champion to the Pirates, was second.
• Gonzaga, which has back four its top five finishers from the 2018 NCAA West Regionals, opens the 2019 men's cross country season with the program's best U.S. National Track & Field and Cross Country Coaches Association preseason West Region ranking at No. 7.
The USTFCCCA says that for first time in recorded history, Washington, which finished 2018 ranked No. 2 in the West, is the No. 1 pick. Washington State, No. 7 in the final 2018 poll, opens 2019 at No. 9. Nationally, UW is No. 3. Gonzaga received votes but is outside the top 30.
In the West Region women's rankings, Washington sits at No. 1 for the first time since 2010 after finishing 2018 in No. 4. WSU is ranked 15th. Nationally, the UW women match the men at No. 3.
• In the USTFCCCA Division III West Region rankings, the Whitworth women are No. 3 and the Pirates men No. 9. Neither is ranked nationally.
• Ray Littles and Paige Danielson have been named Washington State's Pac-12 Postgraduate Scholarship recipients for 2018-19 and received $9,000 awards to further their education.
Littles, a decathlete on the men's track and field team from Issaquah, Washington, is working on a doctorate in physical therapy at Southern California. He graduated with a 3.75 GPA and collected multiple academic awards, including first-team All-Pac-12 as a junior and senior.
Danielson, a four-year veteran rower from St. Cloud, Minnesota, is working on a Ph.D. in electrical engineering at Colorado. Her academic honors included first-team Google Cloud All-America as a senior and second team as a junior.
Football
To provide a safer environment for Eastern Washington University football fans at Roos Field in Cheney, the school announced it has implemented a new clear bag policy limiting the size and type of bags allowed into the stadium for all events, beginning with the home opener next Saturday.
For details, visit the EWU athletics website at goeags.com.
Golf
Lisa Ferrero, a 12-year member of the LPGA and Symetra tours and head coach at Towson University the last two years, is the head women's coach at the University of Idaho. She replaces Lisa Johnson, who left after 11 years to become head coach at Nebraska.
Ferrero had an immediate impact at Towson, a Division I school in Maryland. In her first three weeks, the Tigers broke school records and won her first tournament title en route to placing third in the conference championships in the spring of 2018, the best finish in school history.
An elite golfer for nearly two decades who helped the University of Texas finish to top six finishes in the NCAA Championships three times, Ferrero has spent eight years teaching professionally during the offseason.
In 2014, she received the Heather Farr Player Award, given annually to the LPGA golfer who demonstrates determination, perseverance and spirit in fulfilling her goals as a player." It's given in memory of the LPGA player who died of breast cancer at the age of 28 in 1993.
• Sophie Hausmann, the 2019 Idaho graduate who won back-to-back Big Sky Conference championships and Player of the Year awards, has advanced to the second stage of the LPGA Qualifying School.
The native of Germany finished the 72-hole first stage, held last week in Rancho Mirage, California, at 3-over-par 291, two strokes ahead of the cut line, to tie for 57th.
She's one of 30 amateurs and 96 women overall to advance to Stage II on Oct. 14-17 at Plantation Golf and Country Club in Venice, Florida. By making it through the first stage, Hausmann earned a spot on the Symetra Tour, the LPGA's development tour, in 2020.
Stage II will consist of another 72 holes of stroke play as players try to advance to the LPGA Q-Series, the final stage of qualifying. It's 144 holes of stroke play over two weeks the end of October.
Hockey
Forward Luke Toporowski, who set career highs with the Spokane Chiefs last season with 21 goals and 28 assists for 49 points in 67 games, will compete with the Winnipeg Jets at the 2019 Rookie Showcase in Belleville, Ontario, next weekend.
Toporowski, who attended the Jets' development camp following the 2019 NHL entry draft, is one of 13 forwards competing for Winnipeg in the tournament against Montreal and Ottawa.
• The Chiefs have signed a couple of prospects to standard Western Hockey League player agreements.
Brandon Reller, a 6-3, 197-pound forward from Hanover, Minnesota, who impressed the Chiefs during training camp last weekend, is expected to rejoin the team this week.
A 2003-born player, Reller was first listed by the Chiefs in January 2019. He competed at USA Hockey's Select 15 and Select 16 camps in 2018 and 2019 and played for his high school team last season.
Raegan Wiles, a 2002-born defenseman from Calgary, was originally listed by Spokane in August 2018. Last year he played Midget AAA hockey in Calgary, with eight goals and 10 assists in 38 games. He was expected to join the Chiefs for preseason games this weekend in Everett.
• The Chiefs announced they acquired a 2022 fifth-round bantam draft pick from the Swift Current Broncos for 2002-born defenseman Hendrik De Klerk, who was drafted by Spokane in the seventh round (138th overall) of the 2017 WHL bantam draft. Last season he played Midget AAA hockey in Swift Current, his hometown.
Miscellany
Megan O'Quin, who has spent more than 15 years working with college student-athletes, has joined the Eastern Washington University athletic department as its new associate athletic director for academic success, director of athletics Lynn Hickey announced.
O'Quin most recently worked in similar capacities at Fresno State, Northern Illinois and Oregon State. She is working on a doctorate in educational leadership.
• Heath Senour has been hired as Idaho's associate athletic director for compliance after serving in the same position at Santa Clara the last nine months and at Kennesaw State the previous seven years.
Senour, who began his duties July 29, will direct all aspects of the athletic department's rules education and compliance program and is the school's liaison with the NCAA, affiliated conferences and outside groups regarding rules interpretations and compliance issues.
Subscribe to the sports newsletter
Get the day's top sports headlines and breaking news delivered to your inbox by subscribing here.
---