Sports > Spokane Indians
Spokane Indians' Blaine Crim named Northwest League MVP; Kenny Hook manager of the year
UPDATED: Thu., Aug. 29, 2019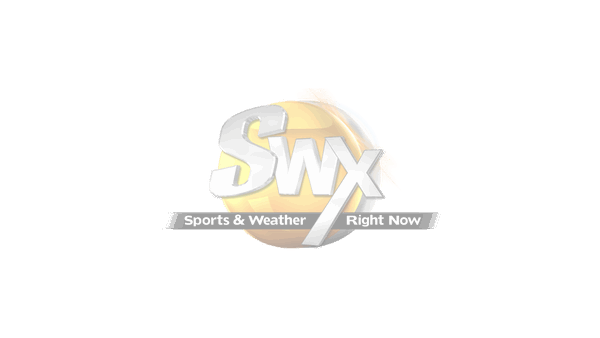 The Spokane Indians' impressive 2019 campaign received significant recognition on Thursday as first baseman Blaine Crim was named the Northwest League Most Valuable Player, the league office announced.
In addition, first-year skipper Kenny Hook was named manager of the year.
The Indians had two more players named to the year-end all-star team: catcher David Garcia and pitcher Werner Leal.
"It's definitely a cool experience and something never really expected, especially coming out here it wasn't even a goal of mine," Crim said. "It's just a humbling experience, and I'm really excited with how this year's gone so far."
"For me, when it's an individual award, there's a lot of people that are instrumental in that," Hook said. "The staff, the video guy, a lot of guys are very helpful in the managers job on a day to day basis. And obviously, the way the players and the season has gone, you're not going to get any type of award like this if you're not successful on the field. So it's a collaborative effort, for sure."
Crim's honor follows up Curtis Terry's MVP award last season, making it the first time the Indians have won consecutive MVP awards since 1989-90 (Dave Staton/Matt Mieske).
"I actually found out through Twitter," Crim said. "The coaches knew (Wednesday) night, but they weren't allowed to make it official until it actually came out (on Thursday)."
Crim, 22, leads the NWL in several categories, including average (.343), hits (69), RBIs (44), slugging percentage (.547), and on-base-plus-slugging (.948). He's also top five in doubles (15) and home runs (eight). Crim has accomplished all of that while striking out just 27 times in 219 plate appearances over 50 games.
"He really has an ability to hit and he's an intelligent hitter," Hook said of Crim. "His success was actually sustainable, and he's been as hot as anyone in the league most of the year."
The Alabama native has been remarkably consistent all season, hitting better than .300 in each calendar month. On the road, he has a .381 average and a whopping 1.043 OPS. The 19th-round pick has shone brightest in clutch moments: in 59 at-bats with runners in scoring position, the product of Mississippi College is batting .458. With two outs and runners in scoring position, he's 16 for 35 with two homers and 15 RBIs.
"It's a really cool honor to have," Crim added, "but at the same time, the chip on my shoulder will always be there I think just because of where I came from, where I was selected and how I was raised."
Hook, 44, in his first season as Spokane's skipper, has led the Indians to a 42-29 overall record and a first-half North Division title. The Indians are on pace for their most wins since 2008 (51), the last year they won the NWL Championship. Tim Hulett, Indians manager that season, is the last Spokane manager to win the award ('08 and '10).
Hook has taken pride that he's making a difference with his young players.
"I think just how the season has progressed, and the response of the players and the team and the group has had to me and some of my methods, and I guess the voice has made me feel like you can really bring a lot out of a group and individual," he said.
Garcia, 19, is 10th in the league in average at .274 with five homers and 27 RBIs. The catcher is second on the team in doubles (13) and third in runs scored (33).
"David is as talented as it comes in our organization," Hook said. "To see him mature and be able to put together a season like this – it's what everyone envisioned."
Leal, 24, leads Spokane with four saves. The right-hander from Venezuela has struck out 55 hitters in 45 1/3 innings with an earned-run average of 0.60. At home this season, Leal has given up just one run in 25 1/3 innings and opponents are hitting just .111 against him.
"He's as valuable piece to our success as anybody on the team," Hook said, "because he is a long guy some nights, he's closed games, he's done multiple roles out of the bullpen."
Subscribe to the sports newsletter
Get the day's top sports headlines and breaking news delivered to your inbox by subscribing here.
---