Sports > Spokane Indians
NWL MVP Blaine Crim delivers walk-off single; Spokane Indians top Everett 2-1
UPDATED: Thu., Aug. 29, 2019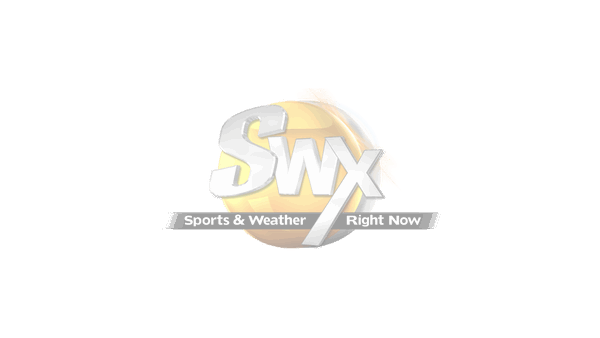 Blaine Crim has been a hero all season for the Spokane Indians, and early on Thursday he learned – via Twitter, actually – that he had been named the Northwest League's Most Valuable Player.
So what did he do for an encore? How about deliver a walk-off win?
Crim singled with runners on the corners in the bottom of the ninth inning to score Derwin Barreto and the Indians beat the Everett AquaSox 2-1 in the second of a three-game series at Avista Stadium.
"It was a grind tonight, for sure," Crim said. "Definitely kind of equipped us for the playoffs."
The Indians (21-13 second half) lead Tri-City in the North Division by at least two games with four to play (T-C played a late game at Vancouver). With the loss, Everett (16-18) can't win the second-half title.
"It's good to be able to almost practice these type of close games down the stretch," Indians manager Kenny Hook said. "But obviously (Everett) is scratching and clawing to try to get in."
The Indians struggled at the plate for much of the game – they had runners in scoring position with less than two outs in four innings but couldn't scratch out a run. They went 2 for 11 with runners in scoring position and left 13 runners on base.
"We had many opportunities where we had second and third, one out, first and second, one out, and didn't get them," Hook said. "Those are tough at-bats for guys. It's just a matter of being able to – even if you don't get a hit – put the ball in play in those situations, see what happens."
But the only at-bat that ended up mattering was Crim's in the ninth.
Barreto led off the inning against Travis Kuhn with a double to center and went to third on Kellen Strahm's hard-hit single to center. Crim figured with a good runner at first, he'd see a fastball. He drilled the first one he saw.
"I kind of knew what I was getting there," Crim said. "And you know, I didn't stay back all the way like I wanted to, but it did the job especially with the infield in. (Barreto) and Kellen did a great job of helping me get to that point."
The Indians survived drama before the walk-off.
Everett loaded the bases with one out in the ninth against lefty Josh Smith on three singles. Utah Jones chopped one to third and Jonah McReynolds came home for the force for the second out.
Smith bounced a curveball to Cesar Izturis and it got away from Scott Kapers, but the catcher scrambled to get it and made a perfect toss to Smith covering, who tagged Trent Tingelstad before he got to the plate.
"The pitching staff was incredible," Crim said. "I mean, just like it has been all year. So with the momentum that we had coming out of the top of the ninth right there, I knew we're gonna win it in the ninth, just didn't know who it was."
The Indians got their first hit and run in one swing as Starling Joseph smacked his second home run of the season with one down in the third.
Starter Teodoro Ortega recovered from a rocky second to give the Indians five solid innings. He allowed one run on four hits and a walk with two strikeouts.
Subscribe to the sports newsletter
Get the day's top sports headlines and breaking news delivered to your inbox by subscribing here.
---