Sports > Spokane Indians
Justin Slaten adjusts to pro ball; Spokane Indians edged by Eugene
UPDATED: Sun., Aug. 18, 2019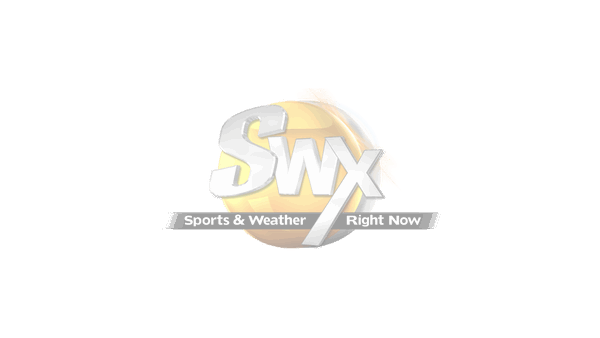 In an effort to manage the workload of some of the college pitchers taken in this year's MLB Draft and assigned to the roster by the Texas Rangers, the Spokane Indians have been "piggybacking" starting pitchers this season.
The practice allows for starters to pitch a prescribed two innings then be relieved by another pitcher who would normally be a starter. It allows for the draft picks accustomed to starting to stay in that routine while limiting the number of pitches they throw in their first professional season.
Some have adjusted from their heavy college workload to the new arrangement better than others.
On Sunday, Eugene pushed a run across in the top of the ninth inning and the Emerald held on to beat the Spokane Indians 2-1 in the second of a three-game Northwest League series at Avista Stadium.
The Indians (14-10) have won eight of 11 games since the all-star break and stay one game ahead of Tri-City in the second-half North Division standings.
Other than an eight-run sixth inning on Saturday – in which six unearned runs scored – the Indians have mustered three runs in their last 35 innings.
"That's how hitting is," Indians manager Kenny Hook said. "It kind of comes and goes. The one thing I think with our recent success is the pitching and defense. That stuff shouldn't slump, and that's going to give you a chance to win.
"All you can ask for is to get a good pitch to hit and put a good swing on it. It just so happens there's nine guys out there that could catch it."
Indians starter Justin Slaten, the Texas Rangers third round pick out of New Mexico, had struggled a bit in his transition to professional baseball. Entering Sunday's contest he had made seven starts covering just 10 1/3 innings and had allowed nine earned runs (9.58 ERA) with 17 hits and seven walks over the period – though he had racked up 15 strikeouts.
In 13 starts for New Mexico this season, Slaten pitched 82 1/3 innings, an average of move than 6 1/3 innings per start.
Slaten is still warming to the process.
"It's definitely an adjustment, I would say more on the mental side than anything," he said. "Just knowing that you've got to go out there and you gotta give everything that you can for two innings to put your team in a good situation to win."
"Obviously, he's got big fastball and he's a big, big kid," Hook said. "I think it's just a matter of – like all the guys here – being able to start by commanding that fastball and then go to the slider. But I mean, he's a very promising arm."
Slaten had an easy 10-pitch 1-2-3 first inning, inducing a pair of soft grounders to first sandwiched around a strikeout.
In the second, he gave up a pair of singles but coaxed a tapper off the bat of Jake Washer and made a nice play to get out of the inning. Slaten needed 23 pitches to get out of the frame.
"It's just one of those things here in pro ball – you're not really going to face any easy outs," Slaten said "You know, you just have to execute all your pitches."
Slaten gave up two hits and no walks with two strikeouts – marking his third appearance of the season without allowing a run.
"I think it was just a little bit of a learning curve kind of coming up here adjusting to the advanced level," Slaten said. "I'm just trying to like find my stride but I'm starting to feel better as summer has gone on. So it's nice to go out there and get a solid two innings in."
Eugene finally put a run on the scoreboard in the seventh against reliever Luis Rosario – in his fifth inning of work. With two down, Luis Vazquez poked one through the right side for a single, then Washer one-hopped the wall in left center for an RBI double.
Rosario allowed four hits and a walk over five innings with six strikeouts.
Francisco Ventura led off the eighth with a double down the left field line. Cristian Inoa bounced back to the pitcher and reliever Matteo Bocchi had pinch-runner Jake Hoover cut off. Bocchi threw behind the runner and shortstop Luis Vazquez' throw to third got away from Ryan Reynolds, allowing Hoover to crawl in safely. Inoa took second in the aftermath.
After Starling Joseph struck out – for the third time in the game – Derwin Barreto lofted a fly to medium-deep left and Hoover just beat the throw to tie it.
The Emeralds broke the tie in the ninth. With one down, Ryan Reynolds singled, took second on a wild pitch by Nick Starr (1-3) and scored on a single by Luis Vazquez.
Subscribe to the sports newsletter
Get the day's top sports headlines and breaking news delivered to your inbox by subscribing here.
---