Sports > Spokane Indians
Blaine Crim hits pair of home runs, Spokane Indians down Vancouver Canadians 7-6 in extra innings
UPDATED: Wed., Aug. 14, 2019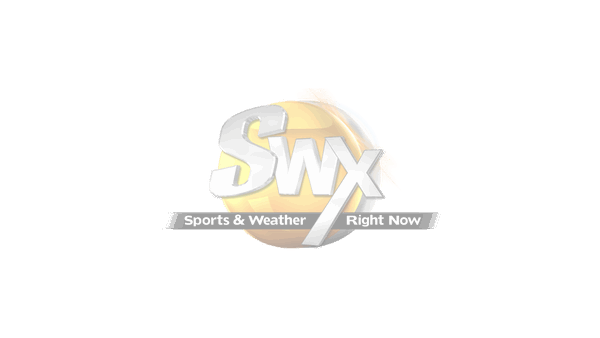 Blaine Crim just keeps on hitting.
The Northwest League's leading hitter went 3 for 5 with two home runs and five RBIs and the Spokane Indians beat the Vancouver Canadians 7-6 in 10 innings in the first of a three-game series at Avista Stadium on Wednesday night.
The Indians (12-8) have won six of their past seven games.
Spokane lost a 6-2 lead late and the game headed to extras. Josh Smith (1-0) got the club through the top of the inning scoreless and Crim, who struck out to end the ninth, started as the automatic runner at second.
With one down, the Canadians walked David Garcia, then Obie Ricumstrict reached on a fielding error.
That brought up Alexander Ovalles, who ripped the first pitch he saw from reliever Mike Pascoe past the drawn-in Trevor Schecke at first base and into right field.
"It was a really good moment," Ovalles said. "I really enjoyed it, the first the walk-off winner of my career. That's really cool."
Ovalles was hitless in the game up to that point.
"I was having a tough game, 0 for 4, hitting the ball right at the defense," he said. "And then the moment come to me and then I hit the base hit."
"I have a lot of confidence in Ovalles in those situations just because he can use the whole field," Indians manager Kenny Hook said. "And he doesn't typically chase he so puts a lot of pressure on the mound."
With the graduation of Vancouver's Yorman Rodriguez to Low-A Lansing earlier in the day, Crim assumed the lead in the league batting title race. He may have overtaken Rodriguez anyway, as his big night elevated his average to .361. Rodriguez was hitting .369 at the time of his promotion to full-season ball.
Crim, the NWL's "Top Star" at last week's All-Star game, has eight multi-hit games in his past nine and is hitting .472 (17 of 36) over the span. His six home runs are good for a fifth-place tie among active hitters in the league and seventh overall.
"It's just about sticking to the approach that the coaches kind of tell us to work on," Crim said. "And when I leave that approach, that's kind of when I struggle a little bit.
"And then just hunt strikes."
The Indians matched up against Vancouver starter Alek Manoah, the Toronto Blue Jays' first-round pick and 11th overall in this year's MLB Draft. The 6-foot-6, 260-pound 21-year-old hadn't allowed a run while striking out 12 of the 23 batters he faced over his first six pro innings.
The Indians got to him right away. Leadoff hitter Derwin Barreto reached on an error by shortstop Ronny Brito, and with one down Crim clobbered a letter-high fastball and deposited it over the left field fence for a two-run homer, his fifth of the season.
They were the first runs allowed by Manoah in his fourth appearance of the season for the Canadians (7-13).
In the second, Jake Hoover popped to short center, where Brito and center fielder Cameron Eden collided violently as Brito held on for the catch. After a few minutes both players got to their feet and stayed in the game.
Brito must not have felt too bad after the collision, as he led off the top of the third with a solo home run to right.
Manoah picked up a pair of strikeouts in a scoreless third inning, using a 95-mph fastball and assortment of off-speed pitches.
Meanwhile, Indians starter Teodoro Ortega quietly put together a quality start. The solo homer was the only run – or hit – he allowed in five innings. He didn't allow a walk, struck out four and threw 42 of his 60 pitches for strikes.
Crim added to the lead in the fifth. With two on and two down – and first base open – reliever William Gaston got too much of the plate with an off-speed pitch and Crim blasted it to straightaway left for his sixth homer.
"He understands that in those situations, he's not going to get pitch to traditionally with with fastballs coming right at him," Hook said. "So he's able to sit on some off-speed pitches.
"He's got a short, quick swing to where he can still get to a fastball and use the opposite field."
The Indians added a run in the bottom half of the seventh. Barreto walked against reliever Josh Almonte and went to second when Kenen Irizarry drew a free pass. Crim hit into a 6-4-3 double play, but Starling Joseph hit a booming double to right center – his second of the game – to plate Barreto and make it 6-2.
That run proved to be huge as Mejia found more trouble in the eighth. Wright hit a one-out single and Luis De Los Santos ripped a double into the left field corner to plate him. Morris then walked and Phillip Clarke split the gap in right center, driving in both runners and making it a one-run game.
Hook called upon Nick Starr to face McGregory Contreras, but the Canadians left fielder lined a double to left center and Clarke cruised in with the tying run. Starr eventually got Eden to ground out, keeping it 6-6.
Crim had a chance to keep it from extras, but struck out swinging to end the ninth inning.
With two on and two down in the top of the 10th, Contreras hit a grounder to deep second and Jake Hoover's throw to Smith covering just beat the runner to end the inning and keep it tied.
Subscribe to the sports newsletter
Get the day's top sports headlines and breaking news delivered to your inbox by subscribing here.
---