Sports > Spokane Indians
Derwin Barreto homers and Spokane Indians power past Tri-City
UPDATED: Fri., Aug. 9, 2019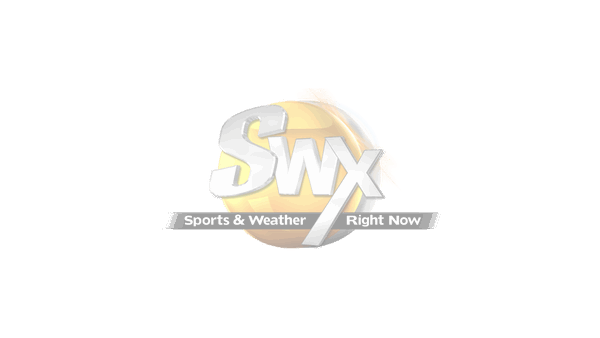 Infielder Derwin Barreto hasn't been on the Spokane Indians' roster for long. On Friday, he made a big impact.
Barreto went 3 for 4 with a three-run home run, drove in four and scored twice and the Indians beat the Tri-City Dust Devils 9-2 in the second of a three-game Northwest League series at Avista Stadium on Friday.
The Indians (8-7) moved into first place in the North Division second-half standings, one game ahead of the Dust Devils. They pounded out 11 hits, including three home runs.
"That's a really clean ball game for us," Indians manager Kenny Hook said. "And offensively, I think that's probably one of our better games as far as being able to get in there and look to do some damage."
Barreto was a midseason call-up from the Arizona Rookie League playing in just his 10th game for Spokane. The 18-year old native of Venezuela singed as an international free agent with the Texas Rangers in July 2017. He entered play 4 for 27 (.148) in Short-A.
"It's been a kind of a slow start for me," Barreto said through a translator. "But the guys have brought me in as family. They kind of gave me encouragement and I stayed with my plan. Now things are starting to get a little more on my side."
Barreto's size, listed at 5-foot-9, 155 pounds, belies his strength.
"He can do that, he's got a little pop in such a small frame," Hook said. "But you can see how dynamic he is, especially defensively, on the bases and then being a switch hitter."
The Indians got going in the bottom half of the second. With one down, Jonah McReynolds went the opposite way for a solo homer to tie it – his fifth of the campaign – then Alexander Ovalles singled and Scott Kapers drew a walk.
Barreto – the No. 9 hitter – bounced one up the middle and through for an RBI single and put runners on the corners. Barreto moved up on a passed ball then Kellen Strahm hit a comebacker that pitcher Angel Acevedo knocked down – but had trouble handling.
Acevedo's late throw to first drew Carlos Luis into the runner and he collided violently with Strahm. Luis reeled away in pain with an apparent left arm injury and fell to the ground as the ball sailed away into foul territory. Two runners came around to score.
Trainers rushed to the aid of Luis, who was in obvious discomfort. They tried to get the 19-year-old to his feet, but he collapsed again and teammates helped lower him back to the ground. Stadium staff brought out a cart and Luis was slowly loaded onto it. He was transferred to an ambulance and taken for treatment.
"Usually, the first baseman will let that go," Strahm said. "But you know, he reached for it and he got me pretty good, but he got the worst of it. But prayers up for him. You never want to see someone go down like that. Pretty gruesome injury, but you know, that's baseball."
When play resumed, David Garcia lined a single to right to score Strahm from second for a 5-1 lead.
Kenen Irizarry joined the hit parade with a line-drive homer to the short porch in right leading off the third, his third of the season.
Barreto's big night continued in the fifth when he launched a three-run homer to right – his first of the season – to make it 9-1.
"I occasionally show some power at times," Barreto said of his first homer. "I don't think about it that much. I just focus staying on my plan and sometimes things happen as they did tonight."
Barreto had a chance for a four-hit night but grounded out in the seventh.
Indians reliever Billy Layne Jr. retired the first 10 batters he faced and tossed four scoreless innings to earn the win. He allowed two hits and no walks with three strikeouts, lowering his season's earned-run average to 2.01 over 22 1/3 innings.
TC starter Acevedo fell to 0-4 with a 12.33 ERA against the Indians this season.
Subscribe to the sports newsletter
Get the day's top sports headlines and breaking news delivered to your inbox by subscribing here.
---