Sports > Spokane Indians
Jake Hoover's walk-off double lifts Spokane Indians over Tri-City
UPDATED: Thu., Aug. 8, 2019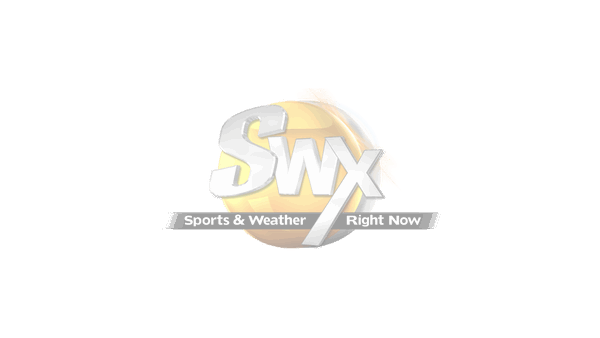 The Spokane Indians lost three of their last four games before the all-star break and for much of Thursday's game appeared ready to take another setback.
But a series of fortunate events led to a dramatic comeback.
Jake Hoover blasted an RBI double in the bottom of the ninth inning and the Spokane Indians edged the Tri-City Dust Devils 7-6 in the first of a three-game Northwest League series at Avista Stadium.
The Indians (7-7 second half), the North Division first-half champions, tied the Dust Devils at the top of the second-half standings. Tri-City had won four games in a row.
"I'm a firm believer you're not going to be able to flip the switch when it comes playoff time," manager Kenny Hook said of the big win. "So you have to be playing your best baseball towards the end of the year."
Hoover hoped he would come up in a big spot.
"As soon as we get in there (between innings), I looked at the scorecard and saw I was up fourth," Hoover said. "Just before the at-bat, before I even get out there, I'm preparing myself mentally, you know, 'Hey, we get going here and it's gonna be a big at-bat.' "
Luis Asuncion led off the ninth with a single and was replaced by pinch-runner Starling Joseph. Derwin Barreto attempted a sacrifice, and T-C reliever Deivy Mendez overthrew first, sending the ball well into right field.
Joseph, who was running on the play, scored all the way from first.
"I like what Joseph did rounding third, not taking for granted where they were," Hook said. "He was rounding hard looking to go to the extra base. And we took advantage of that."
Obie Ricumstrict moved Barreto up with a sacrifice, then Hoover took his turn. At 1-1, Hoover popped a foul between first and home that fell between three fielders. With new life, he drilled the next offering to right center and Barreto raced home.
"I kept telling myself, he's probably not gonna throw me a slider," Hoover said. "And if he is, I'm not gonna chase it away. So I'm going to just sit fastball. He went a little lower, and I got enough barrel on it to get it out there."
"That's kind of what this league is about," Hook said. "If you give extra outs or extra opportunities, the game seems to swing that way. So that's a big play."
Trailing 1-0 with two down in the fourth, Hoover drew a walk. Jonah McReynolds lashed a double to the left-center gap and Hoover raced around to tie it.
In the fifth, Spokane's Blaine Crim doubled to right-center to plate Kellen Strahm who had walked, then David Garcia scored on a groundout by Asuncion. Francisco Ventura's hard grounder to short was booted and Crim hustled home to make it 4-1.
Juan Castillo allowed five runs in the sixth to put the Indians in a two-run hole. He allowed two long home runs, walked one and hit a batter with his first pitch.
The Indians got one back in the bottom half on a pair of singles by McReynolds and Cristian Inoa, an error and a groundout.
Subscribe to the sports newsletter
Get the day's top sports headlines and breaking news delivered to your inbox by subscribing here.
---