Sports > Gonzaga basketball
Former Gonzaga standout Nigel Williams-Goss ready to begin NBA journey with Jazz
UPDATED: Tue., Aug. 6, 2019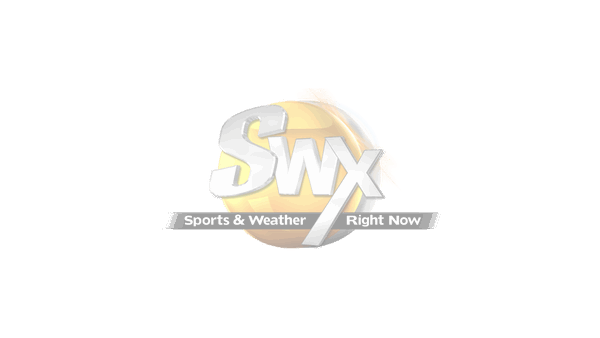 Nigel Williams-Goss has a basketball in one hand and his trusty notebook in the other.
"My organizer," he says proudly. "Game schedules, stations, drills, times."
The former Gonzaga star jogs among five courts Monday at the HUB Sports Center to check on 122 youngsters at his third annual skills camp, leaning over to high-five one kid who barely comes up to his waist.
"The goal is to be better tomorrow than today," Williams-Goss tells the group a few minutes later.
Williams-Goss understands the meaning of those words. It's one of the reasons he's transitioning from a lucrative stint playing professionally overseas into his rookie season with the Utah Jazz.
Williams-Goss left Gonzaga as an All-American on the most successful team in program history. With little left to accomplish in the college game, he skipped his senior season and was taken No. 55 overall by the Jazz in the 2017 NBA draft.
Despite all of his accolades, Williams-Goss wasn't a finished product – still isn't, he informs an interviewer – and the route to fulfilling his lifelong NBA dream required detours to Serbia and Greece.
Utah retained his rights and kept in close contact with Williams-Goss, who did his part thousands of miles away by refining his game and showing he can play point guard capably at the highest level.
Williams-Goss put up 17.8 points and 7.1 assists while hitting nearly 49% beyond the 3-point line two years ago with KK Partizan in Belgrade, exceeding his junior season averages of 16.8 points, 4.7 assists and 36.8% 3-point accuracy.
That earned the 6-foot-3 guard a promotion and a three-year deal worth more than $2 million to join storied Greek franchise Olympiacos, which competes in the highly regarded EuroLeague. His numbers slipped to 10.1 points, 4.4 assists and 38.4% from distance against better competition, but his performance still impressed the Jazz and several NBA teams that inquired about acquiring his rights.
"Over there, they don't have defensive 3 seconds (violations) so they can pack the paint. It is super physical and it challenges you in areas that are different than in the States," Williams-Goss said. "Handling the physicality and having to improve my jump shot because the lane is so packed and just becoming more mature has really helped my game.
"There's a shorter 3-point line so that shrinks the court, then not having defensive 3 seconds shrinks it even more. You have to develop and be able to pull up for midrange shots and obviously be a 3-point threat."
Utah's international scouts watched numerous Olympiacos games and practices and executive vice president Dennis Lindsey visited Williams-Goss in Greece. Williams-Goss also stayed in touch with Jazz assistant coaches via text during the season.
The Jazz made several offseason moves, addressing the point guard position with the addition of presumed starter Mike Conley, Emmanuel Mudiay and Williams-Goss. The former Zag agreed to a three-year, $4.8 million deal with the first year guaranteed for $1.5 million, according to Spotrac.
"The whole organization made sure I was part of the team even though I was away," Williams-Goss said. "It just matched up on both sides and they had a roster spot that was open, the salary cap in the budget that made sense for me to come back."
The NBA has been his goal all along. It's even more satisfying that the opportunity comes with the Jazz, where GU star John Stockton crafted a Hall of Fame career. Stockton's daughter Laura is assisting at Williams-Goss's camp.
"I feel like the Jazz organization fits my personality," Williams-Goss said. "They're a lot like Gonzaga. It's a smaller-market team with a lot of substance to them. They're heading in the right direction and close to getting over the hump.
"As soon as I got the news it was official and I was coming back, I called (Stockton) to thank him again because he spoke to (Lindsey) during the predraft process and put in a good word for me. He was super happy for me."
Conley is one of the best point guards in the NBA, even though he's yet to make an All-Star roster or earn All-NBA honors. Mudiay is just 23, but he's already played for three teams in four NBA seasons. He averaged 14.8 points and 3.9 assists with the New York Knicks last season, but he has struggled in his career on defense and with his perimeter shot (42.2% inside the arc, 32% on 3-pointers).
"I'm just excited to learn from a guy like Conley who has done so much and is such a proven vet," Williams-Goss said. "They've brought in six or seven new faces. It's a new team overall. I'm just going in there with the mindset to work and be myself."
That approach has served Williams-Goss well throughout his basketball career.
Follow along with the Zags
Subscribe to our Gonzaga Basketball newsletter to stay up with the latest news.
---