Sports > Area sports
John Blanchette: Even before Title IX, women's sports had true pioneers such as Nancy Monroe
Thu., April 11, 2019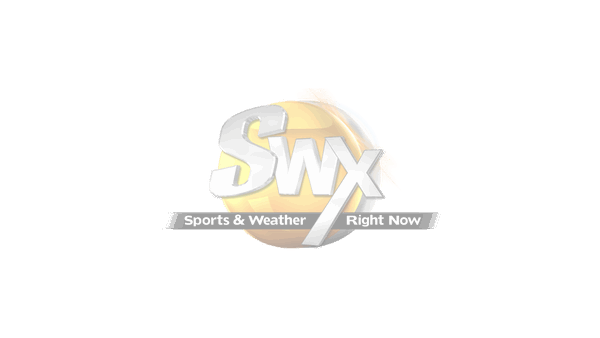 Having never been on an airplane or out of the state of California before her 17th birthday, Nancy Monroe can only explain away her decision to enroll at the University of Idaho as one of those random bursts of pioneer spirit.
Who knew she'd be an actual pioneer?
This is going back almost 50 years in the evolution of women's sports, predating Title IX even, so it's no hollow application of the word. But, hey, there's no expiration date for pioneering, whether it's Notre Dame basketball coach Muffet McGraw passionately stumping for greater female leadership or the amateur golfers who played a tournament last week at Augusta National, which couldn't bring itself to admit women as members until 2012.
But real pioneers tend to have a much lower profile.
Until someone acknowledges the trail they've blazed, anyway. On Saturday, the Coeur d'Alene-based Idaho Athletic Hall of Fame will induct Monroe in its 2019 class along with former Vandals football coach Chris Tormey, NFL veteran Doug Riesenberg and long-time Pac-12 football official Steve Hudson.
Monroe was Nancy Westermeyer when she arrived in Moscow in 1971, sold on UI by "a couple of boys ahead of me in high school" who had made the jump.
"This sounds like an adventure," she remembered thinking.
Or a calamity.
"It was a complete shock," said Monroe, now retired from the Mead School District after 38 years of teaching. "I had no idea where I was going. In Santa Barbara, it doesn't get above 85 degrees and I landed in Pullman when it was about 105. I cried and begged my mom to come home the first couple of weeks."
Soon new friends would have to take her emergency shopping "because I had no idea what it means to be in Idaho after Oct. 1."
But where Monroe felt right at home was in the campus pool. A competitive age-group swimmer since she was 6 and a national record-setter, she'd do Friday night laps in UI's brand new swim center.
As it happened, school officials – with Title IX enactment less than a year away – were in the process of launching two women's programs on an intercollegiate basis.
"And they had one swimmer," Monroe said, "and three other brave souls willing to try it."
It was a true start-up. The coach, Vangie Parker, was trained in gymnastics. The women worked out in the shallow warm-up pool next to the competition tank where the men swam. They bought their own suits.
"I basically did the workout the boys did," Monroe recalled, "or figured it out on my own."
But she figured it out well enough that she qualified for the Association for Intercollegiate Athletics for Women nationals – the NCAA couldn't be bothered with women's sports then – that first year. And Parker was enough of a go-getter that when the AIAW was without a host for the 1973 nationals, she volunteered Idaho.
That drew a little more attention to the team on campus and by Monroe's senior year there were 15 swimmers.
She hadn't planned to be among them. Married the summer before to Brent Monroe – they'd met on her 18th birthday in Theophilus Tower – she had a schedule full of student teaching, lifeguarding and giving swim lessons on top of school.
Then she heard about the scholarships – Idaho's next step in Title IX compliance.
"They referred to it as an 'award,' " she said. "There were three qualifications. One was need and that was easy – we had nothing. The second was grades – and I was too guilty to ever miss a class. And third on the list was athletic ability. Imagine that today, being third behind the other two."
It was also suggested that participating in two sports would enhance her chances of being a recipient ("two for the price of one"). So she played on UI's first official volleyball team, which went 22-6 that year – and, yes, went to nationals in swimming for a fourth year and did her student teaching and graduated.
Oh, that scholarship? It was worth $175.
"I just couldn't resist," she said. "All those years of competing – I wanted to say I was the first one."
It wouldn't be the last of the firsts. She and Brent were hired to teach and coach in Kendrick, Idaho, in 1977, and she took the Tigers' first volleyball teams to six state tournaments. She coached two more state tournament teams in Chelan.
And those humble – and often begrudged – beginnings of women's sports?
"To be honest, I wasn't outraged," she said, "because when you have nothing and start getting little things, you think, 'That's great.' Every little step was something more than it was before. I probably got more appalled at those things as I got older.
"I'm just proud of the very small part I had in the start of it all, and for the unbelievable timing that allowed me to play a part."
And for that pioneer spirit, which may have played the biggest part of all.
Subscribe to the sports newsletter
Get the day's top sports headlines and breaking news delivered to your inbox by subscribing here.
---