Sports > Idaho football
New 'caretaker' Pete Isakson plots course for Idaho athletics
Sun., Sept. 9, 2018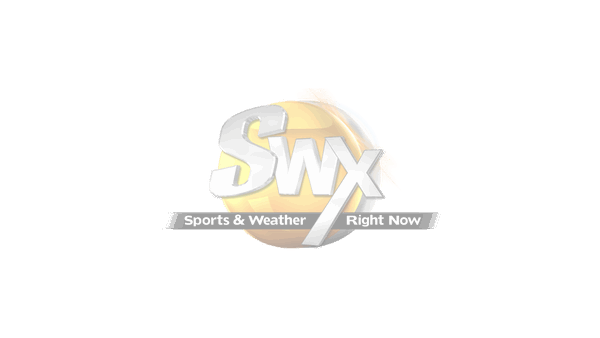 MOSCOW, Idaho – For interim athletic director Pete Isakson, the prevailing rationale for his return to the University of Idaho in February of 2017 was pretty simple.
"The main reason I came back here is because I could marry my vocation and hobbies together," Isakson said during his Tuesday afternoon news conference. "I'm a Vandal. I love this institution. I've wanted to be here for many years, and now I have the opportunity to be here."
Isakson spent 14 years as an administrator at Washington State, then returned to UI as associate athletic director for revenue generation about 16 months ago. Since April, Isakson has filled in as athletic director for Rob Spear, who was placed on leave and later fired.
After being asked whether he'd consider applying for the full-time position, Isakson took a second. He said he'd "be interested in that scenario" but right now, he's more focused on duties that accompany his position.
Isakson's responsibilities – which he said have altered since his title was slightly modified from "acting" to "interim" AD – include those of UI's "caretaker." Before, he could see things "on the horizon," but now he's prone to foresight.
His previous role as associate athletic director for revenue generation is an essential position, considering UI's $1 million budget deficit and near-$650,000 loss in contributed funds from 2016 to 2017, according to USA Today. Part of that function should carry over.
He said the Vandal Scholarship Fund is up $500,000 in comparison to last year. When asked if that was a result of winning back disaffected donors or reaching out to new ones, he offered this:
"It's a little bit of both. Honestly, $250,000 of that was at request. What we're really working on is growing the base. It's simple mathematics; the more people you have in the fund, the more money is in the fund."
Isakson noted some new strategies the department has endeavored to take: it's to ask more potential donors to contribute, and for old benefactors to give a little extra help.
"We had a lot of people that have given us $250 for 20 years and God bless 'em for doing that. We certainly appreciate it," Isakson said. "But as you all know, $250 doesn't spend the same way as it did 20 years ago."
And to quantify whether he's been successful, Isakson pointed to recently received positive feedback. To him, the "personal, not statistical" approach to garnering support will be key in a UI deficit recovery.
Selling tickets, too.
Isakson said ticket revenue has seen a 15 percent increase since last year – ticket sales dropped nearly $80,000 from 2016 to '17, according to USA Today. This translates roughly to 60-70 more UI football season tickets between this time last year and now, and Isakson hopes to pump that number up to 100.
"It could be more, but it's something that we're trying to work very hard for," Isakson said. "Really, for the most part, the people that were negative (about the FCS drop) either really have taken it in and said, 'OK, this has passed, we're still Vandals. We're coming back into it.' Or, the people that were really upset have probably left. The people we have now are very gung-ho."
He admitted there hsve been some departures, but promised no one would get the "stink eye" if they decided to return to Vandals fandom after a respite.
"Gung-ho" is the atmosphere he strives for. Local synergies, he said, could be hardened with UI back in the Big Sky. Office banter in Spokane, for example, might become commonplace and the city might even see itself as the center of Big Sky athletics someday, he reckoned.
He's heard a bit from local schools as well.
"The athletic directors from the other schools are very supportive. They're very excited to come back to Moscow," he said. "Alumni directors being the same. And we've really had a lot of excitement about coming back because of the fact that for 15 to 20 years we've had a student body that's never been at an away game."
On the internal side, Isakson's already hired a new coach in UI soccer skipper Jeremy Clevenger. But Isakson clarified that nothing's a solitary act, and nothing should be seen as such – he repeatedly directed all credit pertaining to UI's successes toward the school's faculty and staff.
"I work with a bunch of professionals. We have the ability to focus in to make sure we're doing our jobs regardless of what's going on around us," Isakson said. "I think (the athletic department was) stable before, and we're stable again."
That question of stability obviously surfaces in the wake of the athletic department's tumultuous last two-or-so years – a segment of time which featured the dismissal of a long-time athletic director and fissures in the fan base on the subjects of both the drop of football to the FCS level and cries of injustice toward the release of Spear.
The latter likely would never have happened if it weren't for an instance of sexual assault perpetrated by a former UI football player and the ensuing uncertainty of how to handle it.
How has UI rebounded from that?
"We've done a lot of things in education," Isakson said. "We certainly understand what we're supposed to do in these situations. If anything, we'd probably over-report just to make sure we're doing everything we can to make sure everybody is being taken care of."
Subscribe to the sports newsletter
Get the day's top sports headlines and breaking news delivered to your inbox by subscribing here.
---