Sports
Grip on Sports: College football's first full Saturday at times made us sore, but also offered some exercise
Sun., Sept. 2, 2018 A GRIP ON SPORTS • Is your backside sore? You know, after spending from 9 in the morning until after 11 at night sitting and watching college football? No way it is shape for this. Yet. But maybe you jumped up and down enough to give it, and the rest of your muscles, a good workout. Read on.
••••••••••
• If you are an Eastern Washington football fan, you probably received the extra, added exercise of walking from your car to Roos Field. And then up and down the stairs a few times. Ditto for you Whitworth folks who made it out to the Pine Bowl, though the stairs there aren't quite as numerous.
For fans of every other local team, supporting your squad necessitated hours sitting in front of the TV or computer, yelling, cheering and, in the case of Vandal fans, sobbing.
It was a good day for Cougars, Pirates and Eagles. For UI supporters, not so much. OK, let's be honest, last night sucked for the Vandals.
No matter what, though, 2018, college football-wise, is off and running.
• A couple things surprised me in Laramie and Gardner Minshew's performance wasn't one of them. Ever since he announced he was attending Washington State and Rick Lukens ran down his phone number for a radio interview on a day I was working, nothing he does surprises me.
Minshew was impressive then, showing an intelligence, wit and poise that presaged his success in the opener. It was obvious the young man just got it. And his numbers at East Carolina showed he had the physical abilities.
But the play of the offensive line against a good defensive front, now that was a surprise, considering all the Cougars lost from last season. And the ability of the defensive front to dominate the line of scrimmage was only a little less unforeseeable.
Bottom line: a good season-opening win for WSU in a tough place to have success.
• Much of that could be said for Eastern and Whitworth as well.
Neither were tested much at home, but each was able to work out the kinks new faces bring to a college football team while still posting a win.
It will get tougher.
• Speaking of tougher, it was a tough weekend for the Pac-12. The marquee game occurred in Atlanta where No. 6 Washington looked a little shell-shocked early, regrouped, took a late lead but couldn't hold off No. 9 Auburn.
The loss won't do the conference much good down the road, even if it may have been decided by a non-call on an obvious third down personal foul against the Tigers. Close road games seem to be decided by such things way too often in college football.
The rest of the weekend was a mixed bag, with some decent wins – the Cougars, California, Stanford, Colorado – and some regrettable losses – UCLA, Arizona, Oregon State (just for the margin).
Oh well, it could have been worse. A lot worse.
•••
WSU: Laramie's altitude probably made it tough for Theo Lawson, John Blanchette and Tyler Tjomsland to do their jobs during Washington State's 41-19 victory, but the trio powered through. Theo has the game analysis, the difference makers, a first impression and a story on Max Borghi's first collegiate game (spoiler alert: he was pretty good). … John has his column, focusing on Minshew's solid performance. … Tyler has a thorough photo story. … I watched from home and critiqued the coverage. A couple of items that I didn't get in: we missed the first part of a big play, the bad-snap safety, due to getting back to the action late from a video package and there were a couple technical glitches on the audio going in and out of the national highlights. Otherwise, that part of the broadcast was OK. Everything else is in my TV Take. … Also from Laramie, we can offer a view of SWX's video coverage. … The stories from Wyoming focused upon the Cougars' second-half dominance. … Cut day in the NFL was not kind to some Cougars, including Luke Falk. … The volleyball team continued its strong early season run.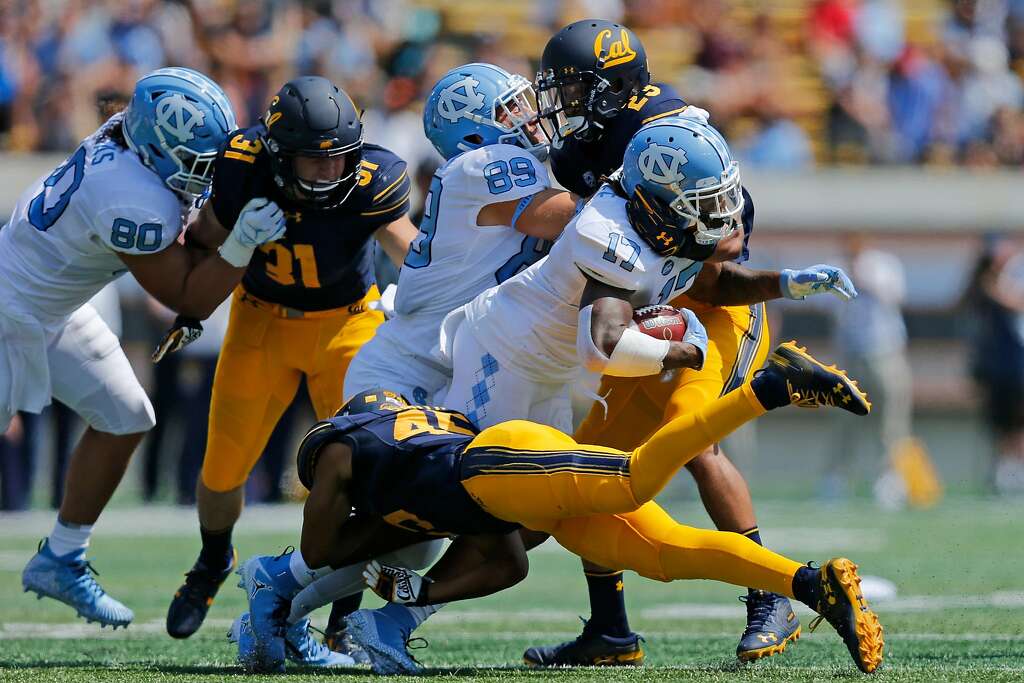 Elsewhere in the Pac-12, the overall results were not as good as they could have been. … For Washington, there are no moral victories especially for teams hoping to make the national playoffs. The 21-16 loss to Auburn is another in a litany of blown chances for a signature victory. … Oregon started slowly but came on strong to blow out Bowling Green, 58-24. Justin Herbert was throwing darts. … Oregon State started slowly and it just got worse in Columbus and the Beavers fell 77-31 to No. 5 Ohio State. … California won 24-17 over North Carolina but there are now quarterback questions. … Colorado's big win Friday night shows quarterback Steven Montez is maturing. … Utah has a solid running back. … The Chip Kelly era got off to a slow start, beset by missed tackles and a quarterback injury. The depleted Bruins lost 26-17 to visiting Cincinnati. … Even with a true freshman at quarterback, USC rolled over visiting UNLV 43-21 in a torn-up Coliseum. … Herm Edwards' first game at Arizona State was a success, despite some sloppiness. … There was sloppiness in Tucson as well, but Arizona couldn't over come it and lost 28-23 to BYU.
Gonzaga: The Bulldogs will honor their longtime soccer coach.
EWU: The Eagle offense just kept piling up the yards, finishing the 58-13 rout over Central Washington with 677 of them. Ryan Collingwood has a game story and a notebook from the easy win. … Jesse Tinsley was also in Cheney and has this photo gallery. … SWX was also there and we have its video highlights. … Around the Big Sky, it was a weird night in Sacramento. Head coach Jody Sears was suspended a game by the NCAA for a minor violation and former Eastern and WSU coach Paul Wulff took over. The Hornets won 55-7. … Southern Utah twice had takeaways late taken away by flags and the Thunderbirds ended up losing at home. … Montana opened the season with a home win over No. 13 Northern Iowa. … Northern Colorado came close but fell to No. 17 McNeese State, 17-14. … Cal Poly played the No. 1 team in the nation on the road and lost 49-3 to South Dakota State. The Mustangs also may have lost their starting quarterback for the season. … Northern Arizona scored a win over an FBS school, defeating host UTEP 30-10.
Idaho: The Vandals first game in years as an FCS school couldn't have gone much worse. They were blown out, 79-13 at Fresno State, contributing 31 points to the Bulldogs' cause through turnovers.
Whitworth: The Pirate defense stood strong, posting a shutout in a 38-2 win over visiting La Verne. Justin Reed was at the Pine Bowl and has this game story.
Chiefs: Everett's preseason tournament continued with Spokane falling in overtime to Vancouver. … Also at the tournament, Seattle posted an overtime win over host Everett.
Indians: There are two games to go in the Northwest League season. All the Indians have to do to earn a place in the postseason is win one more game. At home. They ensured that last night with a 6-0 victory over Vancouver. Dave Nichols has more in this game story. … Elsewhere in the Northwest League, Everett swept a doubleheader. … Eugene lost to visiting Boise.
Preps: There was just enough competition yesterday to make it obvious the fall seasons have begun. Dave Nichols started his Saturday by covering Bellevue's win over Central Valley. … We can also offer a roundup of the action in football and soccer. … Former Mead standout Delany Junkermier will be playing in Ireland next season.
Mariners: The advent of the college football season took some of the spotlight off the M's, who came close to blowing a big lead against Oakland. Edwin Diaz shut the door, however, for a crucial 8-7 victory. … Rosters expanded yesterday. … If you want some hope for the final month, we have it for you in the form of a history lesson. It's all in our Out of Right Field column.
Seahawks: The Hawks made their cuts and other roster moves yesterday to get down to the mandated 53-man squad. There were surprises, there were expected move, there were some injuries and there was a trade.
Sounders: There was a retirement party for Clint Dempsey at CenturyLink yesterday. The best present? A 3-1 win over Sporting Kansas City. The Sounders are starting to remind me of the 1972 Lakers, who went on a tear after Elgin Baylor retired and won the NBA title.
•••
• It was kind of nice last night to do my work after the Cougar game and be done. Though I would have been interested in interacting with the WSU faithful over the phone after the win. I'm sure there were a lot of people happy I wasn't there to be Debbie Downer. Until later …
Subscribe to the sports newsletter
Get the day's top sports headlines and breaking news delivered to your inbox by subscribing here.
---