Marketing > Sponsored
EWU Nation Profiles: Curly Rousseau enjoys tailgate traditions
Sat., Sept. 1, 2018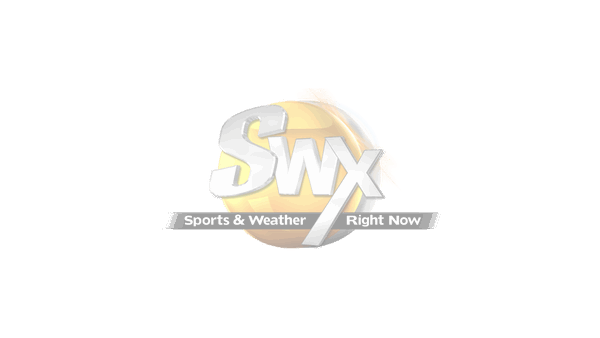 Curly Rousseau has a lot to be proud of. He was an All-American pitcher at what was then known as Eastern Washington State College.
He and his wife Lori have been longtime donors. Curly was inducted into Eastern Washington University's Hall of Fame for being a superior athlete and a superior contributor to the success of not just the student-athletes, and pretty much the whole institution.
These are all wonderful accomplishments, certainly — but there's one area that Curly and Lori do especially well: they start tailgating earlier than anyone else.
"We believe tailgating starts Friday evening, not Saturday morning," he said. "We are proud to say that we were the first-ever Eagles to tailgate overnight."
The first time they brought their fifth wheel to EWU's parking lot, Curly looked outside at 11:30 p.m. and didn't see a soul.
This early arrival also gets them in prime position for partying on Game Day, a ritual that is appreciated by other early birds and event staff.
"Lori has made it a point to feed parking lot attendants, since they arrive at 7:30 in the morning, and after all, they are poor college kids," Curly said. "Plus we always like to host the cheer squad for breakfast on the final home game of the year."
Throughout the year, the Rousseaus make it a point to find ways to share the love with other student-athletes. They invite the men's and women's basketball teams for Christmas dinner and have a barbecue for the soccer and volleyball players.
"We even have had three former student-athletes live with us after completing their eligibility," he said. "Suffice to say none of this would happen if EWU didn't have great people as coaches and great young people as student-athletes."
Q: What is your role in supporting EWU/EWU Athletics?
We are annual donors and have been season ticket holders for many years in football and both men's and women's basketball. As past president of the Eastern Athletic Association, I was chairman of the annual fund drive on seven occasions. I was proud that each year was a new record.
Q: When did you attend?
I graduated in 1971 with a degree in business management and again in 1974 with an education degree. I played baseball for three years, from 1969 to 1971.
Q. Why do you continue to support Eastern?
I have been a supporter of EWU Athletics since the original EAA in 1984-1991.I took some time 'to heal' after baseball was eliminated but came back in 2000 and have not missed a season since! My support is two-fold. One is to give back to the university that gave me a chance to play ball and walk out with an education. Secondly we truly believe in the student-athletes we have at EWU for the outstanding young people first they are. You will notice I said we, a side note here. In 2008 I was fortunate to find my fabulous bride Lori. Shortly after we married she asked, "So how much do you give to EAA?" I thought to myself, OK here it comes, I told her, and her comment was, "Hmm… that sounds reasonable, but now there are two of us so shouldn't we double that?" Welcome another Eagle to the nest!
Q: Why is it important for the community to support EWU Athletics?
I really believe EWU is Spokane's team. I know there are a couple of other 'unnamed universities' in the area, but where did the vast majority of Spokane-area residents get their degrees? Plus, Cheney is only 16 miles from town, not 76.
Q. What do you and Lori do on Game Days?
With Lori behind the scenes we have been more than happy to welcome anyone who stops b y our fifth wheel to say hi and grab a bite to eat. Lori's philosophy, and mine as well, is to welcome and feed anyone who comes by, regardless of the school colors they may be wearing.
Q: Please share a favorite Eastern memory.
I was fortunate to have played for the legendary Ron Raver. I can truly say he was a major factor in my staying in school and completing my degree. During my days at EWSC I would have to say my proudest moment would have been named as an All-American in baseball. Since baseball is now gone I guess I can say I'm the only pitcher in EWU history to be able to say they are All American. "Raves" was very instrumental in that. Forty years later, in one of proudest, most humbling days in my life, I was inducted into the EWU Hall of Fame as Athlete/Contributor. That was followed later by being included in the service and contribution side of the HOF. Lesson learned from my father and Coach Raver!
Q. What do you like about living in the Spokane area?
I have stayed here all of my life and spend a lot of time at many of the great area golf courses. When my fabulous bride retires, one our bucket list items will be to attend every football game for an entire season. This means tailgating at home and away!
For more information about Eastern programs or athletics, visit www.ewu.edu.
STCU has been a long-standing supporter of Eastern Washington University. We believe that some of the best stories about EWU are the ones that come from student-athletes, faculty and staff, and alumni who represent all the great things EWU has to offer—from academics to athletics, community engagement, and more. These stories are about those Eagles who are a driving force for the culture, economy, workforce, and vitality of our region. We're honored to help highlight these amazing individuals. Go Eagles! .
Subscribe to the Coronavirus newsletter
Get the day's latest Coronavirus news delivered to your inbox by subscribing to our newsletter.
---