Marketing > Sponsored
Eagle Nation Profiles: Get on board Randy Casto's Game Bus
Sat., Sept. 1, 2018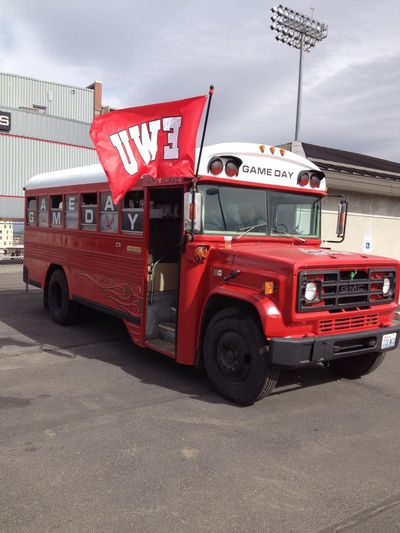 Even if you haven't met Randy Casto at an Eastern Washington University Football game, you probably have seen his Game Day Bus.
The converted red-and-blue vehicle originally hauled kids to and from school in the 1980s, and today it helps bring all sorts of excitement to every member of the Eagle Nation. The red-and-white bus – complete with a built-in 'kegerator' — has become Party Central for any EWU tailgate gathering.
"It's now an Eagle institution and people have great memories of it over the years," said Casto, who graduated in 1990 with a degree in Business Administration/ Economics. "So many funny stories and memories have been created by this wacky idea of buying an 1985 school bus – I'm sure my wife will be sainted immediately."
Casto, his bus and his family have become fixtures outside Roos Field along with creating a friendly refuge for traveling Eagles at away games.
"During the championship run, we have had people who are superstitious about leaving the bus as they felt the team played better when they were in physical contact with it," he said. "It gets fairly interesting in December when nature calls and you feel you can't let your team down."
The bus also serves a dual purpose: letting people know that the Eastern experience is definitely worth celebrating.
"When asked where they were going to school, the kids from my era would say, 'Just Eastern,'" he said. "Other kids were proud to say UW or WSU, but EWU was not something someone bragged about."
Casto and author Jess Walter even joked about making "Just Eastern" T-shirts for a future championship drive.
"The goal of the Game Day bus was to start helping turn this around, and I think it's different these days – people are very proud to be Eags, and I know my mind-set changed along the way as well. You have to embrace where you came from and be proud of where you are going."
Next time you're at a game, be sure to stop by to say hi to the Castos and be part of the parking lot fun.
Q. Is your family also big Eastern fans?
We are an Eag family that bleeds red! My wife Michaelyn also attended EWU and was much more focused. She received both her undergrad and master's in speech pathology in five years. My oldest daughter graduated last year and just started as a school psychologist for West Valley. My middle daughter hopes to graduate winter quarter with a teaching degree. My father graduated as a Savage. We are talking to our son, who is getting his AA at the Falls, into becoming an Eag.
Q: Why is it important for the community to support EWU Athletics?
A: It's where the vast majority of our community has come from. I once did a show of hands to demonstrate this point at Washington Trust. I asked those who attended GU to raise their hands, then WSU, then EWU…70 percent of the room were Eags.
Q: Do you have a special Eastern memory?
A: My favorite all-time football game was the away game versus Oregon State that we won 46-43. I was upgraded somehow to the athletic director suite and was getting beer from the suite next door from the Oregon State AD's suite. About the 3rd quarter I was no longer welcome. Vernon Adams played his most incredible game and we beat the 23rd ranked team in the country. I was exhausted from the excitement but still made it to the Blind Squirrel tavern to celebrate deep into the night.
Q. How do you keep that bus running?
We have had and continue to have a great many people support the bus. My engine blew up last year on the way out to the first home game and I thought it may be time to retire the bus idea. It has been a great run of fun times but a new motor was expensive. At that game people just started giving me $100 bills and saying the bus had to come back.
Q: Anything else you want people to know about you or your love of the EWU Eagles?
A: Come on out to a game! I think people are surprised when they come out and join us for a tailgate by the great atmosphere and also the great football that happens in our backyard. I also have season tickets for basketball and they are great to watch. You can buy family packages for very inexpensive prices and have a wonderful time.
For more information about Eastern programs or athletics, visit www.ewu.edu.
EWU Profiles are sponsored by STCU, a long-standing supporter of Eastern Washington University. STCU believes that some of the best stories about EWU are the ones that come from student-athletes, faculty and staff, and alumni who represent all the great things EWU has to offer—from academics to athletics, community engagement, and more. These stories are about those Eagles who are a driving force for the culture, economy, workforce, and vitality of our region. We're honored to help highlight these amazing individuals. Go Eagles!
Subscribe to the Coronavirus newsletter
Get the day's latest Coronavirus news delivered to your inbox by subscribing to our newsletter.
---