Marketing > Sponsored
Eagle Nation Profiles: Krisann Hatch enjoys celebrating with EWU family
Sat., Sept. 1, 2018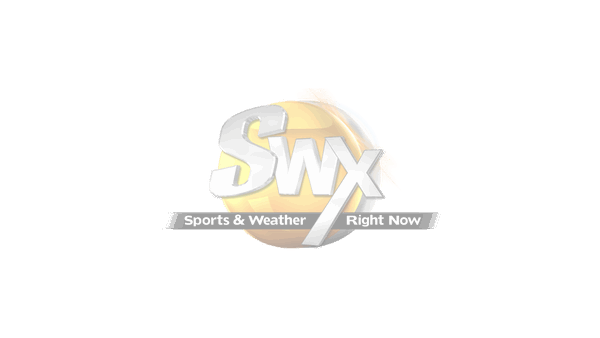 Some people love watching Eastern Washington games, but Krisann Hatch's appreciation for the school and sports goes much, much deeper.
"We LIVE for Football Saturdays!" she said recently. "We tailgate with a huge group of friends and do not miss home games."
Hatch, who attended Eastern from 1984 to 1988, loved the school and athletics then, and this feeling has only continued to grow. Today, she enjoys sharing this excitement with family members, friends and her extended family of Eagle fans and boosters.
"We don't miss many away games either – we've traveled to Colorado, Texas, California, Utah, Montana, Oregon, WSU, Washington, Oregon, Oregon State…whew!"
During her time at Eastern, Krisann competed in shot put for the track team her freshman year. She earned a bachelor's degree in Business Administration with a double major in marketing and finance, and credits the quality of instruction with providing the skills that have helped in the Human Resources field, a field she still works in.
"EWU gave me a fantastic education that allowed me to be a true contributor in my communities and to grow my career as an HR professional and business person," she said. "My entire family fully supports the mission of EWU and student success, and truly enjoy helping student-athletes SOAR."
She's proud to support the Eagles on the sidelines of Roos Field and other ways, including being a donor and a board member on the EWU Foundation.
Fellow family alums include sisters Lori Wyborney and Jana Berg, her father Jim Hatch, niece Kelsey Hatch-Brecek, nephew-in-law Aaron Brecek, sister-in-law Celia Hatch and cousin Kevin Hatch. Most can be seen on game days, along with her brother Jim Hatch, a play caller.
"Everyone in my entire family is an EWU booster," she said. "We all have season tickets to both football and basketball, and my mom, both sisters, brother, and niece all have season tickets to football."
As one of many Eagle superb supporters, Krisann is happy to share her appreciation of the school and its athletic programs.
Q. How long have you been a EWU booster?
A. Always; but more actively since 2002 when I moved back to the Cheney area, after having lived elsewhere throughout the Pacific NW due to work.
Q. Why is it important to support Eastern and its athletic programs?
A. The University must have community support! While academics are obviously a high priority, a university also must attract community members, whether through arts, music, athletics, whatever. Having an outstanding athletics program is what attracts many people – be it fans, students, sponsorships from area businesses, etc. If the community wants to continue to prosper from its relationship with EWU, they must provide their support to the community. We need businesses to show their support via sponsorships.
Q. Why did you choose Eastern?
A. First, to study. It offered an excellent education and I was able to live at home and graduate debt-free. I Worked at Zip's and paid for my college as I went. Plus I LOVE, LOVE, LOVE my Eastern Eagles. And by the way, while football is my family's sport of choice, we support basketball and soccer, too! Finally, I choose to support Eastern because what can be more important than advancing education?
Q. Is there a particularly inspirational person for you in the Eastern community?
A. I am inspired by every student-athlete that puts in so many hours to their sport but also maintains excellent grades and continues to focus on their academic success. It's probably a little cliché' but Cooper Kupp is extremely inspiring to my family. For all the obvious reasons but also because my children look up to him so much and he is such a model of grace, humility, hard work, dedication, academic excellence and, of course, athletic excellence. EWU hit the lottery!
Q. What's your favorite EWU memory?
A. Absolutely, hands-down one of the top 10, maybe even Top 5 moments of my life was the National Championship! My husband, mom, brother, sister-in-law and their two kids were all there in person and experienced that EPIC comeback! Another favorite was our amazing comeback win over Montana in Joe Albi stadium in, I believe, 2002. That has always held a special place in my heart and in my mind was somewhat of a turning point in the Griz vs. Eags rivalry. Joe Albi was 75 percent Griz fans and only about 25 percent EWU fans that day!
For more information about Eastern programs or athletics, visit www.ewu.edu.
Eagle Nation Profiles is sponsored by STCU, a long-standing supporter of Eastern Washington University. We believe that some of the best stories about EWU are the ones that come from student-athletes, faculty and staff, and alumni who represent all the great things EWU has to offer—from academics to athletics, community engagement, and more. These stories are about those Eagles who are a driving force for the culture, economy, workforce, and vitality of our region. We're honored to help highlight these amazing individuals. Go Eagles!
Subscribe to the Coronavirus newsletter
Get the day's latest Coronavirus news delivered to your inbox by subscribing to our newsletter.
---