Sports > Montana Sports
A Family Affair: Meyer Leading Fairfield to the Playoffs
Mon., Oct. 22, 2018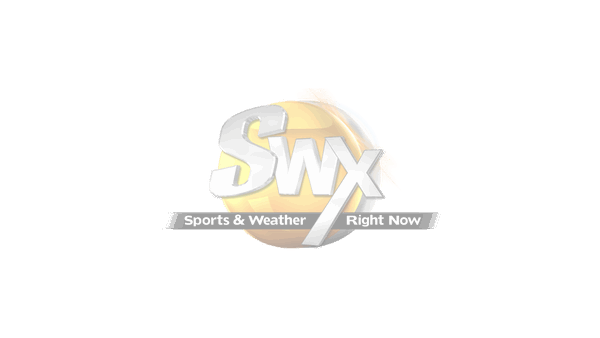 2018 has served the Fairfield Eagles quite well on the football field, especially for senior quarterback Ryder Meyer.
Hailey Sutton / SWX
"Being a quarterback you have to be vocal, and as a freshman that was something that I kinda had to work on,"Ryder said. This season alone, he's completed almost 70 percent of his passes, throwing 15 touchdowns for 978 yards. He's also rushed for 629 yards, and has eight rushing touchdowns on 75 carries. But he says it's his ability to listen and learn from those in the past that 's helped him become such a dynamic player. "Being able to watch under Tanner and Luke and how vocal they were, that was something I had to take into my game. I really appreciate being able to work under them," Ryder said. "So now, growing into a quarterback, I've learned to be more vocal, and be able to talk to guys about things, and I think they appreciate it." He's also had the help of a very special figure: Les Meyer: his coach, and his dad. "Well it's been really fun for me, I don't know if it's always been fun for him. I think when you're in the moment, you're in the moment as coach and player and then when you go home, you try to separate that. I think when it's past and you'll reflect on it, and realize how special it is," said Fairfield Head Coach Les Meyer. "We have a good relationship off the field as well, but during practice or games we really have a coach and player relationship," Ryder added. Although he has just a few games left playing for the Eagles, and for his dad, Ryder knows he'll get the chance to soar to new heights with the Griz next fall. "It'll be different for sure. Football, always having dad be a mentor and a role model, someone I can look up to. Playing under Coach Hauck is gonna be something super special also. I'm really looking forward to working under him." "It's a chance to expand your, you know, get your wings spread and go see where it's like somewhere else. I want that for all of our kids," Les said. "We're blessed and thankful he's gonna get that opportunity." It's an opportunity that Les says he's ready for, but he'll definitely miss hanging out with youngest son. "I don't know how many football games we've watched this year, but we'll miss out on Sunday conversations or Saturday conversations. I guess that'll be done on the phone. And then also talking about their experiences, you know, what's the game gonna look like this Saturday as opposed to what it looked like on Friday night." The Eagles will begin their playoff journey Saturday, October 26. They will host Red Lodge at 1 p.m.
Subscribe to the sports newsletter
Get the day's top sports headlines and breaking news delivered to your inbox by subscribing here.
---