Sports > Area sports
Area volleyball notebook: WSU volleyball hoping for ESPN GameDay boost for its matches this weekend
UPDATED: Wed., Oct. 17, 2018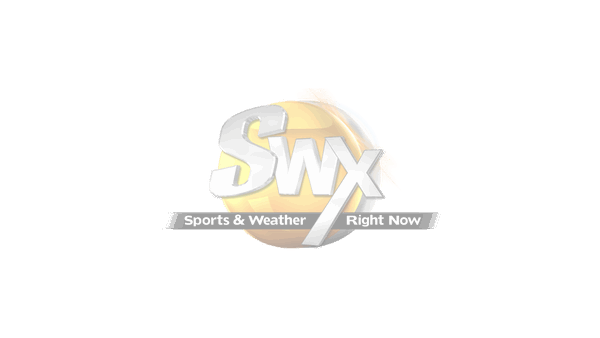 Whenever Washington State has a corresponding home football and volleyball weekend, it assists the volleyball program.
Add ESPN GameDay's first visit to Pullman for Saturday's WSU-Oregon showdown, and the smile grows wider on Cougar volleyball coach Jen Greeny's face.
"Just with so many extra people in town, a lot of the people in the RV lot are looking for things to do," Greeny said. "We usually have a pretty good crowd on football weekends, but this one is extra special, with GameDay coming and just the excitement around our fall sports in general. It's great for everybody."
No. 23 WSU (13-5, 4-4 Pac-12) entertains No. 14 USC at 8 p.m. Friday and No. 20 UCLA at noon Sunday. The Cougars played six of their first eight conference matches away from home, including last weekend's 0-2 Bay Area road trip.
WSU led No. 2 Stanford for most of the second game before losing standout Taylor Mims to a lower-leg injury. Mims missed the remainder of the match and also Sunday's loss to California.
Greeny declined to elaborate on Mims' injury – "I tend to be like (football) coach (Mike) Leach in these situations," she said – but is optimistic Mims will return soon. Mims ranks eighth on the program's all-time kills list.
"We did for sure have our chances at Cal," Greeny said. "Penny Tusa stepped in and did a great job, but our middles weren't playing real well that day. If you have a starter out, everyone else has to pick up their game. We're definitely going to need everyone going forward."
WSU is building a strong résumé, with three wins against ranked Pac-12 foes and another over Arizona State, which cracked the top 25 a few days later.
The Cougars dropped a pair of five-setters to Washington and Oregon, both top-20 teams, to open Pac-12 play. WSU is No. 17 in the NCAA's RPI.
"What's crazy about this conference is you can certainly be in the middle of conference just battling, and then still be able to make a run in the NCAA Tournament," Greeny said.
Vandals surge
Idaho (13-8, 7-2 Big Sky) has rattled off five consecutive wins to move from tied for sixth in early October to leading the conference by one-half game.
Six of Idaho's last nine matches are at Memorial Gym, including Friday's visitor, Northern Colorado. Idaho has upcoming matches against Idaho State, Weber State and Sacramento State – all three are 6-2 in conference – with home matches versus the Bengals and Wildcats next week.
"We had to work through some team things, which isn't uncommon when you're working with overall dynamics and have 18 different personalities," coach Debbie Buchanan said. "I think we're finally in the right spot with the team dynamics and our mentality."
The Vandals also have been dealing with injuries to kills leader Kaela Straw (Freeman High product) and setter Haylee Mathis.
"We're trying to be little smarter about the (practice) workload," Buchanan said.
Chasing perfection
Community Colleges of Spokane's magical season continues. The Sasquatch (29-0, 10-0 NWAC East Division) have dropped just one set in their past seven matches.
"The target on our back keeps expanding, but this crew continually surprises me with their composure under pressure," coach Jenni Hull said. "We have so many offensive weapons, coupled with a defense that might be the best I have seen on our court."
CCS has six regular-season matches remaining, with key matchups against third-place Blue Mountain on Oct. 27, fourth-place North Idaho on Oct. 30 and second-place Walla Walla on Nov. 2.
"They are a skilled unit, but it's their intelligence and stability that is winning all the points," Hull said of her squad.
Weekly honors
Whitworth senior Jessica Schmautz (CCS, Lakeside High) was named the Northwest Conference offensive player of the week after averaging 4.58 kills in a pair of victories.
She added three aces for the Pirates (15-6, 9-1), who lead the NWC by one game over Pacific Lutheran and Puget Sound.
Fresno State's Haile Watson (Lake City High) was selected Mountain West Conference defensive player of the week. She recorded 10 blocks and 13 kills in two wins for the first-place Bulldogs.
Subscribe to the sports newsletter
Get the day's top sports headlines and breaking news delivered to your inbox by subscribing here.
---