Sports > Area sports
Washington State soccer heads into second round of NCAA Tournament with chip on its shoulder
UPDATED: Wed., Nov. 14, 2018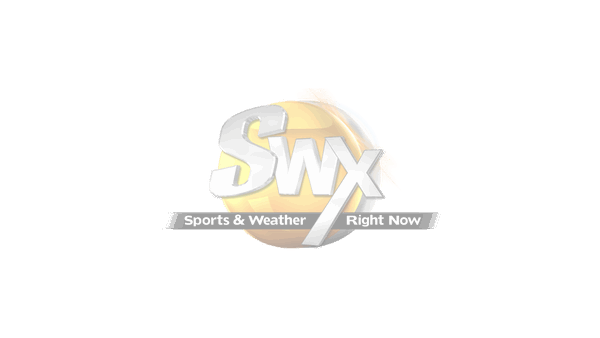 PULLMAN – Washington State women's soccer players Morgan Weaver and Maddy Haro are fed up with the way the rest of the world sees their team and, more generally, the school they represent.
"We've always been the blue-collar team and I'm tired of it," said Haro, a senior defender who is second in the nation with 15 assists.
"It's Cougs versus the world," added Weaver, a junior forward who is the co-leader for scoring in the Pac-12. "I just want to prove this is a good school and this is a good team."
Now take a moment to chew on these stats:
Weaver and Haro have either scored or assisted on 30 of the Cougars' 41 goals this season.
Along the way, Haro snagged a Pac-12 Defensive Player of the Week award – which is an unusual bookend for a telepathic playmaker. And Weaver has collected three Pac-12 Offensive Player of the Week awards.
Both Weaver and Haro are a virtual lock for the United States Soccer Coaches NCAA Division 1 Women's All-West Team, and Weaver is a likely All-American this year.
Not a bad season's work, but there's still some unfinished business: WSU plays undefeated Georgetown in Friday's second-round NCAA Tournament game in Washington D.C.
Easy street, then rocky road
After opening the season with 10 straight wins, the Cougars dropped their next five games. They finally clawed their way back into the win column when Weaver scored all of WSU's goals in a 3-1 Apple Cup victory over Washington.
"Morgan has just taken it to another level," WSU coach Todd Shulenberger said. "She's super athletic, and she's two-footed. Before, she was shooting for power, but now she's placing her shots much better."
With six goals in her last four games, Weaver is in top form and brimming with confidence. Her speed, close control and sheer determination are the stuff of nightmares for defenders.
A native of University Place, Washington, Weaver took special delight in tearing the Huskies apart with her hat trick two weeks ago. Last week, in WSU's first-round game, she gave the Montana defenders fits in a 5-1 rout.
Like Weaver, Haro grew up playing club soccer in her hometown of Corona, California. Her father was a minor league baseball player, then a baseball coach, so Haro also played a lot of stickball in her younger days.
At WSU, she has evolved into the consummate attacking fullback – busting up the opposition's party one moment, then whipping in flat, accurate crosses for the offense to attack.
"Maddy is a defender who gets forward," Shulenberger said. "She's probably the best attacking outside back in the country right now. She's got a great left foot, and her service is phenomenal."
Together, they are the heart of the Cougar soccer team.
Separated at birth?
"Morgan and I are really good at playing off each other," Haro said, "and we just know the other's rhythms and patterns of play."
This season, the pair has connected for six goals; Haro set Weaver up five times, and Weaver returned the favor once.
The secret to WSU's success, Weaver said, is no secret at all.
"It's grit, and hard work, and no matter what the score, we don't give up," she said.
With eight goals in their last two games, the Cougars are on the prowl for more playoff victories. Confidence is high, Haro adds, "because we're hands-down a better team than last year."
Last year, the Cougars advanced to the third round of the NCAA Tournament, where they lost 1-0 in double overtime to Florida – which was playing on its home field.
Now in his fourth year as head coach, Shulenberger agrees his team has become stronger.
"We're deeper on the bench, and we're more athletic," Shulenberger said. "We play good soccer, but we're a blue-collar team and we've got a little bit of bite to us."
Injuries take toll
Injuries have taken a big bite out of Shulenberger's squad, with four starters suffering season-ending knocks. Those include:
• Goalkeeper Ella Dederick, regarded as one of the best keepers in the country, who went down after only five games. (Dederick's replacement, Rachel Thompson, has since been named Pac-12 Goalkeeper of the Week – twice.)
• Defensive midfielder (and Ferris High standout) Maegan O'Neill, a Pac-12 Defensive Player of the Week, who scored five goals – including three winners.
• Aaqila McLyn, also a Pac-12 Defensive Player of the Week.
• Forward Elyse Bennett, who scored three goals – including a winner.
Haro's career winds down
As a senior, Haro knows she's about to kick her last ball for the Cougars. Having watched teammates come and go, she recognizes that sentiment has no place on elite-level teams.
Performance counts. Nice personalities count for a lot less.
But in Haro's view, playing for WSU is more than just generating assists, goals and victories. For her, it's about selflessness, service to others and working for the common good.
"I want the rest of the team to remember me as a positive, uplifting teammate," Haro said. "There are bigger things than soccer."
Subscribe to the sports newsletter
Get the day's top sports headlines and breaking news delivered to your inbox by subscribing here.
---