Sports > Gonzaga women
Zykera Rice dominates inside as Gonzaga overpowers Idaho State 70-51
UPDATED: Tue., Nov. 13, 2018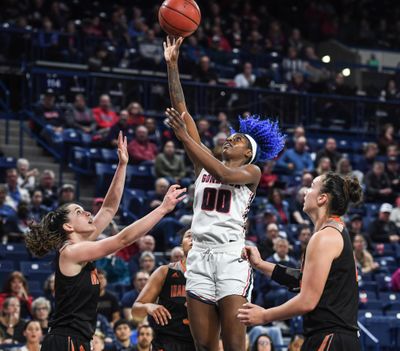 Saddled by foul trouble in her last game, Zykera Rice had no such issues on Tuesday night.
With the senior forward's presence inside, the Gonzaga women's basketball team moved the ball well and played the sort of inside-out game coach Lisa Fortier wanted to see.
Behind Rice's 17 points and a 14-point effort from Katie Campbell, the Bulldogs handled the visiting Idaho State Bengals 70-51 in nonconference play at the McCarthey Athletic Center to improve to 3-0 this season, all against Big Sky schools.
"It was definitely a 'make space' kind of night," Rice said. "My teammates did a really good job making their shots around the perimeter and that definitely was helpful in making some space."
Fortier made ball movement the focus of the team's limited practice time since its less-than-fluid 63-51 win Sunday over Eastern Washington.
But against the Bengals (1-2), the Bulldogs frequently ran their offense through Rice, and that helped Gonzaga settle into a rhythm.
"They're strong in there, and in that fight zone down below they are not letting anything come easy, and I thought (Rice) made the right decisions," Fortier said. "She let the right option come to her. Sometimes that was a shot for herself, and sometimes that was a drive and a kick. … I thought she was very poised today."
Rice added seven rebounds and two blocks while hitting half her 14 shots from the field.
Idaho State held a 10-6 lead with 3 minutes, 36 seconds left in the first quarter. The Bengals didn't score again until 7 minutes later, and by then the Bulldogs had seized a 20-10 lead.
"We buckled down," Fortier said. "They're not easy to guard because they are so active and all the screens they set in their motion offense. They have so many veterans. I'm just really happy that we started to get some stops."
Campbell provided an early spark, hitting a pair of 3-pointers to help Gonzaga push its lead to 17 at half. It led by as many as 20 in the third quarter, and Idaho State never again got closer than 11.
Campbell, a junior, sank 5 of 9 field-goal attempts in 17 minutes off the bench.
"Our team played with a really good pace," Campbell said, "and we made a lot of extra passes, which really helped."
The Bulldogs outrebounded the Bengals 40-30 and hit 15 of 17 free-throw attempts.
Sophomore Jill Townsend came off the bench and added nine points and seven rebounds. Senior guard Chandler Smith finished with eight points, eight rebounds and six assists in a team-high 32 minutes.
"She has a variety of skills," Fortier said of Smith, "and with the way she can pass and the way she can shoot … I'm always most proud of her when she rebounds, because I don't think that is something that comes naturally. That's something she's making happen with intention."
The Bulldogs play again Saturday at UNLV. Last year, the Rebels beat the Bulldogs 52-50 in Spokane. It was one of only two home losses for the Bulldogs.
Subscribe to the sports newsletter
Get the day's top sports headlines and breaking news delivered to your inbox by subscribing here.
---