Sports > Gonzaga women
Journey ends for Emma Stach, Gonzaga women
Sun., March 18, 2018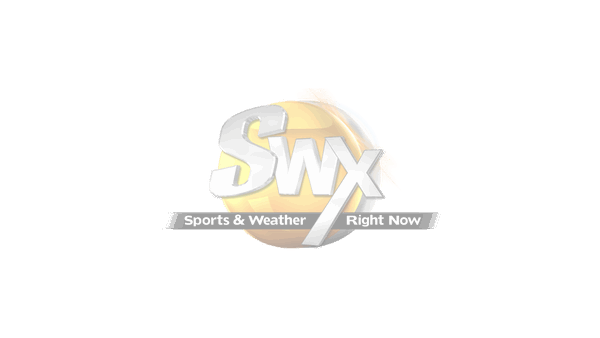 STANFORD, Calif. – It really is all about the journey.
Soon, Emma Stach will begin a new one, but Saturday was about the one that just ended.
Wearing her Gonzaga uniform for the last time, Stach was full of mixed emotions as she faced the media after a tough 82-68 loss to Stanford in the first round of the NCAA Tournament.
"Right now it hurts," Stach said as coach Lisa Fortier and teammate Jessie Loera offered moral support.
"Looking back in a few days at this year, it's going to be good … But yeah, right now, it hurts," Stach said.
And it should. Stanford was the better team Saturday, especially on the boards and on the perimeter. This isn't the West Coast Conference, as if the Zags needed any reminding.
This journey is over, and the Zags are richer for it.
True freshman Jenn Wirth was thrust into the spotlight early in Saturday's game, after starting forward Zykera Rice hit the bench with two quick fouls.
After battling the Stanford bigs for 16 minutes, Wirth came away with much more than six points and three rebounds.
"It was an awesome experience," Wirth said. "We knew we'd have to step it up, but we fell a bit short."
"Now we just have to keep getting better, pushing in the offseason," Wirth said.
That journey will begin soon, in the weight room. As Wirth pointed out, the Stanford bigs weren't just tall – "they were just bigger," she said.
She wasn't the only Zag to see NCAA action for the first time. Twin sister LeeAnne Wirth saw six minutes of action, while Jill Townsend – just one year removed from the state 1A tournament in Yakima – came away with two rebounds and one emphatic blocked shot.
"Hopefully that's something that we can build on going forward and now they understand a little bit," Fortier said. "And next time we're in this situation, hopefully it will be a different outcome."
Realistically, that will only come with a better seed. GU (27-5 going into Selection Monday) was better than a 13, which in the women's game gets you a first-round against the host.
A so-so nonconference performance was part of the reason, but GU also paid a steep price for playing 18 games against a conference schedule it can't control.
With the men facing the same problem, the GU athletic department is contemplating other journeys – for every program at GU. A move to the Mountain West Conference would mean the end of trips to Malibu and Moraga, California, and the tiny gyms at most WCC destinations.
Instead, the Zags would find more environments like the one they experienced Saturday – big gyms with big crowds. Not like Stanford, but not like Santa Clara, either.
You get the feeling that the women would rise to the occasion. Fresh off a 10th NCAA appearance in 12 years, GU figures to be even better next year. Of the 10 players who saw action at Stanford, all but one will be in the weight room next month.
Pausing as she contemplated her next journey, Stach took one last look around after her final game as a Zag.
"I am super grateful that I got the opportunity to play here … to play in the NCAA Tournament," Stach said.
"Not everyone gets to do that."
Subscribe to the sports newsletter
Get the day's top sports headlines and breaking news delivered to your inbox by subscribing here.
---