Sports > Spokane Indians
Spokane Indians manager Kenny Holmberg embraces chance to keep teaching defense
Sat., June 23, 2018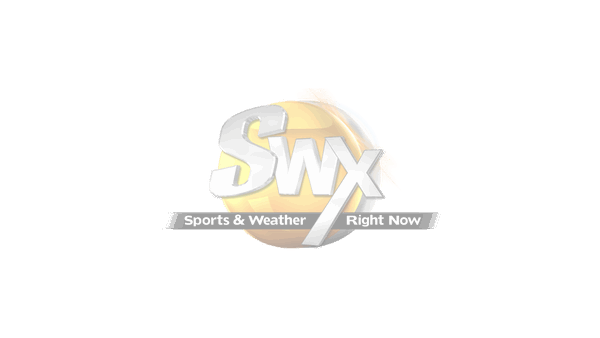 Three and a half hours before the Spokane Indians were scheduled to play the Boise Hawks in the second game of the Northwest League season on Saturday, new manager Kenny Holmberg was standing near second base with a fungo bat in his hand with infielder Jonah McReynolds near the bag at first base.
Holmberg pounded short hops to McReynolds while pausing in between to offer equal parts of instruction, explanation and encouragement.
McReynolds, 22, in his third pro season, primarily played shortstop and outfielder his first two years. He has played five positions – first, second, third, left field and right – in five games this season.
Holmberg spent the past three seasons as the Texas Rangers minor league infield coordinator, so teaching defense comes second nature to him.
He finds that it helps to be free thinking as an instructor, as not every player has the same experience, point of reference – or even language – in common.
At one point, Holmberg faced McReynolds and used his fungo bat as a goalie's hockey stick, pantomiming how a goalie would go side to side to block pucks, using another sport as a reference to illustrate a point about fielding grounders at first base.
Holmberg thinks cross-sport references are a useful tool in his teaching arsenal.
"An athletic position, a ready position for a point guard is related to a shortstop," Holmberg explained on Monday. "A sumo wrestler relates to a second baseman. An offensive lineman relates to a third baseman.
"There's things that correlate and these guys are athletes and we try to put them in a position to have success and sometimes you have to go different avenues to hit home with them."
Holmberg said the ultimate thing that he tries to get across to infield prospects is akin to the Boy Scout motto: "Be prepared."
"The ultimate thing infielders need to do is they have to get ready, they have to be ready, and if you're not as athletic, you have to anticipate reacting," Holmberg said.
"Come up like Cal Ripken," he continued. "He was a bigger guy, but he anticipated better. Not as much range, but he knew where the pitch was going. Not the fastest guy, but he knew the guy's swing."
The hockey reference Holmberg used with McReynolds was an easy one for the Tampa, Florida, native. He loves the sport and can rattle off history, players and coaches of the Lightning as easy as talking about a middle reliever or a split-finger fastball.
"It's the most exciting sport," Holmberg said. "It's the funnest sport to go and watch in person. I understand baseball – but I love learning and understanding hockey."
Holmberg said that as a kid he was fortunate enough to see Wayne Gretzky play the Lightning when the team played at the state fairgrounds early in the franchise's existence. It's a memory that Holmberg cites as contributing to him falling in love with the game.
He marvels at the Lightning's organizational structure and the quality of the personnel.
"Just a good product," Holmberg said. "Steve Yzerman the GM, I don't know if you can get any better than that. (Coach) Jon Cooper, incredible person it seems like, incredible guy to play for. Then the players – the first line, their second line, their defensemen. (Andrei) Vasilevskiy's a great guy in goal."
So it must have been a real thrill for Holmberg to meet Lightning forward and Spokane native Tyler Johnson on opening night on Friday.
"Awesome," Holmberg said. "He seems like (a good kid). He seems like one of those gritty, grindy guys that you're going to have to rip the jersey off of them. And then he'd probably show back up under a different name, an alias.
"I'd love to talk to him more about how they go about it, because they have a good system."
But back to baseball. As is the case when a player is inserted for defense in a game and immediately has the ball hit at him on a tough play, Saturday night McReynolds found himself with one of the same plays Holmberg was drilling him with earlier in the day.
With one down in the eighth inning and nursing a 1-0 lead, the Hawks loaded the bases against relievers Kenny Mendoza and David Lebron, both making their Indians debut.
Boise's Luke Morgan laced a hard two-hop grounder to first, but McReynolds laid out to his right to knock it down with the backhand, then made a good throw from his knees to Lebron covering to nab the runner to keep it 1-0.
"In those types of situations, you have to anticipate," McReynolds said after the game. "You have to make yourself the best available for your team.
"I kind of blacked out there, to tell the truth."
Holmberg praised McReynolds for taking the instructional drill into the game with him, making a gold-glove caliber play in his first career game at the position.
"The situation in the game where the go-ahead run is at second, tying run's at third. You've got to at least knock it down. They can't take the lead right there on a ground ball," Holmberg said.
Holmberg then went on to spread the love around.
"Great heads-up play by Lebron finishing the play," Holmberg said. "Some pitchers are out there on the island and forget to do what they're supposed to do. So that's what we call team defense."
The low minor leagues is as much about development as competition, and Holmberg took pride in McReynolds' situational awareness on the play.
"Very nice play. It's just overall awareness," Holmberg said. "You talk to the middle infielders about playing the corners? Stay athletic. Don't be a first baseman, be a baseball player."
Subscribe to the sports newsletter
Get the day's top sports headlines and breaking news delivered to your inbox by subscribing here.
---