Sports
Grip on Sports: Though the M's are still holding on to a coveted wild-card spot, the Oakland A's are closing fast
Fri., July 27, 2018 A GRIP ON SPORTS • It's sort of sad really. Here the Mariners are, trying to snap a playoff drought that dates back nearly to the last century, and they are no longer America's darlings. Nope, that role is now held by the Oakland A's, who are just a game behind Seattle for the final wild-card spot. Read on.
••••••••••
• The Amazin' A's have won 27 of their last 34 games. Where once they were fourth in the American League West, they now sit third. And, yes, they are just one game behind the M's, who, only a month ago, looked to be a lock to end the longest non-playoff streak in North American professional sports.
Not so much now.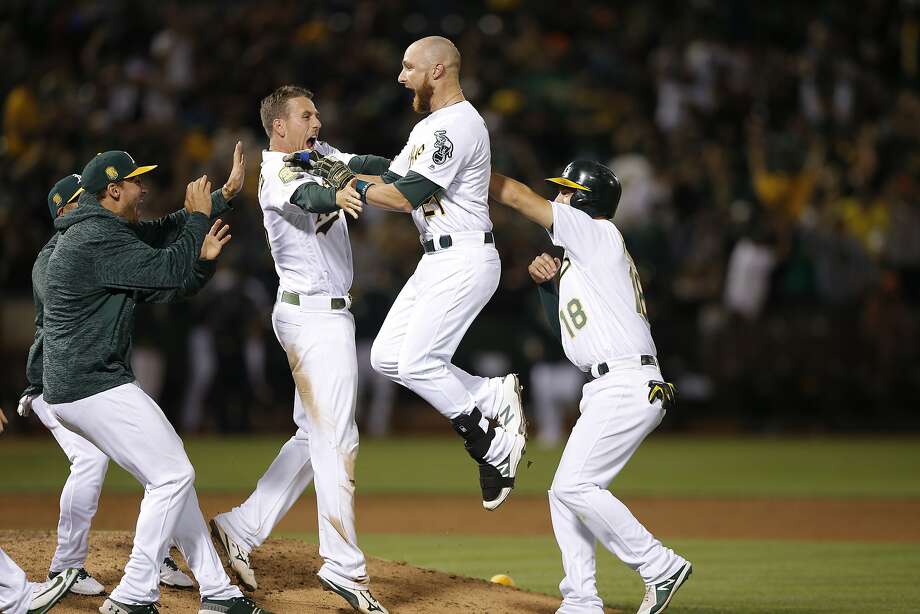 Heck, the worldwide leader's David Schoenfield conceded the A's the American League's second wild-card spot this week, just hours after Oakland rallied from a 10-2 deficit in the seventh inning to defeat Texas on Tuesday. And if ESPN says it will happen, it's probably going to happen.
Yes, the A's Tuesday night win was dramatic. As have been other wins in their hot streak. They sort of remind me of the 1995 Mariners, who seemed out of it in May and June only to explode down the stretch, post improbable win after improbable win, catch the Angels and make the playoffs.
The bigger problem (for M's fans at least) is this year's A's are good – and getting better. It's hard to say if Seattle is going to be able to get much better.
You know Oakland GM Billy Beane will pull out all the stops to win. He's always been willing to trade a prospect or two to help his team make the postseason. And then endure a few down years as a reward. He's confident his scouting department – and a few well-timed trades – will quickly restock the minor league pantry. And it does. Oakland entered this year in the top 10 on most prospect-ranking lists of major league teams.
The M's? We all know what's available in their minor league system. Little to nothing. So Jerry Dipoto will have to get creative to add another bat – they need it – and possibly another starting pitcher – if James Paxton's back doesn't heal up quickly, that becomes a priority. And, like everyone, another power arm in the bullpen would be nice.
Would Dipoto be willing to gamble, dangling someone like Kyle Seager, figuring Robinson Cano would be amiable to a move to third when he returns? Probably not, but it will take some box-crushing thinking to improve the lineup for the stretch run.
Problem is, only the A's have been running recently. The M's have been jogging.
•••
WSU: Around the Pac-12 yesterday, the conference's media day was still in the news, mainly because Stanford's Bryce Love wasn't in Hollywood on Wednesday. He didn't attend because, well, he had the audacity to put schoolwork first. Can you believe that? Of course, he Skyped in after class was over but that wasn't enough for some. … Stanford's newest quarterback is ready to get started. … Oregon is changing the Autzen Stadium experience this season. Even when Chip Kelly comes to visit with UCLA. … Arizona is going to offer alcohol sales. … Chase Hansen is at the heart of Utah's defense. … Money is at the heart of everything and the Pac-12 needs some more. … Colorado hopes it has enough heart to win tight games. … The first I-formation tailback at USC, Willie Brown, died this week.
EWU: Ryan Collingwood is at the USATF Masters Championships in Cheney this week and has this feature on a double winner with quite a backstory.
Idaho: The Vandals' Kaden Ellis was named to the Paul Hornung Award watch list. … Bob Petrino Sr., father of Louisville coach Bobby and Vandal coach Paul as well as a legendary football coach at Carroll College, died this week.
Indians: Spokane looks as if it wants to run away with the Northwest League's second-half North title, as the Indians are 3-0 since the calendar ticked over. Dave Nichols was at Avista last night for the latest win, 5-3, over Tri-City. It gave Spokane a three-game sweep over the Dust Devils. … Elsewhere in the Northwest League, Everett and Eugene each won for the second consecutive day.
Preps: Dave also spoke with Larry Weir about the WIAA's football playoff committees. That's part of Larry's most recent Press Box pod.
Seahawks: Training camp opened yesterday. A couple of players who were not there made the biggest news. Of course one was Earl Thomas. The other was Malik McDowell, last year's first pick. He was released, meaning he'll never play for Seattle. … Are the Hawks no longer among the NFL's best? … Though Thomas wasn't in camp, he still helping. That's not enough for Pete Carroll. … The site for the game in London is still up in the air. … We also can pass along a photo gallery from the first day of camp.
Sounders: Portland's Fanendo Adi has reportedly asked to be traded.
•••
• It's going to be another of those tough work days today. I am headed to the golf course, where much of America's business is done these days. At least for important people like myself – and the person I'm hosting. It's all very presidential. Until later …
Subscribe to the sports newsletter
Get the day's top sports headlines and breaking news delivered to your inbox by subscribing here.
---