Sports > NBA
Suns' Deandre Ayton thriving with competition, schedule at Summer League
Mon., July 9, 2018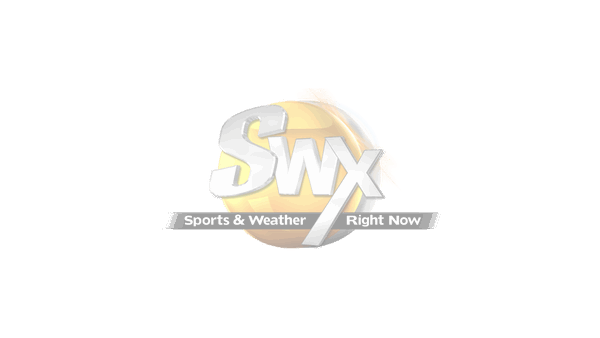 LAS VEGAS – Deandre Ayton is having no problem with the competition or the schedule at the NBA level.
Ayton outplayed a fellow top rookie big man for the second time, keeping the Phoenix Suns undefeated in preliminary play in Las Vegas.
Another full day of basketball Monday, highlighted by Ayton against Orlando's Mo Bamba in a matchup of unbeaten teams, was the third game in four days for the 20 teams in action at the NBA Summer League. The games are shorter than a regular NBA game – 40 minutes instead of 48 – and there's no travel, but it's still a lot of action in a short amount of time.
Some teams even gave players a rest day during the stretch of games, knowing there will be more ahead. Every team is guaranteed five games, with the possibility of playing as many as eight games in 12 days.
Ayton didn't look like he needed a break after scoring 17 points and grabbing 13 rebounds in the Suns' 71-53 victory over the Magic. The No. 1 pick said it was his first victory over Bamba, the No. 6 pick, after he beat fellow high school teammate and No. 2 selection Marvin Bagley III on Saturday.
"With all the excitement and all the fans coming out here, it just really made me a lot more comfortable," Ayton said in an interview on NBA TV. "And I just want to put on a show for them to be honest and just win as many games as I play."
There won't be any more for Bagley, as the Sacramento Kings announced that an MRI revealed a pelvic bone bruise. The Kings said Bagley would rest for a week or two.
Monday was the last of the 10-game slates on the campus of UNLV. There are only five games Tuesday before teams are seeded for tournament play that begins Wednesday.
Monday's look at local players:
Suns 71, Magic 53: Braian Angola (NIC) played 22 minutes and scored nine points to go with two assists for the Magic.
Cavaliers 93, Pacers 88: Brayon Blake (NIC, Idaho) played eight minutes for Cleveland. He did not score but had two rebounds and two assists.
Mavericks 91, Warriors 71: Jacob Wiley (Newport High, EWU) played 19 minutes for Dallas. He scored 12 points and grabbed four rebounds.
Timberwolves 78, Nets 69: James Webb III (NIC) started and played 16 minutes for Brooklyn. He scored four points and grabbed five rebounds.
Subscribe to the sports newsletter
Get the day's top sports headlines and breaking news delivered to your inbox by subscribing here.
---