Sports > WSU basketball
Rocky Mountain highs: WSU's Drick Bernstine comes home to Colorado, hoping to see Chauncey Billups
UPDATED: Wed., Jan. 17, 2018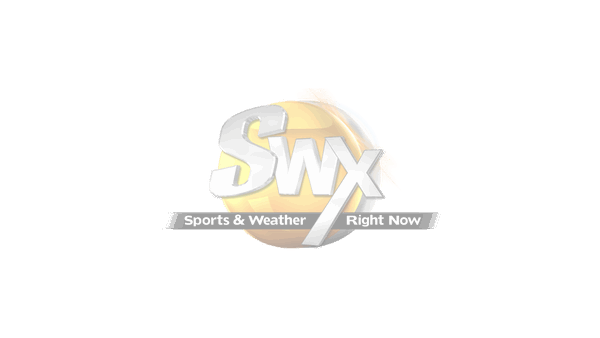 PULLMAN – The majority of NBA consumers know Chauncey Billups as the All-Star shooting guard who earned Finals MVP honors after leading the Detroit Pistons past Shaq and Kobe's Lakers in 2004 to deliver the Motor City its third NBA championship.
But Drick Bernstine and a legion of young Coloradoans know Billups in a different respect. He was a 1995 graduate of Denver's George Washington High School who starred for two seasons at the University of Colorado and spent six seasons – split between two stints – with the Denver Nuggets.
And he helped a wave of young basketball players in the Centennial State develop their fervor for the game.
Bernstine is among them, although Billups wasn't merely a poster on a wall for the Washington State senior and Aurora, Colorado, native. In addition to NBA icon, Billups has been a trainer, mentor and friend to Bernstine, who occasionally works out alongside the five-time NBA All-Star during his summer trips home.
"He's a Colorado guy, so he's always around," Bernstine said Tuesday after WSU's practice in Pullman. "I used to train at his facility, I work out with him sometimes over the summer. We all just stay really close honestly, so that's the key thing for all of us."
On Thursday, Bernstine and the Cougars are in Boulder for a 5 p.m. PST tipoff against the Colorado Buffaloes. The WSU senior anticipates a good showing of his family and friends at the Coors Events Center. And hopefully Billups, too.
"I talked to him last week and he said he'll be there," Bernstine said.
Billups, a Denver native, was a four-time all-state player at George Washington who won Colorado's Mr. Basketball Award three times. He then spurned Kansas, Oklahoma State, Georgia Tech and Cal to stay in state and play two college seasons in Boulder, where he led the then-Big-12 Buffaloes to their first NCAA tournament appearance in 28 years. He spent two NBA seasons with the Nuggets in 1999 and 2000, then returned for four more years from 2008-11.
Approximately a year before he retired, Billups teamed with the DI Sports Training franchise to open a high-end basketball/training in facility in Highland Ranch, Colorado. Bernstine and dozens of Division I basketball players gather there during their offseason to shoot and sweat with respected trainer Nick Graham.
Gonzaga's Josh Perkins, a childhood friend and ex-AAU teammate of Bernstine's, has also honed his game at the massive gym in Highland Ranch.
"We all stay really close-knit," Bernstine said. "That goes for Josh and (Colorado's) Dom Collier and all those guys are all real close."
Bernstine is a WSU graduate transfer who played two seasons at the University of North Dakota – and won a Big Sky title in 2016-17 – after spending his first season at the University of Denver. He's trained at altitude most of his life, so Bernstine considers himself immune to the shortness of breath many of Colorado's Pac-12 foes – and Bernstine's WSU teammates –experience when they make an annual trip to Boulder, elevation 5,430.
"I played there for 22 years now, so it's something I'm not really worried about," he said. "I don't think the guys will be extra fatigued or anything. It's just the initial shock of it, as long as you don't let it get to your mental I think we'll end up being fine."
At 6-8, 220 pounds, Bernstine has the frame of a traditional forward, but WSU coach Ernie Kent prefers to call him a "point forward" because he guards the opposing big man and typically brings the ball down the floor when the Cougars are in transition.
In a loss to Stanford, it was Bernstine's hard-nosed defense that kept the Cardinal's powerful big man, Reid Travis, to a season-low six points. The next game, a win against Cal, he was the Cougars' leading distributor, dishing out nine assists to go with 10 points and six rebounds.
"He makes us so different, he's our point guard," Kent said earlier this season after a game at UCLA. "… When that guy's on the floor, he makes us different."
Bernstine has fought intermittent injuries throughout his final college season, but he nonetheless enters the fourth week of Pac-12 play as the Cougars' leading rebounder (7.7 rpg) and is second in both assists (2.5 apg) and blocks (0.9).
In many ways, this Colorado Homecoming is as monumental as any game all season for Bernstine. As a high school player at Cherokee Trail in Aurora, he had aspirations of playing Pac-12 hoops and Thursday represents his first – and last – opportunity to do that in front of a home crowd.
But Bernstine is also the elder leader on a team currently trying to change its fortunes in the Pac-12. So, WSU's point forward concedes, "It's another game at the end of the day. There'll be a lot of people there to watch me play, but they're more importantly coming to watch this team."
Subscribe to the sports newsletter
Get the day's top sports headlines and breaking news delivered to your inbox by subscribing here.
---