Sports > WSU basketball
Slump-breaker: Washington State gets tough in 73-69 Pac-12 win over Colorado
UPDATED: Thu., Feb. 15, 2018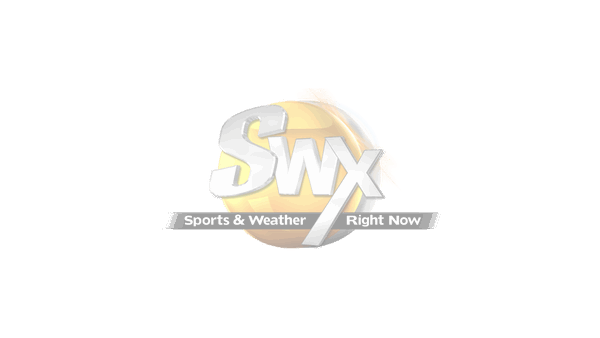 PULLMAN – Throughout Washington State's prolonged slump, Ernie Kent has begged and pleaded for a tougher, more resilient group of Cougars.
The Cougars finally delivered on their coach's wish, fighting, scrapping and clawing their way to the finish line in a 73-69 win over the Colorado Buffaloes Thursday night at Beasley Coliseum.
And boy was it a sigh of relief…
"So that's what that feels like," Kent said afterward. "Sheesh."
The victory breaks a seven-game skid and pushes the Cougars into 11th place in the conference standings. WSU had previously lost 15 of its last 18 games – including the last two by a whopping 59 points – but demonstrated urgency and maturity Kent hadn't seen since the Cougars made their run through the Wooden Legacy tournament.
Toughness, too.
"I've said this often that we've not made a lot of tough plays," Kent said. "Well tonight in this game we made multiple tough plays – per possession at times. … Everybody was just alert an involved. Normally we've made one tough play and then we've broken down. … This is a good sign for this team to just hang in there. I'm really happy for them because they've been through a lot."
Malachi Flynn scored a career-high 30 points on 11-of-19 shooting from the field and 3-of-8 from distance. For a majority of the game, the sophomore point guard was the only offensive bright spot for the Cougars, who lost Davante Cooper to foul trouble with about 11 minutes to go after the junior forward started the game an efficient 4-of-5 from the field with eight points.
Flynn closed strong, jamming 21 of his 30 points into the second half and 16 of those into the final 10 minutes.
"I think my teammates helped me get in a rhythm," Flynn said. "They found me early in the first half, got me going a little bit. They set great screens and I attacked off of them, got good looks."
WSU trailed by as many as eight points in the second half, but the Cougars surged ahead in the closing minutes when Viont'e Daniels canned a 3-pointer to make it 63-62. The Buffaloes grabbed a 69-68 lead with 51 seconds left, but Robert Franks, on a slow scoring night by his lofty standards, came up with a crucial defensive play when he picked off Dom Collier's pass on CU's final possession. Franks drained two free throws on the other end to seal the victory.
He shot just 4-of-12 from the field and 1-of-6 from three-point range, but Franks, who missed Sunday's game against Oregon with a knee injury, still found his way to 14 points and chipped in three assists, two steals and two blocked shots.
"I thought every shot I shot was good. It's a team game, it's not an individual game," Franks said. "I can't sit there and be a Debbie downer because I'm not making shots. … Everybody had their moments in the game."
CU lost – and dropped to 1-8 away from home – despite getting 35 tries at the foul line. The Buffaloes made 26 of those, but clanked a few key free throws in the final minutes. WSU was far from perfect from the charity stripe, making just 16-of-23 free throws, and the conference's top three-point shooting team managed just 7-of-29 from beyond the arc.
For a stretch of the second half, it looked like the Cougars would be doomed by the 24 fouls they wound up committing. Those amounted to plenty of free CU points and disrupted WSU's pace and flow on the offensive end of the floor.
"The fouls were the fouls, they were there," Kent said. "They made the game kind of herky jerky, but you didn't lose your composure. You toughen up at crunch time, you closed out a game and you had tremendous play from your point guard."
McKinley Wright and Dallas Walton each had 16 points for the Buffaloes. Wright also added seven rebounds and six assists.
The victory vaults the Cougars (10-15, 2-11) to 11th place in the Pac-12 standings. Cal also possesses a 2-11 record, but the Golden Bears represent WSU's only other conference, therefore giving the Cougars the head-to-head tiebreaker.
Subscribe to the sports newsletter
Get the day's top sports headlines and breaking news delivered to your inbox by subscribing here.
---