Sports > EWU basketball
Eastern Washington surges back from first-half deficit to top Idaho State
UPDATED: Mon., Dec. 31, 2018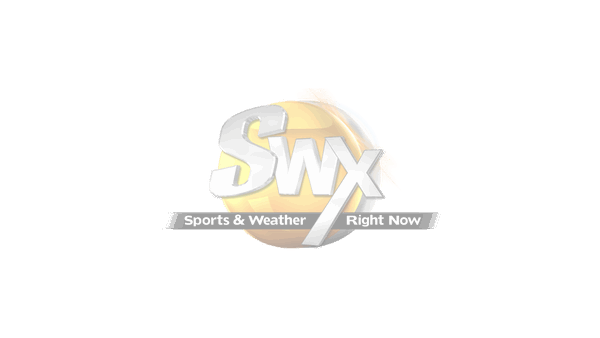 Shantay Legans cracked a big smile.
"We're going to say this," the Eastern Washington men's basketball coach said. "You're only as good as your last game of the year."
On the last day of 2018, Eastern Washington came from 11 points down in the first half to beat Idaho State 65-55, evening its Big Sky Conference record at 1-1.
That puts the Eagles significantly ahead of their 3-10 record over the 2018 portion of their schedule.
While that nonconference slate includes losses to Syracuse (9-4), Oregon (9-4), Washington (8-4), Stanford (7-5), San Francisco (12-2) and Seattle (12-3), Legans hopes those early-season lumps will pay big dividends in conference play.
On Monday, the Eagles cashed their first check.
In just his third game back from an injury that sidelined him for 10 games, Mason Peatling played 37 minutes – including all 20 in the second half, scored 16 points and grabbed eight rebounds. More important, he turned in a pair of blocked shots in the second half, putting an exclamation point on a solid defensive team effort.
Legans called it too much work for the junior from Melbourne, Australia – adding that he immediately gave him the rest of the day off.
"He's a smart guy," he said. "He didn't want to come out of the game.
"Mason is the best post player in the conference."
Peatling's presence on the defensive end is a plus.
"I have a great belief in talk," Legans said. "Today was the best game, I think, all season of us talking defensively in the second half. Usually in the first half, our defense will be good because you have the coaches, you have the bench, everyone's there talking to them. But it's the second half, where we go away from our basket, is where I think we sometimes struggle defensively. It took our seniors, Cody (Benzel), Jesse (Hunt), Mason, talking and making sure everyone was in the right spot defensively."
Offense was more of a struggle. The Eagles missed their first six shots of the game. After that, they hit 6 of 9 from the field, but the Bengals went on a tear from deep, hitting four straight from beyond the arc to take a 21-13 lead with 11:14 left.
As the half wore on, Eastern began to find some offensive rhythm, although it had some strange syncopation at times with forced shots.
Legans' offensive philosophy is to pound the ball inside, where Peatling and Hunt, the team's leading scorer in Peatling's absence, can thrive.
Against Idaho State, that worked and the pair brought the team back to trail by just four at intermission, 33-29.
Where things misfired early was from the outside, when the Bengals collapsed defensively. The Eagles were just 2 of 12 from 3-point range through the first 12 minutes.
In one tough stretch, Benzel misfired on a wide-open 3, collected the rebound, stepped back behind the arc and missed a second time.
That's when Legans looked down the bench and tapped Ty Gibson for a spark.
The senior from Issaquah, Washington hit three straight from deep – the first on a kick-out from the post – putting Eastern Washington up 48-46 with 7:30 left.
"The first one was off an offensive rebound," Gibson said. "Everyone collapsed on Mason and he kicked it out. That kind of got me going. From then it was just back to my old self."
"Ty has hung with it," Legans said. "He didn't play at all in the first half, and he's struggled a little of late. But he stepped up big."
Jacob Davison finished with 15 points. Hunt had 12 points and nine rebounds and Gibson added two free throws to his 3-for-3 night from deep, adding 11 points.
Balint Mocsan hit 5 of 10 3-point attempts and finished with 17 points to lead Idaho State (5-6, 1-1). Kelvin Jones added 12 and grabbed nine boards.
Eastern Washington takes to the road for a game Thursday in Moscow against Idaho.
Subscribe to the sports newsletter
Get the day's top sports headlines and breaking news delivered to your inbox by subscribing here.
---