Sports > NBA
NBA capsules: Kyrie Irving helps Celtics past Wizards 130-125 in overtime
UPDATED: Wed., Dec. 12, 2018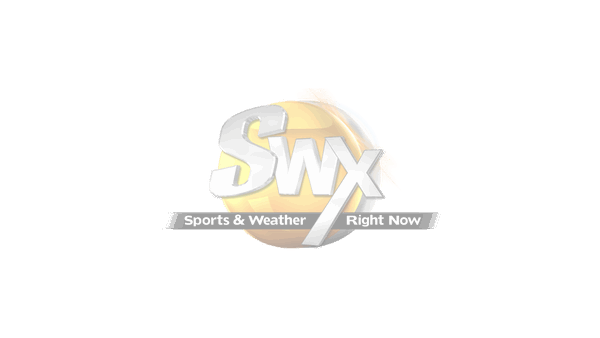 WASHINGTON – Kyrie Irving scored Boston's last 12 points, including back-to-back 3-pointers in the final 40 seconds of overtime to outduel John Wall in a point-guard showdown, and the Celtics extended their winning streak to seven games with a 130-125 victory over the Washington Wizards on Wednesday night.
Irving finished with 38 points and seven assists. Marcus Morris added 27 points and nine rebounds for Boston, which played without Al Horford, Gordon Hayward and Jaylen Brown – its Nos. 4-6 leading scorers.
Wall returned for the Wizards after missing a game with an aching left heel and finished with 34 points with 13 assists. But his seven points in OT weren't enough to keep pace with fellow All-Star Irving.
Bradley Beal and Jeff Green each added 22 points and Kelly Oubre Jr. scored 20 for Washington.
Raptors 113, Warriors 93
OAKLAND, Calif. – Kyle Lowry had 23 points and 12 assists to lead a balanced Toronto offense while leading scorer Kawhi Leonard sat out, Serge Ibaka added 20 points and the Raptors dominated Golden State from the start, beating the Warriors to complete a season sweep.
Danny Green scored 15 points, Pascal Siakam had 13 and Fred VanVleet added 10 to help the Raptors improve to an NBA-best 23-7, matching the best start in franchise history.
They did it despite not having Leonard for a second consecutive night. Toronto's star forward has a sore right hip and was questionable before the game before being ruled out less than 30 minutes before tip-off.
The Raptors also lost 7-foot center Jonas Valanciunas to a dislocated left thumb in the first half.
Despite playing the second half of a back-to-back following a 123-99 win over the Los Angeles Clippers on Tuesday, Toronto appeared to be the fresher team. The Raptors repeatedly beat the sluggish Warriors to loose balls and outrebounded the two-time defending champs 48-40.
It was Toronto's first win in Oakland since Feb. 8, 2004.
Kevin Durant had 30 points, seven rebounds and five assists for Golden State. The Warriors had won four straight heading into a much-anticipated showdown between two teams many expect to reach the NBA Finals.
Pacers 113, Bucks 97
INDIANAPOLIS – Thaddeus Young had 25 points, 11 rebounds and four assists, and Myles Turner added 23 points, leading Indiana to its fifth straight win.
Indiana pulled within a half-game of the Central Division-leading Bucks.
Eric Bledsoe scored 26 points and Malcolm Brogdon finished with 15 to lead Milwaukee. Giannis Antetokounmpo had a season-low 12 points, grabbed 10 rebounds and dealt out seven assists after missing Monday's game at Cleveland with a sore neck.
Indiana's Victor Oladipo wound up with 12 points, 10 rebounds and six assists after missing 11 games with a sore right knee.
Grizzlies 92, Trail Blazers 83
MEMPHIS, Tenn. – Mike Conley scored 23 points and keyed a fourth-quarter outburst as Memphis snapped a two-game losing streak.
Jaren Jackson Jr. finished with 14 points, and MarShon Brooks added 13 for the Grizzlies.
C.J. McCollum matched his season high with 40 points, while Damian Lillard was held to a season-low 14 points, connecting on only 4 of 18 shots.
The Trail Blazers' 83 points were a season low.
Pelicans 118, Thunder 114
NEW ORLEANS – Anthony Davis had 44 points and 18 rebounds, and inconsistent New Orleans narrowly held on to defeat Oklahoma City.
Jrue Holiday had 20 points and 10 assists, and Julius Randle added 22 for New Orleans, which has alternated wins and losses in its past 10 games.
Paul George had 25 points and 11 rebounds, and Dennis Schroder scored 24 points for Oklahoma City, which came in having won five of its previous six. Russell Westbrook had 20 points and four steals but did not appear as eager as usual to shoot, hitting 8 of 16 shots. Steven Adams also scored 20.
Mavericks 114, Hawks 107
DALLAS – Harrison Barnes scored 25 points, Luka Doncic added 24 and Dallas extended its home winning streak to 11 games while ending a 10-game skid against Atlanta.
J.J. Barea had 18 points before leaving with a sprained left ankle as the Mavericks finally beat the Hawks after blowing a 26-point lead in October.
It was Dallas' first win over Atlanta since Oct. 30, 2013, and the home winning streak is the longest since a 12-game run in 2007-08.
Trae Young had 24 points and 10 assists for the Hawks.
Jazz 111, Heat 84
SALT LAKE CITY – Donovan Mitchell scored 21 points and Derrick Favors had 17 as Utah romped over short-handed Miami.
Rodney McGruder paced the Heat with 16 points and Kelly Olynyk had 14 as Miami played without Hassan Whiteside and Goran Dragic. Dwyane Wade, set to retire after the season, scored six points.
Favors went 7 of 8 and had eight boards in 19 minutes, while Rudy Gobert had 10 points and 11 rebounds. Kyle Korver, who has opened up the floor for the Jazz since arriving via trade from Cleveland, made four more 3-pointers and scored 16 points.
Cavaliers 113, Knicks 106
CLEVELAND – Jordan Clarkson scored 28 points and a basket by Rodney Hood in the fourth quarter gave Cleveland a late lead as the Cavaliers dealt New York its fifth straight loss.
Hood put the Cavaliers in front 107-106 with 23 seconds remaining after New York took a one-point lead on rookie Kevin Knox's fast-break dunk with 32 seconds left.
Hood added 23 points, rookie Collin Sexton scored 19 and Matthew Dellavedova, playing his first him game for Cleveland since being re-acquired from Milwaukee, had 15 points.
Enes Kanter and Tim Hardaway each scored 20 points for New York.
Hornets 108, Pistons 107
CHARLOTTE, N.C. – Jeremy Lamb hit a 22-foot jumper from the right wing with 0.3 seconds left, and Charlotte Hornets rallied from a late 10-point deficit for a wild win.
Lamb's buzzer-beater came with controversy. As he released the ball, Malik Monk ran off the Hornets' bench and onto the floor early to celebrate the made basket.
Officials reviewed the play and called one-shot technical on the Hornets for having six men on the court. The basket counted. The Pistons made the technical free throw, but the ensuing inbounds pass was intercepted.
Kemba Walker finished with 31 points, nine assists and eight rebounds for the Hornets, who won their third straight and moved into sixth place in the Eastern Conference – a half-game ahead of Detroit.
Blake Griffin had 26 points, 10 rebounds and seven assists for the Pistons, who have lost six in a row.
Nets 127, 76ers 124
PHILADELPHIA – Spencer Dinwiddie scored a career-high 39 points off the bench and Allen Crabbe had 20, leading Brooklyn.
Joel Embiid had 33 points and 17 rebounds and Ben Simmons scored 22 for Philadelphia, which played without Jimmy Butler because of a strained groin.
Joe Harris had 14 points for Brooklyn, which notched its second victory over Philadelphia in three meetings.
Subscribe to the sports newsletter
Get the day's top sports headlines and breaking news delivered to your inbox by subscribing here.
---