Sports
Grip on Sports: The only thing that rivals the numbers on the thermometer is the number of stories to tell
Thu., Aug. 9, 2018 A GRIP ON SPORTS • The temperature in Eastern Washington is going to soar well above 100 today, which means we are having a summer after all. Add to that more than 100 items we would like to discuss and the proof it's actually summer is as deep as the lake I would love to jump into this afternoon. Read on.
••••••••••
• Let's get right to it …
• The PGA Championship begins today, a tournament once called "Glory's Last Chance" by the broadcasting network. This year will be the last chance for that to be even somewhat true. It's the last year to watch it in August as that tradition is flying to May in 2019, along with the tournament.
The PGA has always been the red-headed stepchild (a term that actually described me for many years of my life) of golf's majors, once the match-play major, but always the least of the four. And now it won't even be the last chance for glory or something like that.
It's too bad.
• Speaking of last chance for glory, Felix Hernandez probably thinks this year is his. The M's are good enough to get to the postseason – if he was pitching like Felix, circa 2007 or so. But he's not. And now the M's must decide what to do with him.
There are at least 11 good reasons to drop him from the rotation – or seven if you don't include Kyle Seager's errors – but I'll give you two why the M's shouldn't: Sadly, they don't have a better alternative in their organization; and, also sadly, they aren't going to catch Oakland this season (in my humble opinion).
So why not let the most accomplished pitcher in their history finish the year with some pride. It also might convince him it is time to retire, which would save more than $20 million on next year's payroll.
• The NCAA announced a whole bunch of reforms yesterday having to do with basketball and, in typical NCAA fashion, they were mostly sound and fury, signifying nothing. Plus, the organization didn't clear all of the reforms, which will take the cooperation from USA Basketball and the NBA, with those partners.
The bottom line is, however, more important. Will the reforms work? Will they help clean up the recruiting issues that have been highlighted by an on-going FBI probe?
No. And probably not. This idea of allowing a select few high school players to hire agents is ludicrous. It has to be anyone who wants or no one. And the summertime changes won't keep street agents out of the game. They will probably make them even more prominent due to the NCAA pulling back from overseeing tournaments.
Expect even more changes to dribble out over the next weeks, months and years.
• One of the more interesting ideas suspended University of Idaho athletic director Rob Spear has come up with in his 15-year tenure in Moscow should be adopted and adopted now.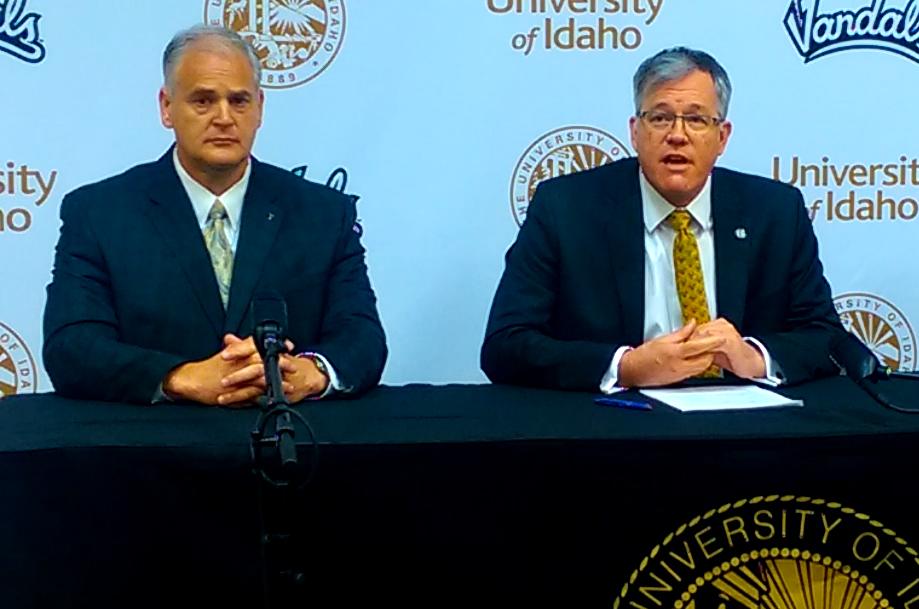 The Vandal athletic department wants to add sports, not drop them. It wants to make these sports available to just walk-ons, athletes who would pay for their own schooling. By doing so, the department can claim the tuition and fees the student/athletes pay to university as revenue. After all, they wouldn't be there except to play. It's genius. The department would be recruiting students for the university by giving them an incentive to come to Moscow instead of somewhere else.
No matter how you fall on Spear's current problems, you must admit this idea is a winner for everyone.
• Between the heat and the smoke – the air is so bad around Spokane, pools were closed yesterday, taking away one of the best ways to cool down – it's been a tough couple days to get anything done outside. And today, with high temperatures approaching record levels, will be even tougher.
So why fight it? Seems like a good day to hunker down, turn on the computer and watch the live feed of the PGA until 11. And then the TNT broadcast for the next six hours.
Couch potato-like, sure, but when the choice is between that and stepping outside where you will feel like hash browns on a skillet, I'll take the couch.
•••
WSU: The work goes on in Lewiston, although today, the last day in the Valley, will be more of a walk-through in preparation for tomorrow's scrimmage in Pullman. Last year Kim and I spent our anniversary watching. And, yes, we are still married. (It was touch-and-go for a while.) Theo Lawson is not married, which means he can concentrate fully on the Cougs, including this story on the hard way Washington State built inside linebacker depth. He also has his observations from Wednesday's practice. … As is his wont, Theo posted videos from his interviews, including coach Mike Leach, assistant coach Matt Brock and players Pono Lolohea, Deion Singleton and Tay Martin. … Former WSU golfer Brian Mogg leads the Washington State Amateur. Jim Meehan has more in this roundup. … Elsewhere in the Pac-12, unless the reporting out of Seattle is completely wrong, it seems as if Ale Kaho's family duped Chris Petersen and the Huskies. The five-star recruit wanted his release to be closer to them in Reno. It was granted. Two days later he shows up in Alabama, where he will reportedly play for Nick Saban. That's not closer to Reno. … Oregon is trying to develop running back depth. … The defensive line at Oregon State hopes to improve its ability to rush the passer. The O-line just wants to improve. … Utah is trying to build depth on the offensive line as well. … Seniors know they have only one more year to play the game they love. … USC linebacker Porter Gustin will have meniscus surgery and be out a few weeks. … What many people don't realize is Chip Kelly's offense is based on running the ball. … Though many Arizona State players didn't know it, one of their assistant coaches was a great NFL player. … Arizona has an offensive lineman who has to miss two games. … In basketball, the NCAA's announced reforms may impact the Wildcats and their FBI issues.
Gonzaga: The West Coast Conference announced the league schedule. The Zags open at home before students return and end at Saint Mary's. Jim has more in this story.
EWU: Turnovers are at the heart of any defense, which may explain why the Eagles' group had trouble pumping up the offense last season. As Ryan Collingwood explains, Eastern wants to improve in that area this year. … Around the Big Sky, practice is underway everywhere, including Montana. We can pass along stories from Idaho State, UC Davis, Montana State, Southern Utah and Northern Arizona.
Idaho: We touched on one of the proposed solutions the Vandals are putting forth to solve a budget problem, but Peter Harriman goes into much great depth in this story. … Peter also has a look at the Vandal receiver corps.
Indians: Hans Crouse, who has been the Indians' best starting pitcher, won't rejoin the team after the all-star break. He's been promoted. Dave Nichols has more information in this piece.
Preps: There is a new girls basketball coach at Central Valley High but, as Steve Christilaw tells us, Ryan Bragdon has a lot of ties to the program.
Mariners: Another game in Texas, another ugly loss. Marco Gonzales was knocked around by the Rangers in this one as the Mariners lost 11-7. … Not only did the M's lose, they also lost new relief pitcher Sam Tiuvailala to an Achilles strain. … The scouting department will have a new look. … The collapse in Arlington is also part of Larry Weir's most recent Press Box pod.
Seahawks: The Hawks open the preseason tonight against the Colts. There will be a lot of new faces on the field for Seattle. … Some of those new faces can be preseason stars. … There has been a surprise on the offensive line. … The radio team is changing.
•••
• If you have sports-oriented kids, you spend a lot of time either watching or coaching them as they grow up. You learn some things as they learn things. The Times' Larry Stone went through the drill for 27 years. And he passes along what he learned. Until later …
Subscribe to the sports newsletter
Get the day's top sports headlines and breaking news delivered to your inbox by subscribing here.
---