Sports > EWU football
Eastern Washington prevails over UC Davis despite allowing 551 yards, 38 points
Sat., Oct. 7, 2017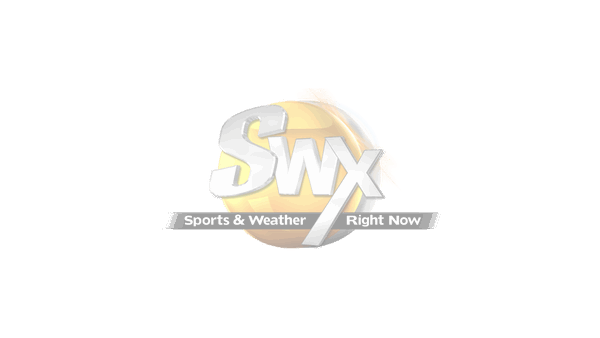 DAVIS, California – This was the kind of offense Eastern Washington coach Aaron Best was looking for since the day he was hired: physical and balanced, moving the chains and wearing down the opposing defense.
And with a few improbable catches by your wideouts to keep the other guys honest.
On Saturday night, that offense belonged to the UC Davis Aggies, who mustered up an offense that was all of those things.
However, it wasn't enough.
Eastern gave up 551 yards of offense, including a career-high 208 on 15 catches by Aggies wide receiver Keelan Doss, but managed to hold on for 41-38 Big Sky Conference win.
"They gave it their best shot," said Eastern cornerback Josh Lewis. "But it feels good knowing that they played so well the whole game, but that we were able to stop them at the end of the game."
Not quite, but the Eagles were able to slow down the Aggies in the fourth quarter. It began with Eastern trailing by double digits, 31-20, but UCD managed only one more scoring drive in the last 11 minutes, an 11-play, 75-yard march that gave the Aggies a 38-34 lead with 4:45 to play.
Eastern's biggest task was limiting Aggies quarterback Jake Maier, who had completed 33 of 38 passes a week earlier in a rout of North Dakota.
This time Maier completed 35, but he needed 55 attempts to do it.
However, Doss made some big-time grabs, including a diving reception for a 16-yard touchdown that put the Aggies ahead 21-13 midway through the third quarter.
That lead would reach double digits before Eastern came back.
"We are a team that responds and we handle adversity really well," Best said.
"Doss and Maier are a deadly combination – they mix is up really well. We just happened to make one more play than they did," Best said.
Meanwhile, the Eagles offense was in feast-or-famine mode all night, with six three-and-outs but also a trio of long scoring drives.
At halftime, the Eagles trailed 14-13 while managing minus-1 yard on the ground. The ground game gained some traction in the second half but still finished with only 49 yards.
This game would be won with the arm of quarterback Gage Gubrud, who was 33 for 53 for 452 yards and six touchdowns.
The Eagles had one thing UC Davis didn't – quick-strike ability.
Trailing 31-20 with less than 12 minutes left, they got the biggest play of the night, a short pass from Gubrud over the middle that Nsimba Webster turned into a 71-yard touchdown.
"That kind of ignited things after we were stagnant in the first half," Best said. "Davis had more energy in the first half than we did, and we weren't executing very well. We just kind of fizzled. We re-charged our batteries at halftime, and then in the fourth quarter we got a quick-strike to Nsimba."
Subscribe to the sports newsletter
Get the day's top sports headlines and breaking news delivered to your inbox by subscribing here.
---